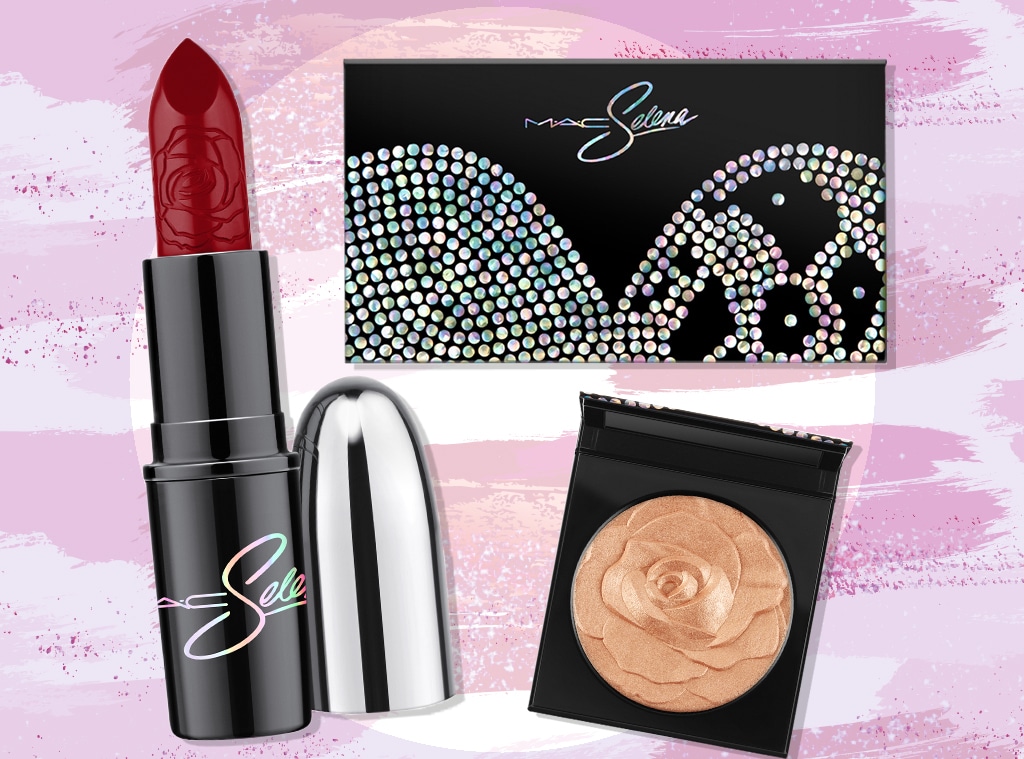 We love these products, and we hope you do too. E! has affiliate relationships, so we may get a small share of the revenue from your purchases. Items are sold by the retailer, not E!.
The moment Selena Quintanilla fans have all been waiting for: MAC Cosmetics' second makeup collection inspired by the late music icon.
Yes, we are feeling muy...excited!  What's more? The brand has officially released the Selena La Reina Collection.
Speaking to E! News, Suzette Quintanilla Arriaga (Selena's sister and former Selena y Los Dinos member) explains why the second collaboration with MAC is even more significant and special than the first—which launched in 2016 to much success.
"Selena has been transcending into not just a Latina icon but a bi-cultural icon," Suzette shares. "I see what the first launch represented and what this one is going to mean. It doesn't just represent Selena, it represents us as Latinas."
She adds, "The fact that we're 25 years into Selena's legacy... it's a celebration." 
Fans of the Tejano legend may notice that the new packaging is different from the first. According to Suzette, that was intentional and done for a meaningful reason.
"When I approached the first collection, it was more about viewing it as how my sister would've done it," Suzette explains. "My sister would've never put herself in the packaging."
This time around, Selena is very much part of the packaging, which pays homage to one of her iconic bustiers. If anything, Suzette's story of how that design came to life will make fans fall even more in love with the late star.
"One day, Selena's making her bustier. She's got rhinestones, she's gluing them on, everything's going great on the first side," Suzette shares. "The opposite side, she starts stoning it. If you can see the pattern of it, she's going in the row that she's supposed to. But then she ran out of rhinestones. We just hear her scream, 'I can't believe it! I don't have enough rhinestones!'"
Adding, "She didn't know what she was gonna do, but that's what she ended up creating. And it's one of the most replicated bras that people like to wear."
MAC Cosmetics Lipstick in Queen of Cumbia
Red lipstick is pretty much synonymous with Selena. However, Suzette tells E! News that her sister's prefered lipstick colors were the "lighter tones" you see in the new collection.
"What I feel Selena—the artist performing—would've chosen from the line is the Retro Matte Lipsticks, the deeper red," she explains. "But if you're asking me, as Selena, my sister, what she would've liked, it would definitely be the lighter tones. If you look at her older pictures, where she's got her hair pulled back, she's got the lighter, normal, everyday makeup on. That was her everyday look."
MAC Cosmetics Extra Dimension Skinfinish
From the rich gold shade of this highlighter to the embossed rose, this is one dreamy product.
As Suzette puts it, "This new collection is different from the first, because we're 25 years into Selena's legacy. This is about a celebration and also about her being iconic."
MAC Cosmetics Lip Glass in The Washing Machine
For those days when you want to pop on a clear gloss and go makeup-free! One of the ways the "Si Una Vez" singer would take care of her skin was by removing her makeup after every concert.
"She would come in after a concert and she would take her makeup off, pin her hair back and dress down and be makeup-free until wherever the next city was," Suzette explains of her late sister's routine. "She definitely took off her makeup every night before she went to bed. It was not good for the skin."
MAC Cosmetics Selena Makeup Bag
The perfect makeup bag to carry all your goodies, the way the Tejano legend did. Suzette says the late singer was working a makeup line before she passed and would store her samples in her beauty case.
"I don't know if a lot of people truly understand that my sister was actually working on a line of makeup with a company and getting samples," she reveals. "She had samples in her makeup case of things she was testing and looking at the colors. She was working on three things when she passed away: a makeup line, a perfume line and a clothing line."
MAC Cosmetics Lip Pencil in Entre A Mi Mundo
To get the perfect pout, lip liners are key. Naturally, it was part of the "Cobarde" singer's glam routine. According to her older sister, Selena liked to have a "little bit of everything in her makeup case."
"She didn't care if it was Chanel or Maybelline. It didn't matter to her," Suzette shares. "If she liked it, that's what she would wear."