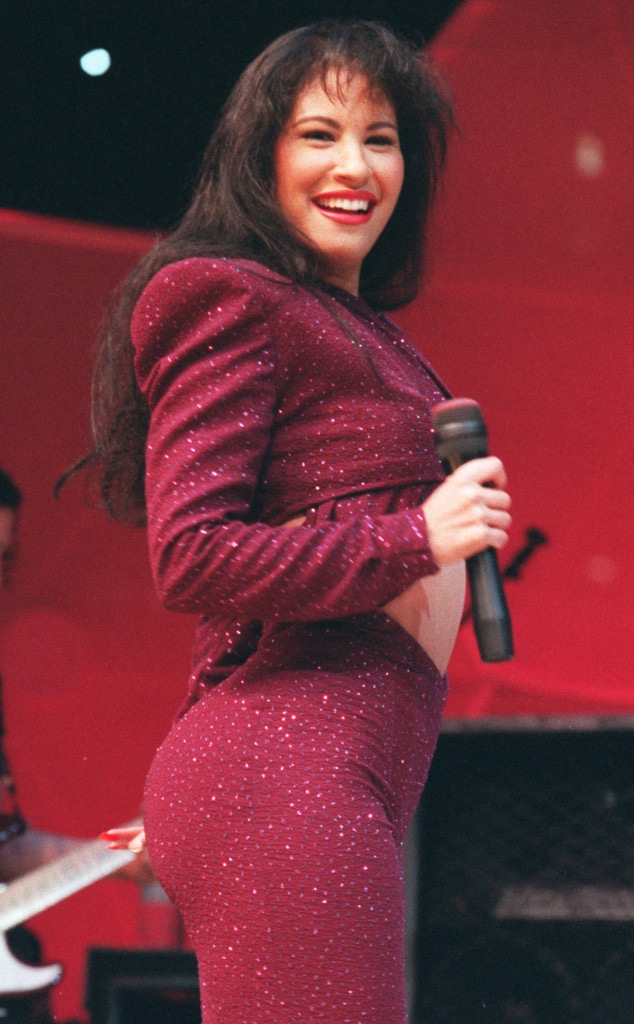 AP Photo/Houston Chronicle, John Everett
It's hard to overstate just what sort an impact Selena Quintanilla made on the world in her all-too-brief time in it.
The Queen of Tejano music, whose debut self-titled album was released 30 years ago on October 17, 1989, had already become one of the best-selling Latin singers of all time and was poised to truly cross over in a major way with the impending release of her bilingual fifth studio album, Dreaming of You, when she was brutally shot dead in March of 1995 by Yolanda Saldivar, her former fan club president and manager of her clothing boutiques. At the time of her death, she was only 23 years old.
While no murder is more tragic than another, there was something about this loss that struck the world so monumentally, in part because it stopped such a promising and hard-fought career dead in its tracks. After all, rising to the title of La Reina de Tejano wasn't supposed to be possible for Selena—or, really, any other women, for that matter.
The youngest child in the Quintanilla family, Selena got her start in the family band Selena y Los Dinos, which also included her siblings A.B. and Suzette Quintanilla, but making her way in a traditionally male-dominated genre wasn't easy. As she said herself in a 1994 interview with Orale Primo, "Tejano music was hard for us because I was a girl. My dad had a lot of problems while trying to set up shows for us or presentations because there are a lot of men who don't think that women can get the attention of the public. But... wrong!"
When the family fell on hard times in 1981, losing their house after dad Abraham Quintinalla Jr.'s newly-opened Tex-Mex restaurant went under, the success of Selena y Los Dinos became an imperative. "That's when we began our musical career," she told People in 1992. "We had no alternative." Leaving school behind in the eighth grade—she would later get her GED through a correspondence course—Selena and her family lived out of the family van as they toured across South Texas, playing any gig that came their way. "If we got 10 people in one place, that was great," she recalled. "We ate a lot of hamburgers and shared everything...I lost a lot of my teenage period. But I got a lot out of it too. I was more mature."
AP Photo/Houston Chronicle, Dave Einsel
Eventually, they proved their critics wrong, releasing several albums for a small regional labels before Selena would win Female Vocalist of the Year at the Tejano Music Awards in 1987—an award she would win eight more consecutive times. She went on to sign with the newly formed EMI Latin Records in 1989 and despite the fact that she could barely speak Spanish—the Lake Jackson, Texas-native learned the lyrics of her songs, mostly written by her brother A.B., phonetically—she quickly went on to rule the US Billboard Regional Mexican Albums chart, with Entre a Mi Mundo, her second album released in 1992, sitting on No. 1 for eight consecutive months.
By the time her life was tragically cut short, shot by an obsessive friend and employee in a Corpus Christi hotel room while arguing over claims of embezzlement, she'd won the Grammy for Best Mexican/American Album (for 1993's Live!), opened two clothing boutiques with in-house beauty salons called Selena Etc., had challenged the prevailing notions of feminine beauty in the Tejano world, and was hard at work on her English-language crossover.
But when Yolanda pulled that trigger, it all came to an abrupt end. And yet, even in death, Selena couldn't truly be stopped. Dreaming of You, despite not quite being finished, was released in July 1995 and debuted at No. 1 on the Billboard 200 chart, becoming the first album by a Hispanic artist to ever and the first posthumous release from a solo artist to do so. In its first week, it sold 331,000 copies, making her only the third female artist to sell over 300,000 units in one week, behind Janet Jackson and Mariah Carey. 
That year, the U.S. Social Security Administration ranked the name Selena as one of the 100 most popular names for newborn girls, almost certainly because of her. (Fun fact: Selena Gomez, born in 1992, was named after the then-rising star.) And the issue of People magazine released days after her murder sold the entire first and second print runs within two weeks, becoming the magazine's first-ever collector's item. The success of the issue, which was the first in history to ever completely sell out, prompted Time Inc. to launch People en Español to reach a market they were clearly underserving.
AP Photo/George Gongora-Corpus Christi Caller-Times, File
In the years since her passing, Selena's memory has been kept alive in ways both big and small. Two years after her death, a biopic produced by the Quintanilla family and Warner Bros. arrived in theaters with a relatively unknown Jennifer Lopez wining the role in the second largest audition since the search for Scarlett O'Hara in Gone With the Wind after Salma Hayek turned it down. The film was both a commercial and critical success and is widely credited for helping JLo breakthrough and become the icon she is today.
A musical, an annual music festival and convention held in Corpus Christi every year since 2015, a wax figure at Madame Tussauds Hollywood, a limited-edition MAC Cosmetics makeup line, an exhibit at the National Museum of American History, and a Forever 21 clothing Line all followed. And next year, Netflix will debut a biographical TV series based on her life, called Selena: The Series, with The Walking Dead star Christian Serratos in the lead role and the Quintinalla family fully involved.
While Selena's fans have kept her memory alive in such a major way all these years later, those closest to her admit that all the public adulation can be overwhelming at times. "Losing someone you're an emotional roller coaster, and it will forever be that way. Sometimes it hurts and sometimes it hurts a lot and sometimes I don't want to be here. It depends on how I'm feeling that day..." Suzette told Billboard on the 20th anniversary of Selena's passing. "For the most part, it's a good thing. You can hear her fans talking, and it's really cool to be honest with you...There are times when little ones talk amongst themselves, talking about her. That brings me so much joy, because they weren't even a thought when she passed away but yet they have this love for her, that's because her parents are passing on her legacy on to them."
For her husband Chris Perez, a musician himself whom she married against her father's wishes in 1992, returned to his music after her murder, but found himself struggling against what people expected of him in the aftermath. 
"Soon after she passed, I started getting back into my music. I always felt this heaviness from people that wanted to relate to me as the widower, and I was working so hard to do other things," he told Billboard. "I might have overreacted; a kind of a knee-jerk reaction to it was to distance myself as far away from what Selena stood for for her fans. Every time I did something, no matter how hard I worked at it, I would always be remembered as something else that I didn't want necessarily want to be remembered as, as like the widower."
While there's no telling what heights Selena's career might've taken her to had her life not been so brutally snuffed out, if family members like Suzette could magically get just a few minutes more with her, that would be the furthest from their minds.
"Somebody asked me the other day, 'If she was to be right in front of you what would you tell her?' I wouldn't even tell her anything. I'd totally hug her," she told Billboard. "They're like, 'What would you tell he after that?' I'm like, 'No! I would hug her, hug her and hug her, and not let her go.' I miss her."