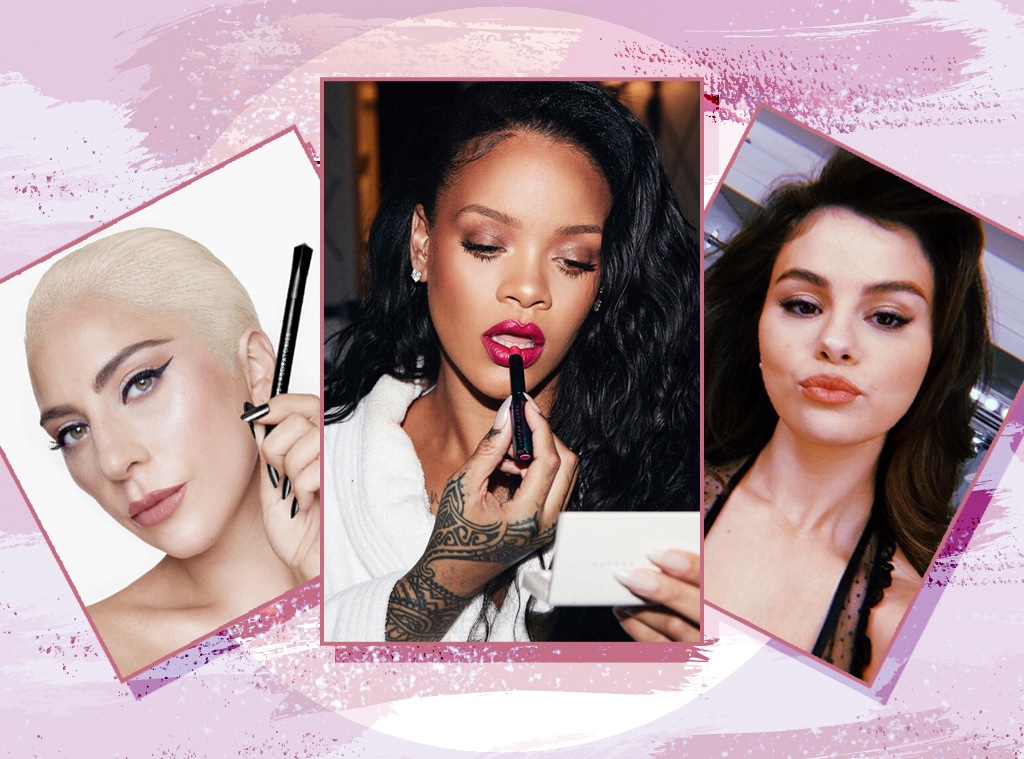 Fenty; Haus; Instagram/E! Illustration
As Alyssa Edwards once said: "I don't get cute, I get drop. dead. gorgeous."
That's certainly a motto we can get behind, especially when it comes to beauty. Because let's be real, it's fun to get dolled up and look extra as hell. Plus, you can never have too many beauty products. (Same goes for shoes, but we digress.)
And while the market might feel oversaturated with new cosmetic companies popping up every day, there's also something exciting and satisfying about indulging in the latest items. What's more? We can't help but shop for makeup, skincare and other goodies from our favorite celebrities with beauty brands.
Case in point? Anything Rihanna touches turns to gold. Her Fenty Beauty highlighter in Trophy Wife stopped people in their tracks with its blinding metallic-gold hue.
Moreover, her groundbreaking foundation launch changed the industry forever. Ever heard of The Fenty Effect? The term was coined after she released 40 diverse foundation shades, which led other brands to be more inclusive with their products.
Now, the fashion and beauty mogul is coming out with Fenty Skin—and if it's anything like her makeup line, skincare enthusiasts better start saving their coins.
Rihanna isn't the only celebrity releasing innovative, unique and playful beauty products. Lady Gaga, Miranda Kerr, Gabrielle Union, Taraji P. Henson, Victoria Beckham and so many others are slaying the market.
Best of all, these star-owned brands also have empowering and inspiring meanings behind them. "We believe beauty is how you see yourself. Be kind to yourself and others," a message reads on Haus Labs' Instagram page.
Gabrielle expressed about her haircare line, "Our collection is very important to me because I fully encourage self-expression and authentic ownership of personal style... We want to promote flawless beauty through choice and diversity."
Watch:
Kardashian Beauty Secrets & Treatments
With that in mind, scroll through our gallery below to see the celebrity-owned beauty brands that keep us wanting more! From Goop to Pattern to Honest Beauty, there's a little bit of something for everyone.