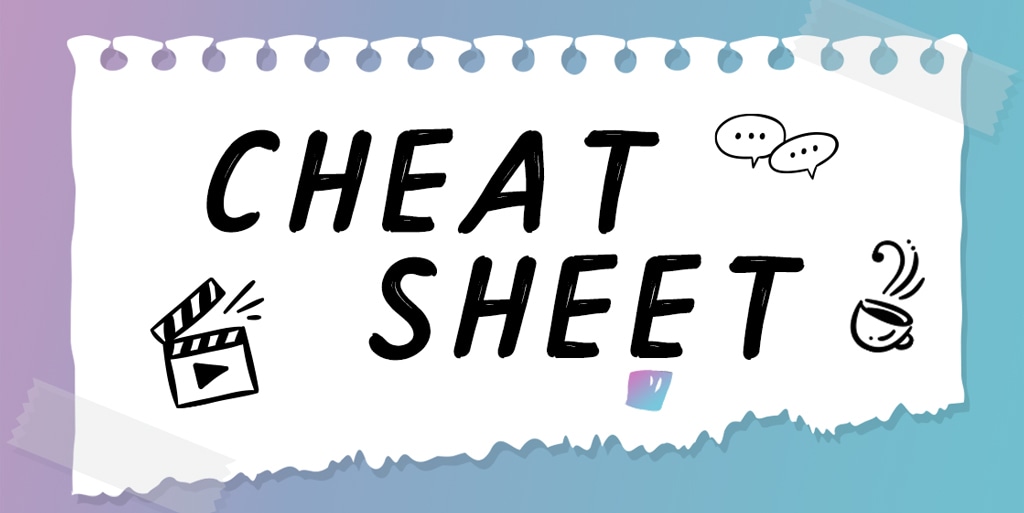 E! Illustration
In the words of Kourtney Kardashian, ABCDEFG, we have to go…back in time to a place when we felt safe, when Dexter didn't need a revival, when the alphabet song wasn't up for debate.
Yes, if you haven't heard, teachers have changed the tried-and-true anthem and are now instructing kids to separate LMNOP. (You can hear this utter nonsense here.) And listen, we get it. It makes sense. But that doesn't make it right. Now, the Internet is boycotting. "That's not the abc it's [an] imposter song," one TikTok user wrote. Added another, "Where's the rhyme? The point of making it a song is it becomes an earworm that sticks in your head this is just normal memorization without the fun."
And this is just the tip of the iceberg when it comes to news that has people saying, "Wait, what?" So, allow us to bring you some clarity on the messiest, most confusing stories that likely left you scratching your head.
Go ahead, scroll on...
Offset Grabbed a Bucket and a Mop
And gave Cardi B everything he's got. Yes, just days after the duo reunited in Vegas for her 28th birthday, Cardi announced that her on again, off again relationship with Offset was officially back on track. "It's really hard not to talk to your best friend," she said during an Instagram Live. "And it's really hard to have no dick."
And before you call her a certified freak, first know she DGAF about your opinion. In fact, she deleted her Twitter after claiming fans were harassing Offset. "A whole bunch of 15-year-olds telling me how to live my life like I'm mother f--king Ariana Grande or something, like I came from Disney or something," she said, later adding, "I'm tired of it. I do whatever the f--k I want to do."
Keeping Up with Kylie and Travis' Relationship Status
...is no easy feat. Once again Kylie Jenner and Travis Scott sparked reconciliation rumors after the beauty mogul shared some seriously sexy photos of the duo on Instagram. Posing for Givenchy's new social campaign, Kylie slipped into a sheer mini dress while the rapper showed off his abs in a beige shirt, which he later ditched completely.
And though a source told E! back in March that "all signs point to her and Travis being together," a second insider squashed those dreams just last month. "Kylie and Travis are good," the source shared. "They aren't together romantically and are doing their own thing."
We Need Answers, S'il Vous Plaît
We've got ourselves a heated debate. And no, we're not talking about politics. After Lily Collins revealed that her Emily in Paris character is "22-ish," the world just about imploded. Because how could someone straight out of college have a master's degree and be guaranteed a promotion to Senior Brand Manager?
So then Lucas Bravo—a.k.a the dreamy Gabriel—stepped in to clear the air. "I would say she's probably 24," he told The Rundown's Erin Lim. "Something happens after 26 where women start exploring…in terms of personality." Hmmm, still not totally buying that. And as it turns out, neither is Lily. Backtracking on Instagram, she captioned a picture of Emily Cooper, "You might not be 22, but I gotta say—you do act like it sometimes!" Now this we can get behind.
Watch:
Necessary Realness: Morgan & "Emily in Paris"
Alright, Alright, Alright
We need a true detective to help investigate Matthew McConaughey's upcoming memoir, Greenlights. While he plans to discuss his parents rollercoaster marriage—he watched his mom break his dad's nose before they made up by having sex on the kitchen floor—the Oscar winner will only briefly relive his, um, adventurous bachelor days. As he told the New York Times, "That's why bedrooms have doors on 'em."
However, some rooms are meant to be unlocked. After all, in the book, he details two of his wet dreams, one which ultimately led him on a trip to explore the Amazon, according to the NYT. If you need us, we'll be over here dazed and confused until his memoir hits shelves Oct. 20.
Kim's Making Headlines
By, well, reflecting on her past headlines. During a sit-down with David Letterman for My Next Guest Needs No Introduction, Kim Kardashian candidly discussed her life's most-talked about moments, including her sex tape with Ray J, her horrifying Paris robbery and even her experience with the O.J. Simpson trial, which she said "tore our family apart." The conversation is set to hit Netflix Wednesday, Oct. 21.
And if you're wondering why that date sounds familiar, it's because that's also Kim's 40th birthday. We'll be celebrating our favorite doll with an epic marathon featuring her most iconic Keeping Up With the Kardashians episodes. (Think: That trip to Bora Bora and that car ride to drop Khloe Kardashian off at jail.) To cap off the big day, at 10 p.m., the whole Kardashian-Jenner crew will gather for a birthday special to honor Kim and look back at their favorite memories. You won't want to miss it.
Are they pink and white...or mint and white? You be the judge.