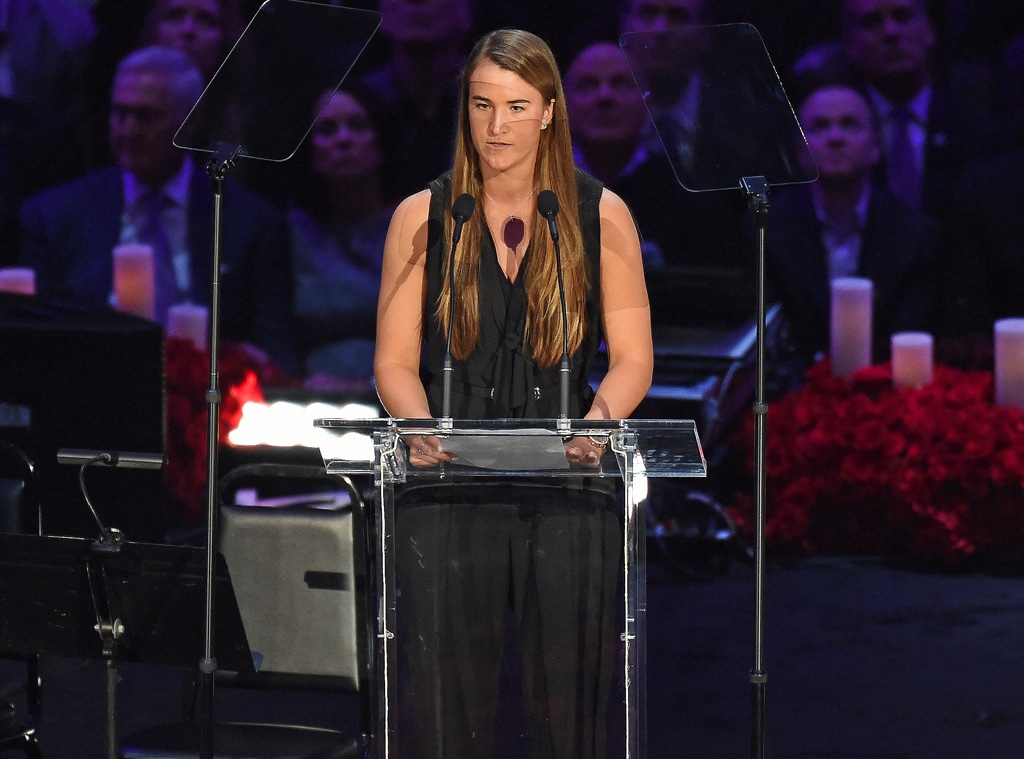 Adam Pantozzi/NBAE via Getty Images
Sabrina Ionescu just made college basketball history.
The 22-year-old athlete, who plays for the University of Oregon Ducks, became the first Division I player (male or female) to reach 2,000 points, 1,000 assists and 1,000 rebounds at Monday night's game against the Stanford University Cardinals. 
According to ESPN, Ionescu entered the night having already met the 2,000 points and 1,000 assists mark; however, she needed nine more rebounds to break the record. Per the sports outlet, she achieved this feat in the third quarter and went on to get a 10th rebound in the fourth.
The Ducks ended up winning the game with a final score of 74 to 66.
Ionescu reached the major milestone on the same day as the public memorial service for Kobe Bryant and Gianna Bryant.
"It was for him," Ionescu told ESPN after being asked about breaking the record. "To do it on 2/24/20 is huge. We had talked about it in the preseason. I can't really put that into words. He's looking down and really proud of me and just really happy for this moment with my team."
Ionescu attended the celebration of life earlier in the day and delivered a touching speech.
"I grew up watching Kobe Bryant—game after game, ring after ring, living his greatness without apology," she said at the service. " I wanted to be just like him—to love every part of the competition, to be the first to show up and the last to leave, to love the grind, to be your best when you don't feel the best and make other people around you the best version of themselves and to wake up and do it again the next day. So that's what I did: wake up, grind and get better."
At one point, she recalled meeting the Lakers legend and his daughter at a college basketball game about a year ago.
"He congratulated us on the win that day and our season up to that point," she said. "He said—and I'll never forget—'Don't shoot yourselves in the foot.' He meant don't settle, keep grinding, control what you can."
She also remembered Gianna's talent and recalled mentoring her.
"If I represented the present of the women's game, Gigi was the future—and Kobe knew it," she said. "So, we decided to build a future together."
Ionescu was one of many athletes to attend the service. Michael Jordan, Shaquille O'Neal and Magic Johnson were just a few of the basketball stars in attendance. Several celebrities attended, as well. Beyonce, Christina Aguilera and Alicia Keys performed and Jimmy Kimmel and Kobe's wife Vanessa Bryant gave moving speeches.