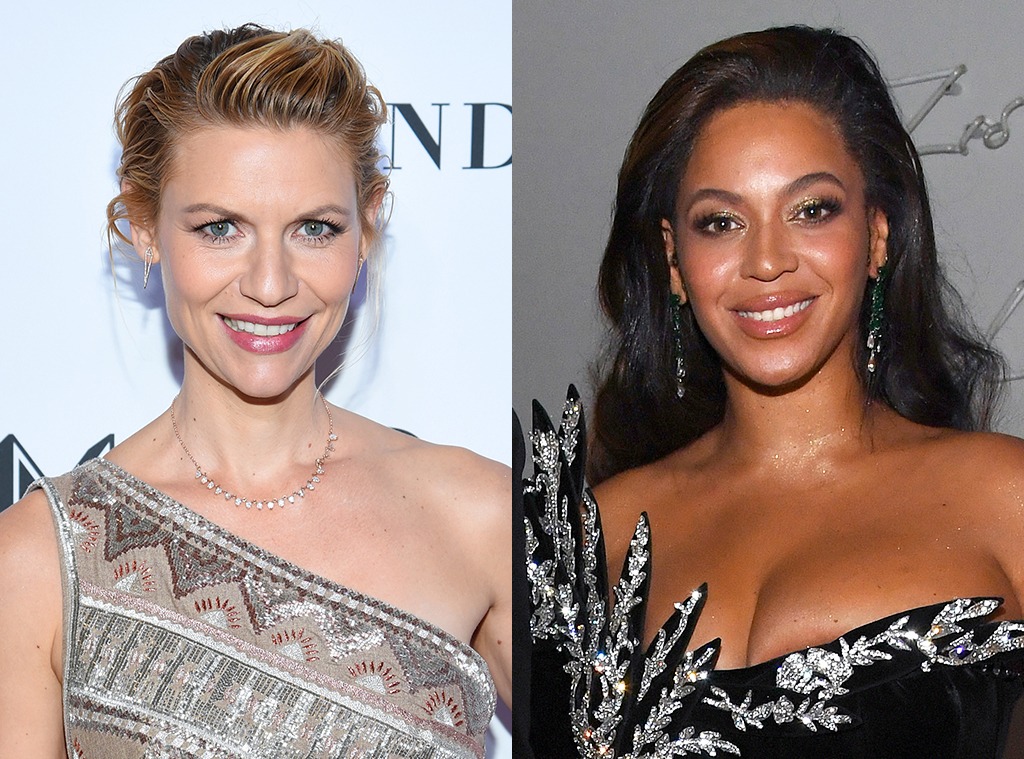 Dimitrios Kambouris/Getty Images for Glamour, Kevin Mazur/Getty Images for Sean Combs
Claire Danes' Homeland has garnered a lot of famous fans over the years.
During an appearance on Wednesday's The Tonight Show Starring Jimmy Fallon, the actress dished on all of her fellow celebrities who have expressed their love for the show, currently airing its final season on Showtime.
Some of those A-listers include President Barack Obama and Alex Rodriguez, but as Danes shared, "Maybe the coolest, most amazing fan was Beyoncé." As it turns out, Danes met the Queen Bey for the first time at an award show.
"I was at a fashion award thing, and we were both going to present," she told Jimmy Fallon. "We were backstage in this little area, and she was wearing this bedazzled jumpsuit and a giant hat, and it was just everything you want Beyoncé to be."
Although she didn't note the year or the award show she was referencing, based on the description of Bey's outfit, we're going to guess it was the 2016 CFDA Fashion Awards, at which she was honored with the Fashion Icon Award.
As Danes added of their meeting, "And I got really stupid. Like, my brain just stopped working. It's intense. It's her, right? I was talking, I was saying words and she said words back. And she said that she was a fan, I remember that distinctly. She said, 'My husband and I really love your show, we watch it all the time.' I was like, 'That's amazing.'"
"And she said she had just finished her tour," she continued. "And I said, 'Oh, wow, you must be exhausted. Are you gonna take a little break, or something? And she said, 'Yeah, yeah. We're gonna go on vacation.'"
And that's when, as the actress explained, things got a little awkward.
"I was like, 'Really? Where are you gonna go?'" Danes said. "And she said, 'Yeah, no, we're thinking about it.' And I was like, 'Oh, my God. You cannot ask Beyoncé where she's going on vacation!' Like, that's not appropriate. That's not something you do!"
So, how did she recover? As the Romeo + Juliet star explained, "I said, 'Yeah, yeah, yeah, no. Of course, yeah.' And so, then they called me on stage and I was very happy about that, that we could end our conversation right there. But she was lovely and charming and I was just a nervous freaking wreck."
Wondering if a friendship ever blossomed, Fallon asked, "Have you seen her since?"
As Danes hilariously responded, "No. She didn't invite me on vacation. That didn't happen." Oh, well. Better luck next time!
(E! and NBC are both part of NBCUniversal.)