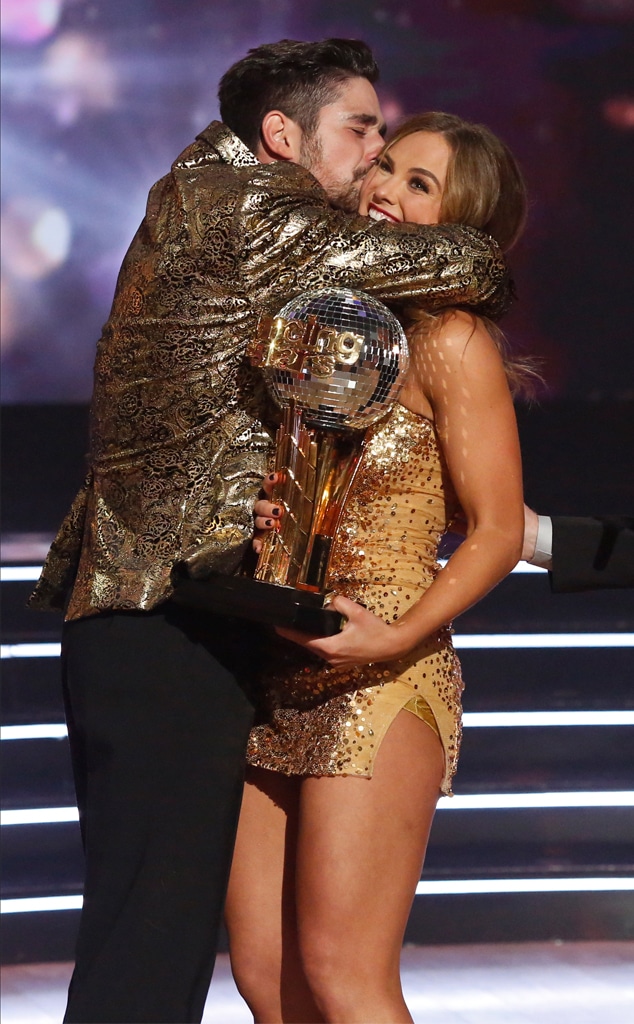 Eric McCandless via Getty Images
Hannah Brown wasn't far from Alan Bersten's mind this holiday season. 
That's because a fan made an ornament with their faces on it for a friend and Bersten shared a photo of it on social media for Brown. The Dancing With the Stars pro revealed the trinket on Instagram on Wednesday in the midst of the holiday. 
As for his winning ballroom partner, the former Bachelorette's reaction was perfection. "Weird that this is not from mine or @alanbersten mom's tree...but can I have one?"
The adorable ornament was in the shape of a disco ball, a fitting nod to Dancing With the Stars, with a photo of the two smiling together featured on the front. 
The Internet had some fun with the two stars as one fan page also compared a shot of Brown in her Christmas pajamas posing by her tree to another of Bersten posing similarly in a towel. "Just saying I did it first," the dancer quipped back at the post. 
It's clear fans can't get enough of these ballroom champions. 
Just over a week ago—and nearly a month since winning the latest season of the ABC reality series—they caught up over pizza, which had become a post-rehearsal tradition for the duo. 
"Guys, we're at our old stomping grounds," Bersten said into the camera on his Instagram Story. "We're having some pizza and it feels weird because we didn't rehearse all day together."
However, despite fans' wishes and suspicions, Brown has maintained they are no more than good friends. 
"No! I'm not [dating him]...We're great friends," she said on The Ellen DeGeneres Show in October. "He kind of has to be my best friend, so I make him be." 
"It has been an amazing experience," Brown continued. "But, like I said, I have just been—trauma from dating, so we're not going to do that right now. We're gonna dance."
"We have a great time together," she later told E! News at the 2019 People's Choice Awards. "We definitely have created a lasting friendship."