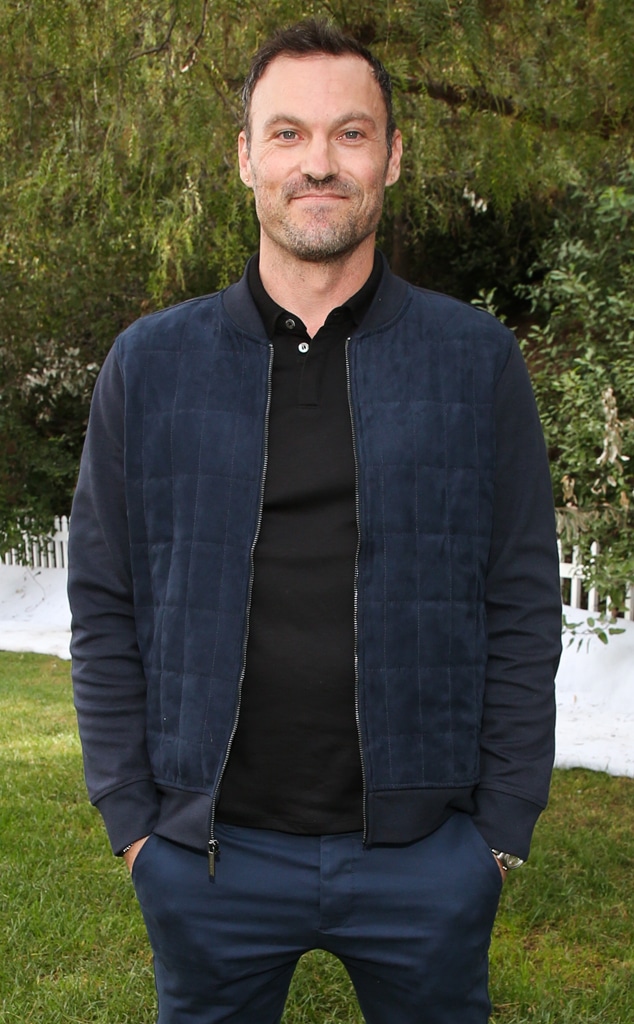 Paul Archuleta/Getty Images
May the force be with you, Kassius Marcil-Green!
Brian Austin Green just shared a rare photo of his eldest son—whom he shares with ex-fiancée Vanessa Marcil—on Instagram, and it came straight from a father-son trip to the movies. In the photo, Kassius, 17, is seen posing in front of a red Stormtrooper costume on display and is wearing a Yoda T-shirt and a black hoodie.
Brian, who was seemingly behind the camera taking the photo, gushed over Star Wars: The Rise of Skywalker in the caption, taking a moment to thank director J.J. Abrams for completing the franchise in a "really respectful" way.
As the Beverly Hills, 90210 alum's caption read, "JJ, thank you for giving my son and I not only a really great experience, but delivering a finale to something that has been a huge part of our lives in what I felt was a really respectful way :))."
The 46-year-old actor rarely posts about his teenage son. The last update his followers received was in July, when Brian shared two photos of Kassius on Instagram.
Both of the shots showed Kassius standing on a shoreline. Brian captioned the first shot with a simple smiley face. For the second, he wrote, "F*n handsome."
Last year, however, Brian's ex claimed in a heated Instagram post that he and Megan Fox had completely cut Kassius out of their lives.
The General Hospital alum alleged in her caption that the couple tried to get full custody of Kassius, as well as child support from her, when the teen was a younger child. She then argued that about six years ago, Brian and Megan reportedly stopped seeing Kassius altogether, additionally claiming that at the time, the teen had never met his youngest brother, Journey River Green, now 3. (Megan and Brian also share sons Noah Shannon Green, 7, and Bodhi Ransom Green, 5.)
Watch:
See Daisy Ridley's Fashion Nod to Dark Rey!
"They always had 50% custody and still did when court ended as I had and have NEVER asked for full custody," she wrote. "Then, 5 years ago on their own they decided to completely cut Kass out of their lives and his younger brothers' lives. Kass has never met his youngest brother and is not allowed to know where his bio father, stepmother and three younger brothers live." The couple did not publicly respond to Vanessa's claims.
Now, it appears that Brian spends more quality time with his eldest child.