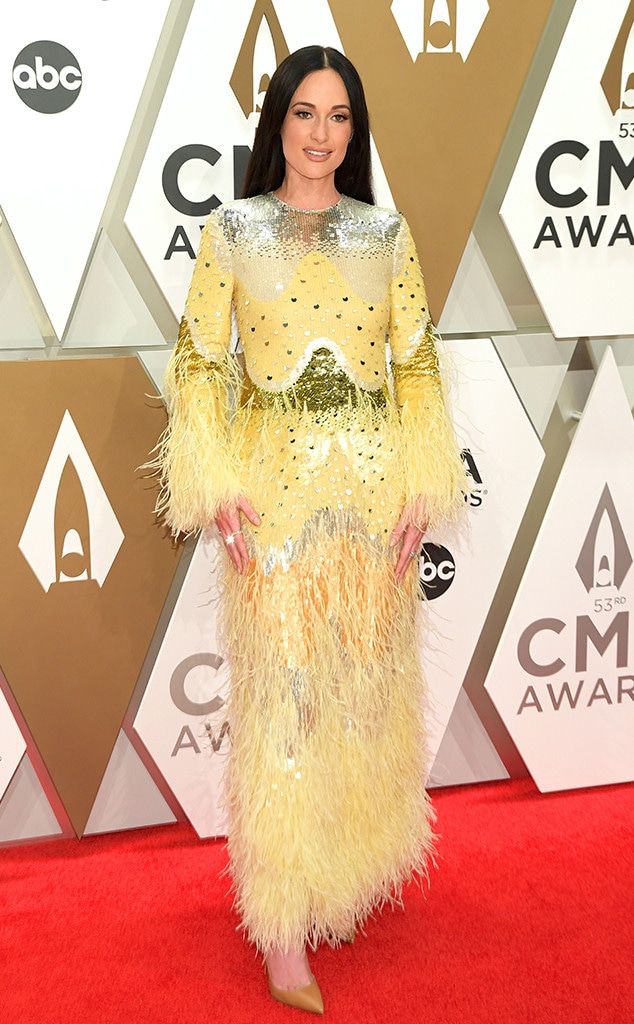 Jason Kempin/Getty Images
If you thought Kacey Musgraves had an amazing night at the 2019 CMAs, wait until you hear what actually happened. 
After winning Female Vocalist of the Year and Music Video of the Year, the country singer partied with Willie Nelson, which definitely explains her hangover tweet the day after: "can you die from a hangover? asking for a friend who is actually me."
Sitting down with James Corden for Thursday's episode of The Late, Late Show, Kacey broke down the evening for the late night host and fellow guest Rebel Wilson.
"Well, directly after the show, I went to Willie Nelson's bus," her tale began. "I don't know…I brought him some pizza. He loved that. Yeah, we hung out for a second and I don't really know what happened. The next thing I know…We leave, we hit some Nashville honky-tonks, it's really fun.
Just wait, it gets even better!
"The next thing I know, I'm in this barn and Reese Witherspoon is playing bongos. Gigi Hadid is also playing bongos. I'm singing with Ronnie Dunn, it's like, this. Like, this—I don't know. And then, yeah, I woke up. And I was…I don't know!"
Amazed by her after party celebrations, James asked the "Rainbow" singer what her go-to hangover remedies are. "Gatorade, but also just not drinking," she said. "I mean, just don't poison yourself…just don't be an a--hole and drink, like, loads…just buckets of tequila. Just don't do that."
Kacey's story led to a shocking confession from Rebel, who revealed she's never needed a hangover cure.  
"Fun fact: I've been drunk in my whole entire life," she professed. "It's not a joke. In science class, they said if you drink alcohol it kills your brain cells. See, people think I'm joking. I've only had my first sip of alcohol at 25 years of age. So, I've never had a hangover 'cause I've never been drunk."
Surprised to hear that his Cats co-star had never been drunk before, James said that he thought she'd be the best drinking buddy to have. Rebel, of course, had the best response.
"Because I cultivate this party girl image, like, on Instagram and stuff but it's not true," she said. "Since like it's me with bottles like…It's an internal joke with myself because I'm normally just at home with myself in my pajamas not eating dinner."
Switching gears, James recruited Kacey to perform a medley of holiday tunes for his musical segment "Soundtrack to a Christmas Love Story." Tasked with telling a holiday-themed rom-com using 14 classic carols as the narrative in just one take, the duo performed across nine different Late Late Show sets and spread holiday cheer.
Watch them get in the Christmas spirit in the video above!