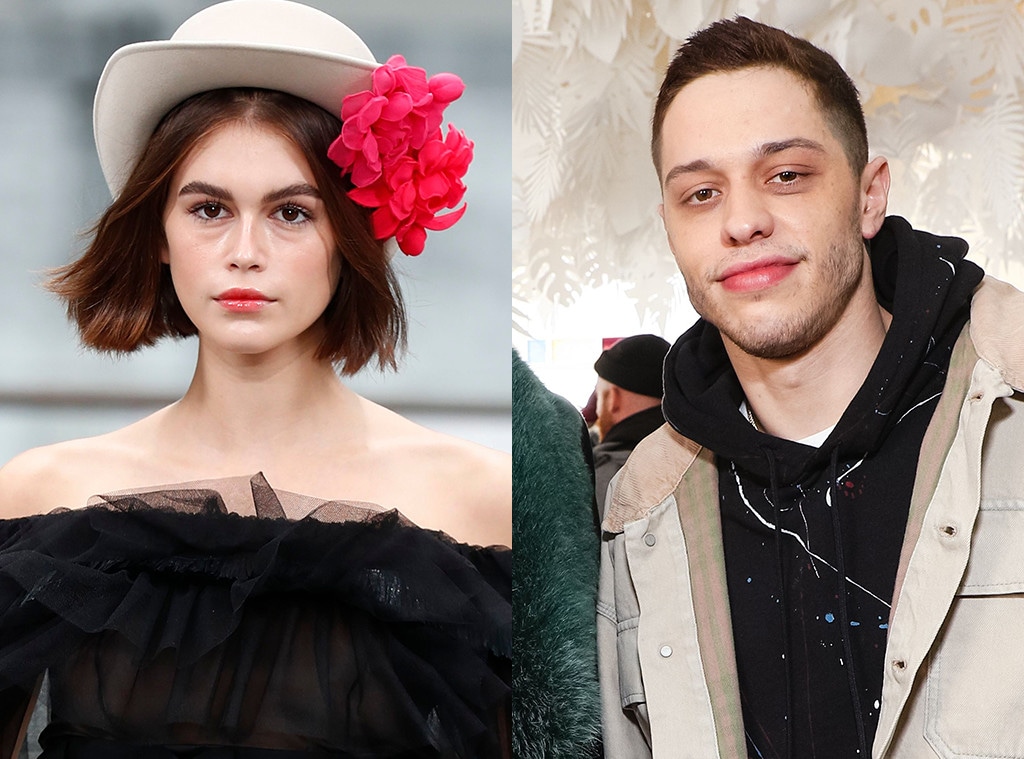 IAN LANGSDON/EPA-EFE/Shutterstock, John Salangsang/Variety/Shutterstock
Pete Davidson and Kaia Gerber's friendship appears to have blossomed into something more.
The Saturday Night Live star and the supermodel daughter of Cindy Crawford have been spending a lot of time together in recent weeks, sparking romance rumors. Though Davidson and Gerber have been friends for some time now, a source tells E! News that things have taken a more romantic turn.
"Kaia and Pete are definitely in a romantic relationship. They have been friends for a while now and run in the same friend circle, but became romantic recently," the insider tells E! News. "They started hanging out alone more often after meeting up in NYC in October. Kaia expressed she loved Pete's personality. She thinks he is charming and is very intrigued."
"They have been texting a lot this past month, and are definitely seeing where it goes," the source continues. "Kaia and Pete were spending time in Malibu together recently, and then flew to NYC because of Pete's work commitment where Kaia supported him."
The insider adds that Gerber, 18, is "planning on staying in NYC" with Davidson, 25, for a "few days."
Davidson, who recently split with Margaret Qualley, first sparked romance rumors with Gerber in late October when they enjoyed a meal together at Sadelle's in Soho. In early November, the celeb duo took their budding romance to Los Angeles, where they went out to dinner together.
Amid romance rumors, Gerber raised eyebrows when she was spotted wearing a "P" necklace while attending the annual Women's Guild Cedar Sinai Luncheon.
And, while second source tells E! News that Kaia "continues to say that she and Pete are just friends," the insider shares that she's "spending all of her time with him and is giddy about it."
"She isn't admitting to anything romantic and wants to keep everything under wraps," the source says. "Even if she's seen out with him, she's not ready to make anything official. She says they are friends and love being together."
If Gerber is still in NYC this weekend, she might be in attendance at SNL to watch Davidson. The Gerber family is also close pals with Harry Styles, who will be the celebrity host and musical guest on the show.