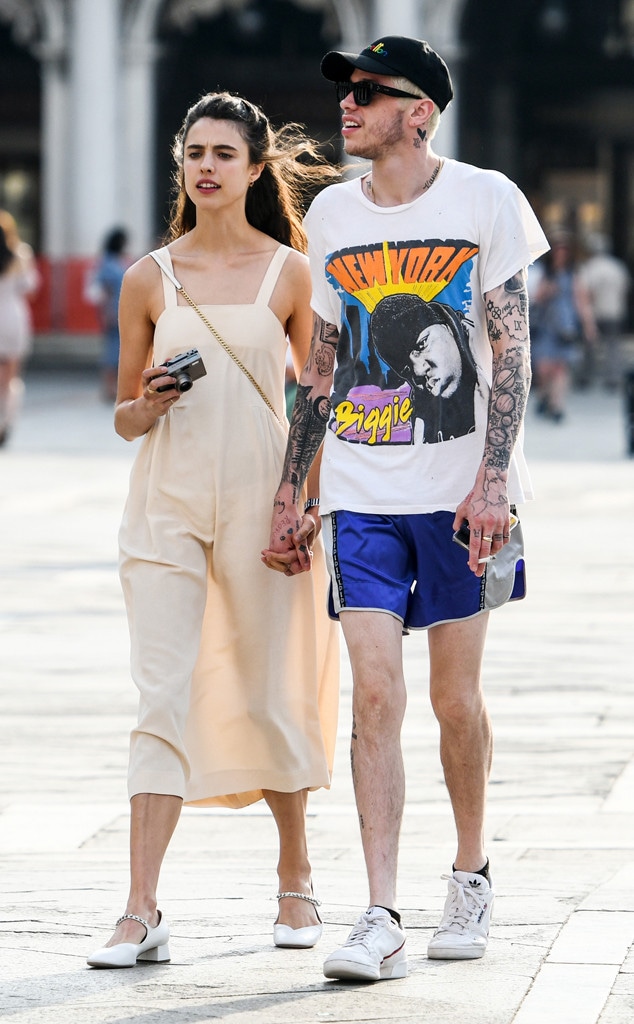 Splash News
Once Upon a Time in Hollywood Pete Davidson and Margaret Qualley were dating. However, in this storybook tale there is no happy ending.
Because it turns out that the actress and SNL comedian have called it quits after dating for over a month, multiple outlets are reporting. "They remain friends," a source close to the former couple told Us on Thursday, Oct. 17.
The very private duo first sparked dating rumors in August when they were spotted together in Venice for the premiere of Margaret's film, Seberg. At first, Pete kept things low-key and let the Once Upon a Time in Hollywood actress have her time in the spotlight, but they eventually made it clear that they were dating when they were seen enjoying an intimate dinner together.
Eventually, the comedian and actress showed just the tiniest bit of PDA when they held hands while doing some sightseeing in Venice. 
Weeks passed without any sightings of the couple, but Margaret's famous mom confirmed that things were going well with the relationship in an interview about the film Ready or Not. "She has a beautiful relationship with him but I don't want to step on her relationship too much," she said about the pair's romance. "They have a nice relationship."
But days continued to go by without any appearances of the couple, which made some wonder if their romance couldn't live beyond the canals of Venice. 
Then again, the Saturday Night Live star was filming for the latest installment of Suicide Squad. This weekend he returned to SNL after being MIA in Atlanta, which was a source of excitement for many viewers. And when prompted, he joked that he had in the Upside Down from Stranger Things with guest host David Harbour.