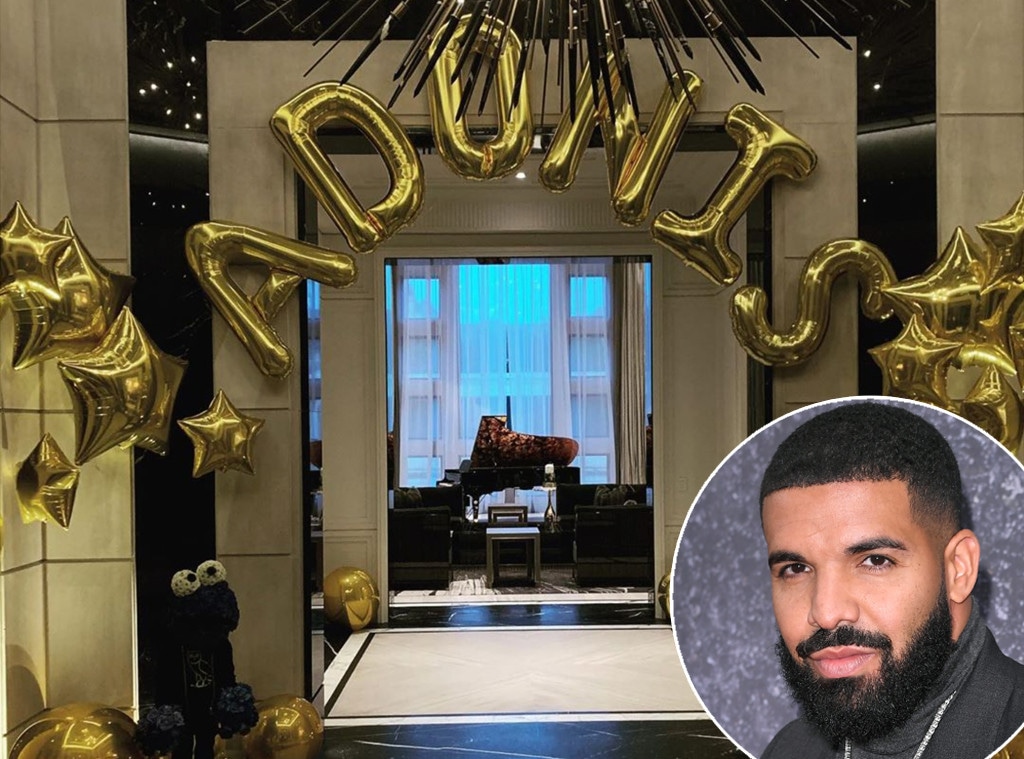 Instagram; Shutterstock
Drake is a family man through and through. 
Just over a year has passed since the world-famous rapper confirmed rumors that he welcomed a son, and despite keeping most details about his fatherhood experience under wraps, peeks like this most recent one are sure to put a smile on fans' faces. 
Drake, 32, took to Instagram on Friday with a snapshot from a recent birthday celebration in Adonis' honor. "Happy Birthday King," he captioned a photo of the party setting, which featured gold balloons that spelled out the 2-year-old's name. 
Adonis' proud pops and his mom, former adult film star and artist Sophie Brussaux, continue to co-parent following his birth in 2017. Earlier this year, Sophie attended Drake's concert in Paris. 
Drake touched on his and Sophie's relationship during an appearance on HBO's The Shop, explaining, "I am a single father learning to communicate with a woman who, you know, we've had our moments. I do want to be able to explain to my son what happened. But I don't have any desire for him to like not love his mother... I don't ever want the world to be angry at his mother. Like, we have found ourselves in a situation and we are both equally responsible and now, like, I'm just really excited to be a great father."
The 4-time Grammy winner is focused on the positive in the midst of an otherwise turbulent time in his personal life. On Tuesday, Drake publicly slammed his father, Dennis Graham, for comments he made about their dynamic. 
"Woke up today so hurt man," Drake wrote on Instagram Stories. "My father will say anything to anyone that's willing to listen to him. It's sad when family gets like this but what can we really do that's the people we are stuck with...every bar I ever spit was the truth and the truth is hard for some people to accept."
Much of Drake's discography documents their strained relationship, and Dennis claimed in a recent interview that his son had sensationalized the truth to "sell records." 
For now, it seems, Drake is staying focused on his life's blessings.