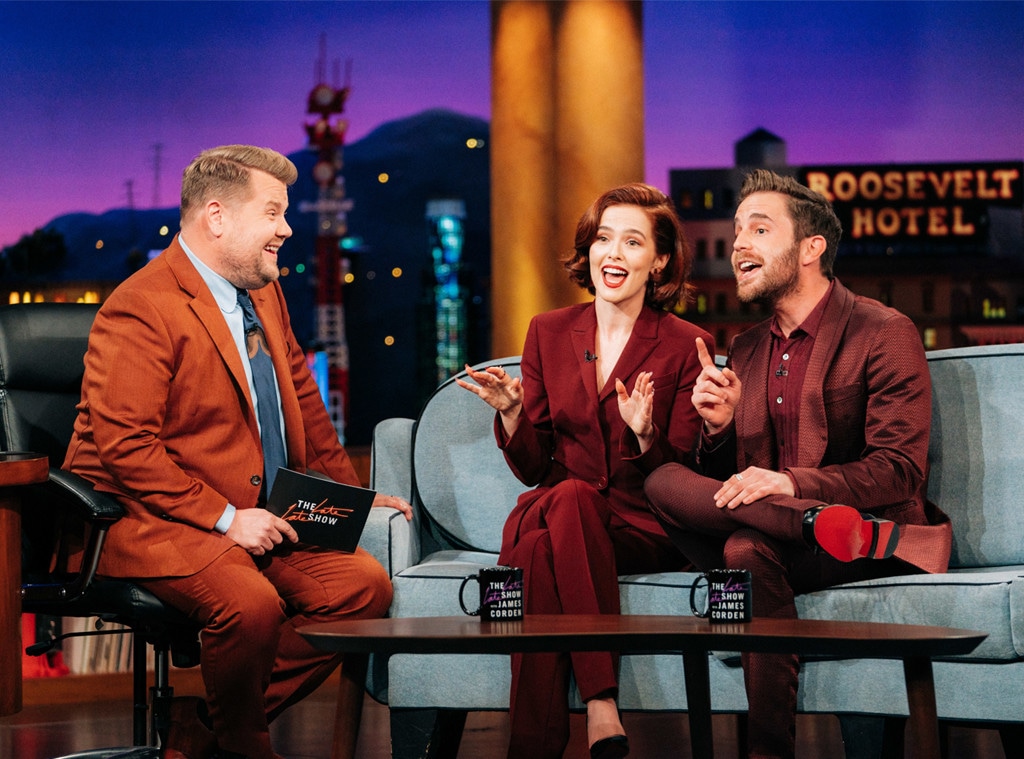 Terence Patrick/CBS
Ben Platt and Zoey Deutch are giving us another reason to say "l'chaim!"
Ahead of the Jewish holiday Yom Kippur, The Politician co-stars treated those who celebrate and those who don't with a little jingle to get everyone in the spirit of atoning and fasting. (Who says Hanukkah should get all the attention?!)
The tune comes courtesy of Ben and his family's enthusiastic traditions. "The Von Platt Family Singers, as we're known, we usually do musical theater," the actor explained on Monday's The Late Late Show. "I do have a Yom Kippur song that I wrote with my dear friend Molly Gordon, who is another amazing actor, that we can sing for you right now."
After all, Zoey is well-versed in the lyrics. Cue the A and C Sharp and it's showtime!
"Think about your sins, think about your sins," they so beautifully harmonize. "Think about your sins, don't eat anything."
"Think about your sins, think about your sins," Ben and Zoey continue, much to the excitement of James Corden. "Think about your sins, don't eat anything. Yom Kippur."
A round of applause and a Happy New Year to all those who celebrate! Or, as Zoey said, "L'Shana Tova to the two jews that are here, probably."
Hopefully, the holiest day in Judaism will bring better memories than their Bar Mitzvahs.
"You know, at your Bat Mitzvah, it's like a marker of becoming an adult," explained the 24-year-old. "My 12 year-old-brain thought becoming an adult meant waxing your eyebrows. I thought, 'Oh, cool, pretty adults and they've got their nice eyebrows and I have caterpillar eyebrows.'"
After much begging and pleading, her mom, iconic actress Lea Thompson, finally gave in. "Then God struck me down," Zoey joked. "I broke out into this spectacular, probably Burgundy rash on my whole face. I had very thin eyebrows and a bright red face with a caked on layer of makeup to protect my rashes face. So it was not extravagant. It was kind of sad."
Ben, unfortunately, can relate. "It's OK," he reassured her. "My Bar Mitzvah, I was in a cream suit and purple shirt with matching purple braces. So now that much better."
But there's always a silver lining. As Zoey cheered, "We love a monochromatic moment."