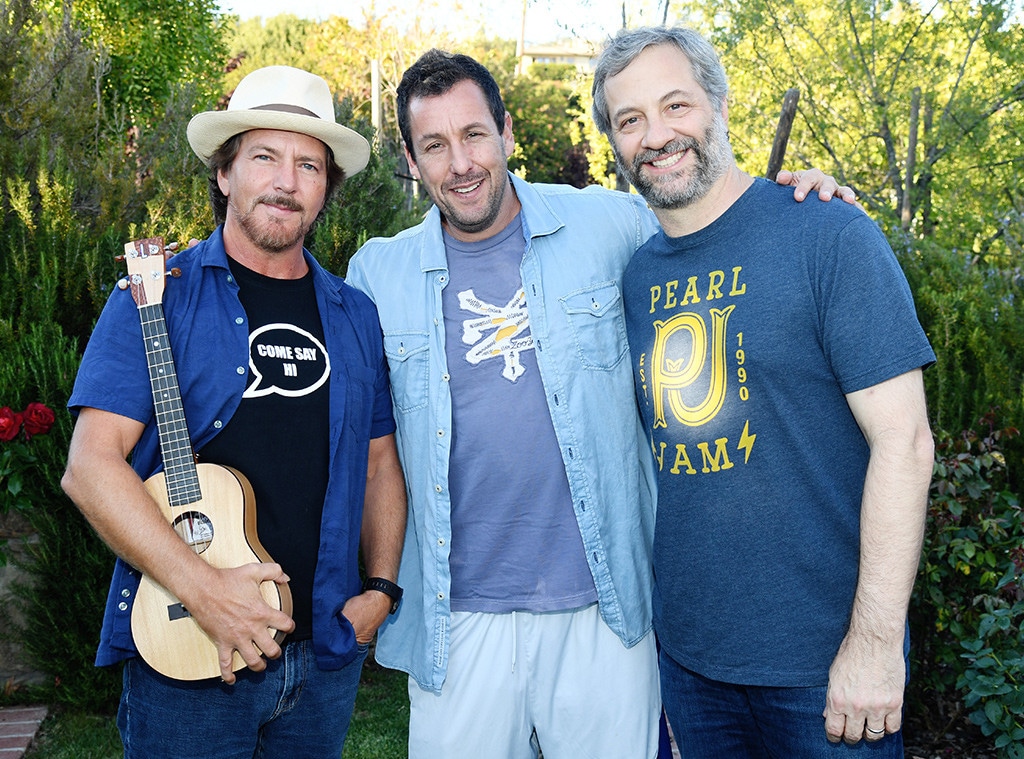 Kevin Mazur/Getty Images for EB
What's not to love about this Taylor Swift cover?!
It was a weekend to remember for Adam Sandler's daughters Sunny and Sadie Sandler who were able to showcase their talents and love for a music superstar.
On Sunday evening, the sibling duo delivered a unique rendition of Taylor's hit song "Lover" at Malibu's Rock4EB!'s charity event with Eddie Vedder and Judd Apatow benefiting rare disease Epidermolysis Bullosa, The EBMRF and EBRP.
In videos obtained by The Hollywood Reporter's Chris Gardner, Adam played the guitar while his daughters added a unique touch to the fan-favorite song.
"We could leave the Hanukkah lights up 'til January," Sunny and Sadie sang before receiving a standing ovation. "This is our place, we make the rules."
Based on the social media clips, the audience that included A-list stars like Cindy Crawford, Julia Roberts, Sean Penn, Courteney Cox and Kaley Cuoco loved the surprise performance. During the evening, guests also enjoyed drinks from Champagne Éric Philippe. 
"Had an incredible night with these two guys at the #Rock4EB charity event," Adam wrote on Instagram while posing alongside Judd and Eddie. "Thank you to the Epidermolysis Bullosa Medical Research Foundation for having us. Unforgettable night."
Earlier in the weekend, Adam's daughters were also able to watch Taylor perform live on NBC's Saturday Night Live.
According to The Hollywood Reporter, Adam managed to score tickets to the taping where the singer performed "False God" and "Lover." And yes, Taylor was able to celebrate the night with boyfriend Joe Alwyn at the show's after party.
"Had the best time playing Lover on SNL exactly the way I wrote it, on piano in a quiet moment. And a huge thank you to Lenny Pickett for playing with us on False God!!" Taylor shared on Instagram. "Phoebe was excellent as host and @maryellenmatthewsnyc, one of my favorite photographers, is always so awesome to work with. Make sure to watch Camila next week!!"