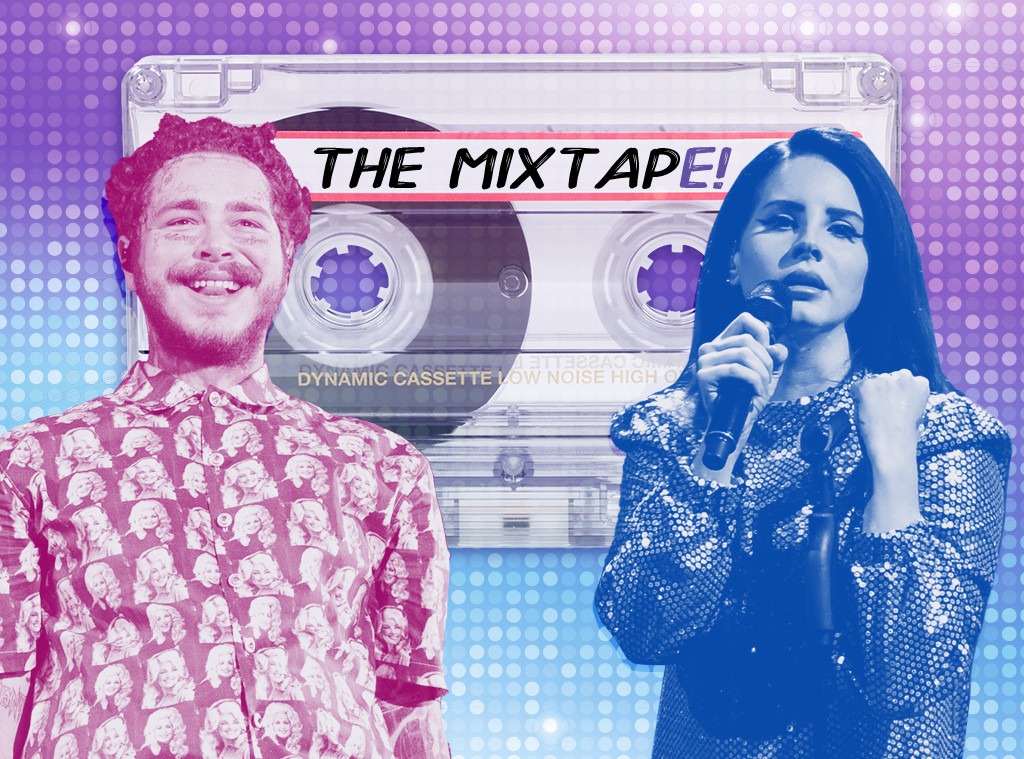 Shutterstock/Getty//E! Illustration
Labor Day weekend is finally upon us.
And while that means summer is truly, officially coming to a close (although, if someone could let the temps in Los Angeles know that, we'd really appreciate it), it also means that we have one last three-day weekend to send the season out in style. Whether you're planning to celebrate with a pool party, a BBQ, a beach day, or, in the case of our friends on the southern East Coast, just trying to stay safe as Hurricane Dorian makes landfall, you're going to need an updated playlist to get you through. And that's where we come in.
Welcome to week three of The MixtapE!
Every Friday, all our favorite artists deliver their latest offerings all at once, making for quite an embarrassment of riches for music lovers. But who has the time to give it all a listen and separate the wheat from the chaff? We do, of course. What follows are our picks for this week's best of the best. You can thank us later.
(And if you're looking for even more new music inspo, check out our picks from week one and week two!)
Lana Del Rey — "Norman f--king Rockwell"
Lana Del Rey's sixth studio album, the delightfully named Norman F--king Rockwell, is finally out, following a steady release of promotional tracks that have kept us in a dreamy state of mind all summer long. (Seriously, her cover of Sublime's "Doin' Time" is such a gift.) And the wait for the title track has been well worth the wait. In the gorgeous piano ballad, produced by Lana and Jack Antonoff, the ethereal songstress sings about a "goddamn man-child" who makes her blue and talks "to the walls when the party gets bored of you." The entire album would serve you well if you wanted to just bliss out somewhere in the sand as the sun sets, but this track in particular encapsulates all of what makes Lana Lana: her melodrama, her wit, her haunting vocals. It's all there in one perfect, four-minute package.
Post Malone — "Circles"
We're a week away from the release of Posty's third studio album, Hollywood's Bleeding, and he's delivered the second taste of what to expect from the LP in the form of this hazy little number that's perfect for these dog days of summer. Written alongside frequent collaborators Frank Dukes and Louis Bell, the track finds Posty doing his best Tame Impala impression while singing about a relationship that's going nowhere good. "Seasons change, and our love went cold," the chorus begins. "Feed the flame 'cause we can't let it go. Run away, but we're running in circles." The downbeat production is a welcome change of pace from his usual sound—"Wow" this is not—that just might lure those who'd previously written Posty off. At least it did for this writer.
Miranda Lambert with Maren Morris — "Way Too Pretty for Prison"
We're still a few months away from the release of Miranda's seventh studio album, Wildcard, due on November 1, but the country music spitfire has given us another taste of what's in store, teaming with her Roadside Bars and Pink Guitars Tour opener Maren for the cheeky "Way Too Pretty For Prison." As you might surmise from the title, the track finds the two singing assuring a friend that they'd do anything to help get revenge on a cheating POS—anything, that is, except for a murderous act that'll send them upstate. It's a funny little honky-tonk that'll cheer you up if you've been wronged and fantasizing about getting some revenge of your own.
Charli XCX feat. HAIM — "Warm"
At first blush, Charli's future-forward pop and the Haim sisters' sun-soaked '70s and '80s inspired pop rock seem as though they'll make for strange bedfellows. But on "Warm," the latest track to be released from the former's forthcoming self-titled album, due September 13—the sisters' vocals feel right at home on Charli's fluttery electronica as they take turns pleading with a special someone to give them the reason why they can't make it work. "Fall in love. Risk it all," Charli begs as the song builds to its climax. Consider us smitten.
Tones and I — " The Kids Are Coming"
Australian singer Tones and I (born Toni Watson) has been making waves this summer with her smash hit "Dance Monkey" and its viral sensation of a music video—seriously, if you haven't heard it yet, stop everything and fix your life—and now she makes good on that track's promise with the release of her debut EP, The Kids Are Coming. It's all worth a listen, but the title track is an instant standout. Over a slightly menacing production, Tones warns the older generation that the youth are, in fact, coming to clean up all their messes. "No one seems to understand the kids these days/And why we live this way/We've got to clean up the mess you've made/Still you don't wanna change," she sings. "You create the law but can't control our thoughts/And no, we won't be bought/We don't just protest for the fun/We're hear to get it done." Consider yourself warned.
Wale — "BGM"
There's a lot to love about this new track from Wale: it's funky AF, it's a necessary ode to Black Girl Magic, it's a potent reminder that we should stop sleeping on the rapper. But most of all, we're 100 percent here for this killer line: "So let's go/It's your birthday/Got that ice cream/It's sherbet day." Gold, we tell you. Gold.
Tove Lo and Jax Jones — "Jacques"
We're about a month away from the release of Sunshine Kitty, the highly-anticipated fourth studio album from our favorite sexually-liberated Swedish pop star, Tove Lo. To get us hyped for the new collection of tracks, she's already dropped the killer "Glad He's Gone" and "Bad as the Boys," keeping us bopping all summer long. And now she's gifted us with this funky little banger, a collab with English DJ Jax Jones, that finds her singing about a one-night stand with a French fella. "It's raw and cheeky, because that's what that night was," Tove said in a press release announcing the track. And she's not wrong. "No talking now, pull on my waist," she sings in the chorus over Jax's funky bassline. "Cause I want you doing bad things to me." Let this one take you straight to the dance floor.
Justine Skye — "Secrets"
If you like your music with a Kardashian-Jenner co-sign, allow us to introduce Justine Skye. A friend of Kendall and Kylie Jenner, the model and R&B songstress dropped a new EP, Bare with Me, this week, marking her debut as an independent artist. (She was previously signed to Roc Nation.) On this standout track, she leans into her Caribbean roots as she lets a lover know that he's going to be one of her secrets, "take it or leave it." If you're going to spend some time around a pool this weekend, turn this one all the way up and luxuriate in its smooth waters.
Skrillex feat. Ty Dolla $ign and Boys Noize — "Midnight Hour"
It's been a minute since Skrillex has released an official single—two years, to be exact, despite featuring on remixes and track all over the place in the interim—but the producer is back and in a big way with this infectious track that expertly marries R&B and house. The decision to move back and forth from Ty's lush vocal into a truly wild, throbbing dance beat might spell disaster in the hands of a lesser producer, but Skrillex proves he knows exactly what he's doing here. If there's any justice, this one will be huge.
!!! — "Couldn't Have Known"
Never heard of !!!? Don't even know how to pronounce it? That's OK, you certainly won't be the only one. But the dance-punk band, pronounced most commonly as "Chk Chk Chk" have been making gloriously demented music since 2001. (Our personal favorites are "S--t Scheisse, Merde," parts one and two, off their 2004 album Louden Up Now.) They've just released their eighth studio album, Wallop, and trust us when we say it more than lives up to the title. Previously released single "This Is The Door" is one of the best disco tracks we've heard in a long time, with a build to nowhere that's truly electric, but it's new track "Couldn't have Known"that's got us buzzing this week. It's hard to even categorize the sounds aside from supremely funky. When the chorus opens up, you'll know just what we mean.
Astrid S — "Doing To Me"
We've been feeling this Norwegian singer ever since she dropped her 2017 EP Party's Over. ("Breathe" is a must listen.) And while the wait for a debut full-length album persists, she returns today with yet another EP, entitled Trust Issues. Each of the five tracks are worth your time, but the standout for us is "Doing To Me," a sweet little slice of Scandanavian pop that finds the songstress lamenting the way a lover keeps toying with her emotions. The twist? "Baby, I love what you're doing to me," she admits in the chorus. 
Bonus Tracks:
Bebe Rexha — "Not 20 Anymore": As promised, Bebe took the ageist remarks she's been hearing and turned them into an anthem tailor-made for singing defiantly at the top of your lungs.
Kris Kross Amsterdam and Conor Maynard feat. A Boogie Wit Da Hoodie — "Ooh Girl": The Dutch DJ trio and British crooner team up for their third collab yet, this time joined by the American rapper, for a tropical track with a killer sample that you'll recognize instantly.
Snakehips feat. Anna of the North — "Summer Fade": The British duo enlist the burgeoning Norwegian singer for this slinky little number about the season slipping away from us.
mxmtoon — "dream of you": YouTube made this lo-fi singer a star, helping her debut EP cross 100 million streams on Spotify. But it's songs like this one, off her upcoming debut album, the masquerade, that'll keep her in the game. It's all just so dreamy, no pun intended.
Happy listening!