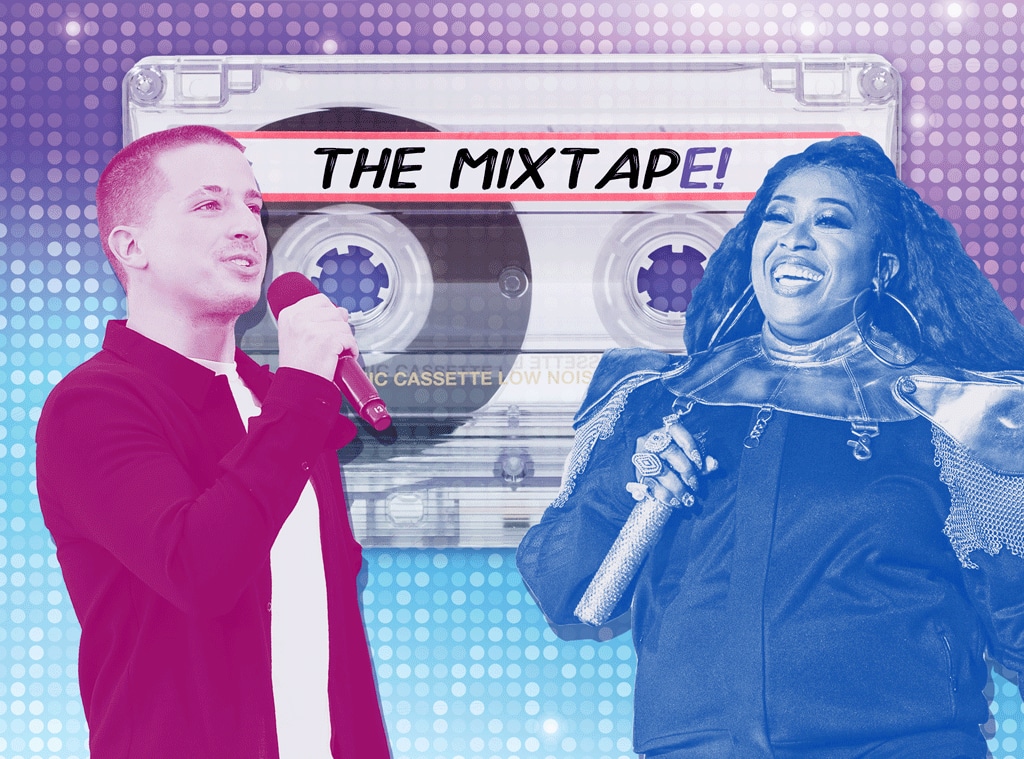 FOX; Shutterstock/E! Illustration
Another week, another massive new music dump.
By now, you've probably given Taylor Swift's gorgeous new album Lover all the obsessive repeat listens that 18-track magnum opus deserves, parsing through its lyrics for all the hints about her ultra-private relationship with boyfriend Joe Alwyn, but if that's where your musical journey has stopped this Friday, you'd truly be missing out on much more good stuff. That's where we come in.
Welcome to week two of The MixtapE!
After spending our morning listening to just about everything this New Music Friday had to offer, we return to you with our picks for the best of the best, the stuff that's demanding you make room for it on your Spotify playlists. It just might be the perfect soundtrack for whatever you've got planned this weekend. And yes, before you ask, T.Swift is in the mix. But which song made the list? You'll have to read on to find out!
(And if you missed week one, you can check it out here!)
Missy Elliott – "Throw It Back"
Can you believe it's been 14 years since Missy Elliott last released a full-length album? Sure, there have been one-off tracks—2015's "WTF (Where They From)" is a killer—and guest appearances here and there, but it's been a pretty agonizing wait for a proper return. And that wait is finally over. Ahead of receiving the Michael Jackson Video Vanguard Award at this year's MTV VMAs on Monday, Aug. 26, she's released a new EP appropriately called Iconology. While the whole thing is worth a listen, the standout here is "Throw It Back," which finds the iconic rapper reminding the children just why she's revered as such. True to form, the accompanying video is full of eye-popping lewks and slick choreography. Welcome back, Missy. Please don't make us wait this long ever again.
Charlie Puth – "I Warned Myself"
For the lead single off his upcoming third album, Charlie tries on a much more mature, sensual sound than ever before. And it fits him like a glove. His silky falsetto gets an assist from a throbbing bassline courtesy of Benny Blanco's production, making for one seriously sexy number. It's the beginning of a whole new era for the hit maker and we're all the way here for it.
Taylor Swift feat. The Dixie Chicks – "Soon You'll Get Better"
Like we said, there was no way Taylor would be left off this week's list. But choosing just one track from Lover was a near-Herculean feat when almost all of them were worthy of inclusion. And while we debated making the pitch-perfect kiss-off anthem "I Forgot That You Existed," the spiky feminist bop "The Man" or "Miss Americana & The Heartbreak Prince," which finds her out-Lana Del Rey-ing Lana Del Rey, we kept coming back to this heartbreaking track. With a subtle assist from the legendary Dixie Chicks, "Soon You'll Get Better" finds Taylor bearing her soul as she sings about her mom Andrea's battle with cancer. See if you can make it past the first chorus without getting a lump in your throat.  
Ben Platt – "Rain"
Ben Platt has been a busy boy. The Tony winner has already released one album this year, on top of filming the first season of Ryan Murphy's debut Netflix series, The Politician, dropping on the streaming service next month, and now he's back with more new music. And it just might be his best track yet. Teaming with producer Alex Hope, who's worked with the likes of Troye Sivan and Tove Lo, Ben takes his crystalline vocal to the dance floor on this emotional banger about working through heartbreak to give love another chance. "I hope it brings you dance and catharsis," he tweeted. "May I suggest you blast it." We second that emotion.
Charli XCX – "Miss U"
Another week, another Charli track. With just weeks to go before the release of her self-titled third album, she's dropped another track, only this one comes to us as a part of the 13 Reasons Why season three soundtrack. "Miss U" is a bit of a sad banger, finding the English pop star opening up about heartbreak. Sometimes' I miss you when I'm all alone/And even though we both moved on/Sometimes I play your favourite song/I play it on and on," she tells her former lover. Who hasn't been there?
Mura Masa & Clairo – "I Don't Think I Can Do This Again"
And now for something a little left of center. Mura Masa (born Alexander Crossan) is back with his first new song since his 2017 self-titled debut album, which featured appearances by alt-pop faves like Charli XCX, Christine and the Queens, and Damon Albarn (the lead singer of Gorillaz). Here, he teams with Clairo, whose debut album Immunity, released earlier this month, has made her one of pop music's newest rising stars. We're happy to report that his demented approach to pop production remains in tact, and when the song erupts after the first chorus, it took us right back to some of our favorite alt-pop of the early aughts. (Think The Faint or Interpol.) Mura Musa might not be for everyone, but if you like your pop a little off-kilter, you'll dig this.
Alessia Cara – "Okay Okay"
This new track off the Canadian pop star's forthcoming EP This Summer is just the sort of song you'd hope to get on something so seasonally themed. After explaining that her friend asked for a song "we could feel ourselves to," the typically-downbeat singer busts out her best braggadocio on the chorus. "I'm a million trick pony/The number one and only/On a scale of 1 to 10, I'm at 11," she sings. "Okay, okay." Turn it on and you just might feel yourself too.
Emotional Oranges – "Just Like You"
Who are Emotional Oranges? No one really knows. The R&B collective has been releasing music anonymously for the last year now, and their latest is a sultry little slice of heaven that sees a male and female vocalist trade verses about missing that someone special. It's perfect for these hot August nights when you find yourself thinking about the one you wanna be with and things get just a little bit too steamy. Come on, you know you've been there.
Zac Brown Band – "Need This"
You know those weekends where you just need to let off some steam, when it's been a long week, work's been exhausting, and you just forget about it all for a little bit? The guys in the Zac Brown Band do too and their latest single off their upcoming sixth studio album, The Owl, is an ode to just that. Back by production from Ryan Tedder, Andrew Roberts, Jason "Poo Bear" Boyd, and himself, frontman Zac Brown sings, "Drop those bags, let's get down to business/Didn't drive all night just to witness/Light me up like 12 days of Christmas/All I know is right now I need this." Let this track be all the permission you need to let your hair down this weekend and live. it. up.
Bonus Tracks:
Why Don't We - "What Am I": After winning Choice Music Group at this year's Teen Choice Awards, the boy band returns with a track penned by none other than Ed Sheeran. It's a romantic little thing that ought to serve as a reminder that the time-honored tradition of American boy bands is alive and well in their hands. 
Lana Del Rey - "F**k it I love you": A week ahead of the release of her sixth studio album, Norman F--king Rockwell," pop's most ethereal vocalist gives us one last preview of what's in store with this track, co-produced by Jack Antonoff. It's a suitably moody affair, so, you know, classic Lana. 
5 Seconds of Summer - "Teeth": This Australian boy band are building on a newer, more mature sounds they introduced last year on their third album, Youngblood, as they prepare to release their fourth. Lead single "Easier" absolutely slaps, and this latest one does, too. Growing up has never sounded so good.
Cheat Codes, Sofia Reyes & Willy William – "Highway": For their latest single, DJ trio Cheat Codes (consisting of Kevin Ford, Trevor Dahl, and Matthew Russell) went international, tapping the Mexican singer Sofia and French DJ Willy for this sparkly little late-summer bop that's just begging you to roll down the windows in your car and sing along on the top of your lungs.
Happy listening!