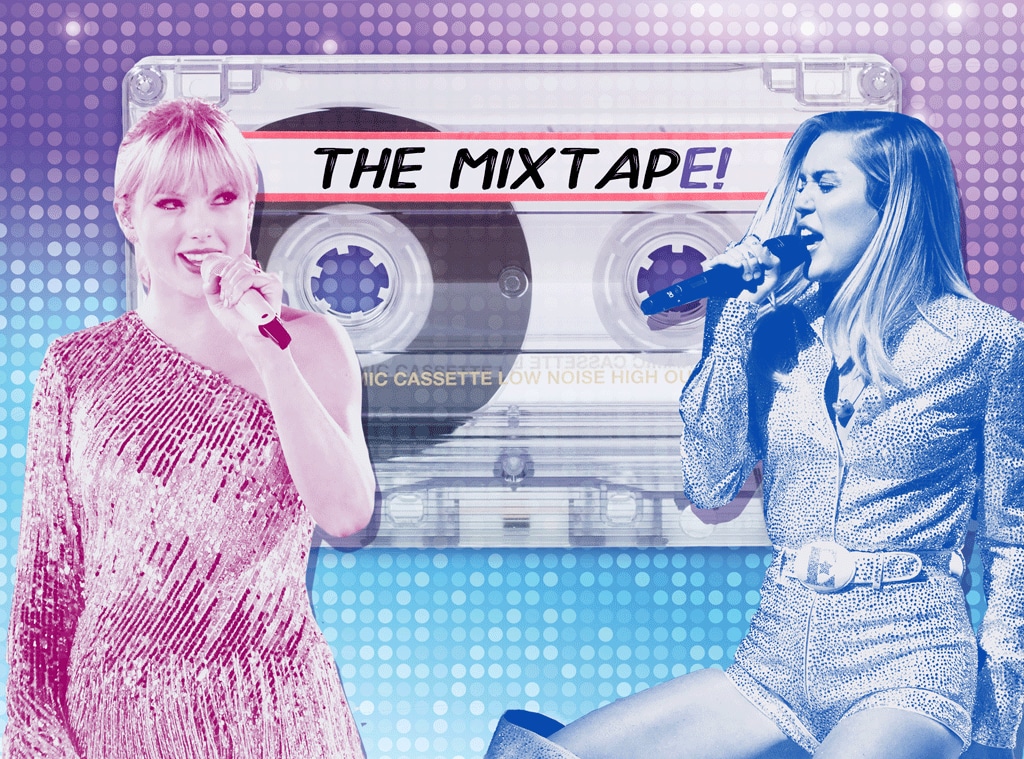 Getty Images/E! Illustration
New music Fridays can be overwhelming.
Don't get us wrong, we love the weekly holiday for music fans, but, more often than not, the sheer volume of gifts we receive can leave a person feeling inundated. And sifting through all the new releases from our favorite artists to find the tracks worth adding to our playlists? Who has the time? So we here at E! News came up with a solution.
Welcome to The MixtapE!
We've done the homework for you, given practically everything that's dropped this week a listen, and have put together our picks for the best of the best. These are the tracks that you need to put in constant rotation and let be the perfect soundtrack for your weekend. And trust us, there's a song in here for whatever you've got planned. So what are you waiting for? Read on and get to listening! You can thank us later.
Taylor Swift — "Lover"
Chances are you've already given T.Swift's latest single, the title track from her upcoming album Lover, a listen. But if you haven't, you need to remedy that ASAP. The dreamy track, which Taylor wrote and co-produced with Jack Antonoff, is a pure love letter to her boyfriend Joe Alwyn that sees the superstar return to her country roots. While we're still not sure what this album is going to sound like, considering this stands in stark contrast to the bubblegum pop of earlier singles "ME!" and "You Need to Calm Down," "Lover" is, without a doubt, the standout of all the releases thus far. If you've missed Red-era Taylor, this one's for you. Let this one make date night with the one you love that much more romantic. 
Miley Cyrus — "Slide Away"
Standing in stark contrast to Taylor's romantic ballad is this surprise release from Miley. Coming just days after announcing her split from husband Liam Hemsworth, "Slide Away" finds the singer telling the tale of a relationship that's fallen apart over melancholic production courtesy of frequent collaborators Mike WiLL Made-It and Andrew Wyatt. "So won't you slide away back to the ocean, I'll go back to the city lights," Miley tells her former partner in the song's chorus. If you're nursing a heartbreak of your own, this one's for you. 
Normani — "Motivation"
Since Fifth Harmony called it quits, we've been waiting for Normani to find a solo track worthy of her insane talents, the one that would tell the world a star has arrived. "Motivation" is that song. Written by some of pop music's biggest names, including Max Martin, Savan Kotecha, Ilya, and Ariana freaking Grande, the song is an instant earworm; a brassy, bold track that's perfect for a drive to the beach or a house party. If you want to get down and have a good time this weekend, this song should be on repeat. And the video? There are almost no words to describe how good it is. From the next-level choreography to the nods to early 2000s music videos from Beyonce, Britney, and JLo, it's quite literally everything. If you haven't watched it yet, you need to remedy that immediately. 
MUNA — "Stayaway"
When MUNA arrived on the scene with their debut album two years ago, the queer-identifying trio comprised of lead vocalist Katie Gavin and guitarists Josette Maskin and Naomi McPherson made quite an impression with standout tracks like "I Know a Place" and "Crying on the Bathroom Floor." (Seriously, if you've never heard of those bops, you should seek them out.) As they prep for the release of their second album Saves the World in September, they've delivered three singles that make it clear there is no sophomore slump to worry about. This week's drop, "Stayaway," finds Katie singing about changing habits to avoid falling back into the arms of an old lover. "Leaving you was easy, now I gotta do what's hard," she sings. "I gotta stay away." It's a total sad banger that'll have you on the dance floor—even if it's with a tear to your eye. There's a reason Harry Styles chose them to open for him in 2017. It's because they're great.
Rosalía and Ozuna — "Yo x Ti, Tu x Mi"
Rosalía is having a killer 2019, releasing one bop after the next while landing on the lineup at festivals like Coachella and Made In America. And now the Spanish singer has teamed up with Puerto Rican superstar Ozuna for a flirty little duet that finds her setting aside her usual modern flamenco sound for a breezy Caribbean rhythm. Even if you don't understand what they're saying—the chorus is simply "Me for you, you for me," in case you were wondering—it's not hard to get caught up in the vibe. Put this one on while you lounge around the pool, sipping on cocktails (or mocktails if you're not of age). You won't regret it. And be sure to check out the video, if only for Rosalía's stunning looks and mesmerizing dance moves. She's the real deal.
Doja Cat and Tyga — "Juicy"
Doja Cat's ode to her booty was already a certified bop before she decided to enlist Tyga for this remix, off the deluxe repackaging of her 2018 album Amala. Rather than pulling focus from her ode to natural beauty, he truly complements Doja and delivers a pretty great verse. The song was fun before, and it's even more of a good time now. Whether you're dancing in the mirror as you get ready for a night out or getting silly with your girlfriends on a night in, turn this one all the way up. Be sure to check out the video, too. The visuals are out of this world.
Hunter Hayes — "One Good Reason"
OK, so this one's a bit of a cheat, as Hunter released this song a few months ago. But it's the standout track from his new album, Wild Blue (Part 1), so we still included it. And anyway, we make the rules here, so we can break them, too. In the emotional mid-tempo country-pop track, Hunter sings about loving someone he wishes he didn't. It's totally relatable, it'll have you singing along, and it just might break your heart a little bit. If you need a good cry, let Hunter help you out with that.
Jorja Smith feat. Burna Boy — "Be Honest"
While we all impatiently await the return of Rihanna, Jorja Smith has stepped up to the plate with this slick track that's as good as anything our Barbadian queen has put out, if not better. The island rhythm, Jorja's impeccable vocals as she tells her man she knows he wants her, Burna Boy's flow—it's all just so good. It's a perfect summer vibe.
Bonus Tracks:
Blake Shelton feat. Trace Adkins — "Hell Right"
Two country powerhouses join forces in this ode to having a good time. 
Charli XCX feat. Sky Ferreira — "Cross You Out"
Charli hasn't released a bad track in the lead-up to her new album, Charli, due in September. While this collab with Sky doesn't quite reach the same heights of her nearly perfect team-up with Lizzo on "Blame It On Your Love," it comes pretty damn close.
PRETTYMUCH — "Rock Witchu"
This boy band, put together by none other than Simon Cowell, have been steadily releasing bops for a few years now. They don't break their streak with this slick track.
FLETCHER — "Strangers"
Singing about how lovers can become strangers when things sour, FLETCHER delivers on a track that feels like a superior version of Katy Perry's latest, "Small Talk." Sorry not sorry.