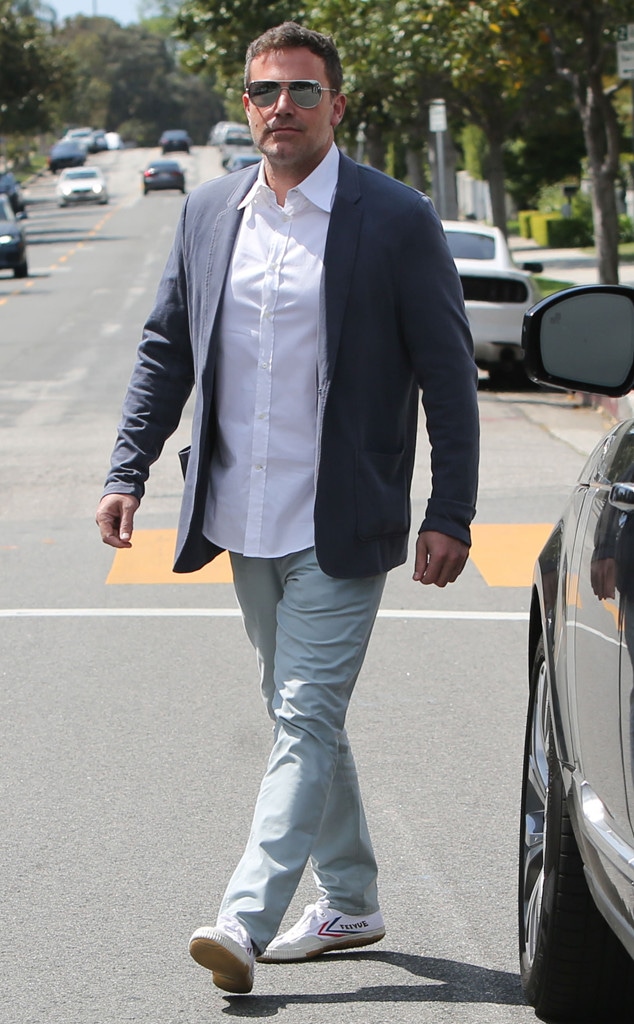 BG004/Bauer-Griffin/GC Images
It's been almost a year since an intervention staged by Jennifer Garner prompted Ben Affleck to return to rehab for the third time in his life.
The actor and Oscar-winning filmmaker spent 40 days in residential treatment for alcoholism, after which he continued with outpatient care. He acknowledged in a statement last October that battling any addiction was "a lifelong and difficult struggle," and treatment, per se, is never really over.
"Ben was not resistant" to the intervention "and knew he needed help," a source told E! News at the time. "He was grateful that Jen was there for him again and did not fight it."
"It is a full-time commitment," Affleck wrote on Instagram. "I am fighting for myself and my family." He also noted how touched he was by the countless people who had reached out with supportive words or to share stories about their own journeys—one of the better reasons to be on social media.
He knows he's lucky to have the built-in support system of his ex-wife and three children, brother Casey Affleck and countless others, including Matt Damon, his buddy of now 40 years. But he also knows it's really up to him to work at it, day after day.
Happily, this past year has been an increasingly healthy one for Ben, who views a return to normalcy—dad, co-parent, writer and director—as a big win. (The World Series victory by his and Damon's beloved Boston Red Sox in October didn't hurt morale, either.)
"He has found his new normal and that's part of his recovery," a source tells E! News. "He isn't doing anything too crazy or exotic. He's working and raising kids with Jen. That takes up his time and energy."
These days you're far more likely to spot Affleck coaching Little League or going to church on Sundays with Garner and their kids than doing anything remotely wild. (The zaniest thing about him right now is in all likelihood the massive phoenix tattoo on his back, symbolic ink that Affleck says he is "very happy" with.)
He and Garner finalized their divorce in October, more than three years after they announced their separation, and then sold the Pacific Palisades home where they had all lived together (and where Affleck stayed in the guest house when they were first separated), but they still spend tons of time together with daughters Violet and Seraphina and son Samuel. The house Affleck bought for a reported $19.2 million last year is a short drive from Garner's new place, a four-bedroom spread in Brentwood Park, and they generally abide by the one-parent-works-at-a-time rule.
"He's extremely involved in his kids lives," the source says of Affleck. "He's at their games and swimming lessons. He takes them to and from school and activities. If there's an important event he makes sure to be there. He and Jen trade off with days but they also do stuff together. The kids are spending more and more time with Ben."
Last month Affleck was seen visiting the destination Wellfleet Drive-In Flea Market on Cape Cod with his kids and mom Christine (he paid tribute to both Christine and Jen on Mother's Day), and he recently had a father-son day with now 7-year-old Sam at Disneyland.
On Father's Day, Affleck posted a photo of the hand-drawn "Best Dad Ever Award" he'd been honored with, writing, "I am so lucky that these three incredible humans call me Dad."
But with the kids headed back to school, Affleck, last onscreen in the Netflix action thriller Triple Frontier, is getting his own projects in order for the months ahead as well.
In 2017, Affleck, knowing that the fans have been clamoring for a reunion, told The Guardian that he'd "love to get a great two-handed script and do a movie with Matt. But, for whatever reason, those scripts are rare."
So cue the excitement when he and Damon stepped out for lunch in L.A. last month right after Deadline reported that the two were on board to write the screenplay for and star in The Last Duel, a 14th century revenge drama to be directed by Ridley Scott. The once-frequent colleagues haven't been in a movie together since Kevin Smith's Jay and Silent Bob Strike Back in 2001, but, making up for lost time, they're also both slated to be in Smith's upcoming Jay and Silent Bob Reboot.
The childhood friends, who won Oscars for Best Original Screenplay for Good Will Hunting in 1996, are also attached to The Last Duel as producers.
Deadline reported last August that Affleck was going to direct Damon in an adaptation of the true crime saga How An Ex-Cop Rigged McDonald's Monopoly Game And Stole Millions (which is about exactly what the book title says), but that was before Affleck had to hit pause on everything except his recovery. 
The source says that Affleck is indeed staying busy with writing projects, including tackling The Last Duel with Damon, and that the "great friends" have been meeting up more often both for work and to just hang out.
As for his next turn behind the camera, per IMDb, Affleck is currently attached to direct and star in the World War II thriller Ghost Army and an update of Witness for the Prosecution, and Variety reports that he's in talks to co-star in the "erotic thriller" Deep Water, based on the 1957 Patricia Highsmith novel of the same name. (Highsmith, incidentally, wrote The Talented Mr. Ripley, whose 1999 big-screen adaptation starred Damon.)
All of which, of course, comes between picking up his kids from school and other dad duties.
"He and Jen have found their way and are doing a good job co-parenting," our insider adds. "They communicate about the kids all the time and make decisions together. They have put a lot of time and energy into making things as peaceful and low-stress for them as possible. They both try to put the kids first and make all decisions with them in mind."
On Today earlier this year, Affleck told Hoda Kotb that he was proud of himself for taking positive steps last year to get better—and he didn't mind sharing his struggles with others, especially others who might also be struggling.
"It doesn't really bother me to talk about alcoholism and being an alcoholic. It's part of my life," he said. "It's something that I deal with. It doesn't have to sort of subsume my whole identity and be everything, but it is something that you know you have to work at."
Affleck continued, "I feel like I had a problem and I really want to address it, and I take some pride in that…it's about yourself, your life, your family, and you know people—we encounter these kinds of hurdles and we have to deal with them."
Like Garner, Affleck knows that there will be ongoing, often over-the-top interest in his life and their life as famous exes, but they're determined to protect their kids' privacy, and neither shares photos of the little ones on social media.
"I'm at peace with paying my own price [for being famous, a deal he has called a "Faustian bargain"]; what I'm not at peace with is when it invades on my kids' space and time," Affleck told The Guardian. "They didn't make any bargains. I try to shelter them as best I can. That's my only real gripe."
Meanwhile, though the Red Sox aren't likely to repeat as world champions, it's almost football season—and Affleck's been ready since last season. 
On Jimmy Kimmel Live in February, he explained that he's had to do some not-so-subliminal messaging with Sam, who reminded his Boston-bred dad that he was born in L.A.
So now there's a New England Patriots emblem on the wall, a football slide and a massive chair shaped like Pats quarterback Tom Brady's helmet-covered head in Sam's bedroom at Affleck's house. "You know, my ex-wife thinks it's creepy," he admitted.
"It is creepy," Kimmel replied.
So, maybe Ben Affleck has done one thing that's kinda crazy.