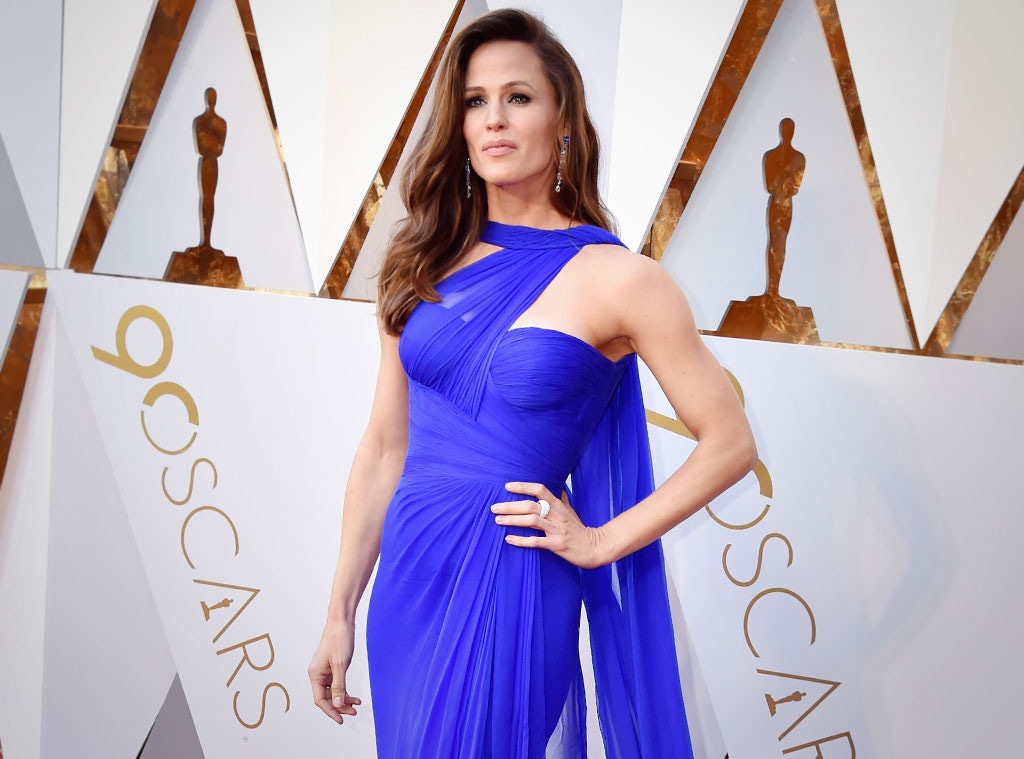 Jeff Kravitz/FilmMagic
On Alias, Jennifer Garner played one of the biggest badasses on TV.
In real life, the role of Jennifer Garner also happens to be played by a major badass.
Over the last few years especially, Garner has had the chance to put some of her Sydney Bristow skills to work, namely the one where she effortlessly shifts from one identity to another: actress, entrepreneur, pitchwoman, domestic warrior and resilient divorcée who could care less about salacious headlines—or who at least could teach a masterclass in battling through with a smile. 
Then, of course, there's the one hat she never takes off, which is mother of three.
In the wake of her split from Ben Affleck after 10 years of marriage, Garner is still holding down the fort at her longtime home in Los Angeles' celeb-filled Pacific Palisades neighborhood, where she's frequently spotted taking her daughters and son to school, grabbing coffee and going to church on Sundays. Thanks to Instagram, fans are even treated to the occasional backyard sighting, such as when she donned full marching-band regalia to wail "Happy Birthday" on the saxophone for her friend Reese Witherspoon last month. (The answer is: Jen played sax in her own high school marching band.)
Obviously she's a woman of many talents, which lately also include gardening, beekeeping, raising chickens (all activities she can do with the kids) and being adorable on social media, whether she's enjoying story time with her dog Birdie, sharing long lost footage of herself in ballet class as a kid, or admitting to a homemade bagel fail on her "Pretend Cooking Show." And now there's Once Upon a Farm, the line of organic baby food and eco-friendly spoons, cups, onesies, etc. for tots that she co-founded.
All of which begs the question: Does Jennifer Garner ever sleep? (Magic 8 Ball says: "Not likely.")
Over the past 15 years, Garner has cultivated a certain girl-next-door actress persona. She was an admired ass-kicking character on Alias but even being a Marvel superhero in Elektra or FBI agent in The Kingdom didn't do as much for her career as the ever-watchable 13 Going on 30 (though we doubt anyone would be opposed to her taking another crack at the superhero genre if she wanted to now). Audiences can't help that they want their Jennifer Garner to be their dream BFF (or girlfriend, or mom, or teacher, or doctor) in every role.
Sony Pictures Entertainment
Becoming a mother, first to Violet in 2005, then Seraphina in 2009 and Samuel in 2012, helped bring out her real-life superhero as she got more involved in making the world a better place for kids. About a decade ago the West Virginia native started working with Save the Children and in 2013, along with Halle Berry, Garner played an integral role in strengthening the law in California to protect children from the increasingly invasive tactics being practiced by paparazzi.
Garner was the most famous face of Neutrogena for years, and her radiant screen presence has also lit up commercials for Hotels.com and Capital One Venture. Along with the movies, being in demand on the advertising front has helped ensure her freedom to pursue other projects, such as Once Upon a Farm, that are close to her heart.
"Obviously the best thing to do is to be able to make homemade, healthy food, and I did that for my kids," Garner explained to Krista Smith at Vanity Fair's second annual Founders Fair last week. "I steamed it and I ground it and I would go to the restaurant and sit there and grind it and do the whole thing. And that's great. But it's not easy and we're all really busy. And for the times when you want to feed your kids something as rich and textured and tasty as you would make, this is the obvious answer."
To streamline the produce-procurement process, Garner recently bought her uncle's farm in Oklahoma and commissioned him to grow fruits and vegetables for the brand, which she started with three others.
"My main, favorite goal, and I know this is a goal that's shared with the amazing team I work with, is to have the first organic W.I.C. option for babies," she continued. "Otherwise, as they always say 'cause it sounds cool to all of you people, we want to 'disrupt a category.' We're gonna disrupt a category! We're going to be an integral—I can't even remember all the words, but we're gonna go disrupt."
Meanwhile, even though she's so busy with the business of disrupting, none of Garner's other hats have had time to get dusty.
Her eerily successful co-parenting arrangement with Ben Affleck (after spending almost two years residing in their guest house, he moved out in 2017 and recently closed on a $19 million place nearby) assures that they're spotted together quite often, usually in the company of one or more children but sometimes alone—making them a prime topic for "are they reconciling?" speculation. Moreover, it's been a year since Garner filed for divorce and they still haven't made it official. A source tells E! News that Garner wants to make sure Affleck is where he needs to be with his sobriety before they finalize a custody arrangement.
"She is very supportive and wants her kids to have the best dad that he can be," the insider said.
At the same time, however, Affleck has been dating Saturday Night Live producer Lindsay Shookus, so there are those sightings for Garner to ignore as well, after she already rode out two rounds of "was Ben cheating?" headlines, plus the never-ending stream of conclusions that "Jen's furious."
But even when times were especially tough, she simply never looked furious. 
Garner had her "year of wine," in reference to most of 2015, when and Affleck revealed they were separated. She muscled through with flying colors by maintaining her routine and putting one foot in front of the other—taking her kids to school, going out for that coffee, going to the grocery store, exercising, working. And indulging in the occasional midnight comedy binge.
"When I can't sleep—and I am not someone who typically has that problem, but I really have in the last year—and I need something to switch my brain off, it has been Tina Fey and Amy Poehler," Garner told Vanity Fair in early 2016, her first big post-split interview. "God bless those girls. I used to think I would never watch television on my phone, but there I am, because I am sleeping next to my daughter."
Meanwhile, after packing her schedule with acting work, from the family friendly tearjerker Miracles From Heaven, which she was still shooting when her separation was first announced, to the recent teen-romance hit Love, Simon, Garner is not slowing down.
Ben Rothstein/20th Century Fox
In fact, she's sharpening her acting edge, playing a distressed mom with nothing to lose in the revenge thriller Peppermint, and planning her return to TV next year in Camping, Lena Dunham's next project for HBO, a remake of a British series that we're guessing will push the envelope in interesting ways.
"What I love about TV is the relationships," Garner said at Founders Fair. "You go to work long enough with the same people that you actually go through the I love you. This is the most fun. I think I might hate you. Actually, no. I love you and I love you for good. And that's family. That's why people always say, 'Oh, our TV show was a family.' When you can't get rid of the other people, you're stuck with them no matter what, you see them at their best or at their worst. That is what TV means to me. So far I'm only in love with this cast. I'm sure we'll stay that way."
She's not kidding about loving the relationships, though we know she's not talking about love-love. However, sometimes it almost seems harder to avoid love at work than it is to just go for it.
She met first husband Scott Foley when she showed up to play Noel's love interest on Felicity. She ended up dating her Alias co-star Michael Vartan. And she met Ben Affleck on the set of Pearl Harbor, then fell for him playing the Elektra to his Daredevil. Her Alias dad, Victor Garber, officiated at their wedding. 
But now, lucky will be the guy she can manage to carve out some time for once she's ready to start dating again. "If the right person came along and fell into her lap, she would be open to it, but that hasn't happened," a source told us last month. "She's consumed with her kids and work...and really isn't concerned with having a man in her life."
Training for Peppermint at least gave her an opportunity to multitask, all the fight scenes she had to prepare for also serving as a marvelous outlet for any pent-up emotional baggage.
"It's really good for you," Garner told Vanity Fair's Krista Smith. "It's really good for the soul. You should definitely find a way to get aggression out."
What's left behind are faith, family, organic produce and the picture of put-togetherness—whether it's in a cocktail dress or her typical daily mom uniform of workout gear or jeans and a button-down.
Admittedly, however, "you don't balance it, that's the truth," Garner assured Smith. "You really don't balance it. You balance in chunks, or you balance in...um, you just don't. 
"Right now I'm in production—it's all about production. If I'm not in production, I'm with my kids. If I work out, it's a crazy hour in the morning." But those 4 a.m. workouts are "part of the job," she continued. "It's part of what you do, and actually, you know, I'm famously used to it because it's what I did on Alias and it turned out that I like to start my day like that. And I like to start my day that early, so luckily it fits me."
One badass who means business, reporting for duty. She's back.