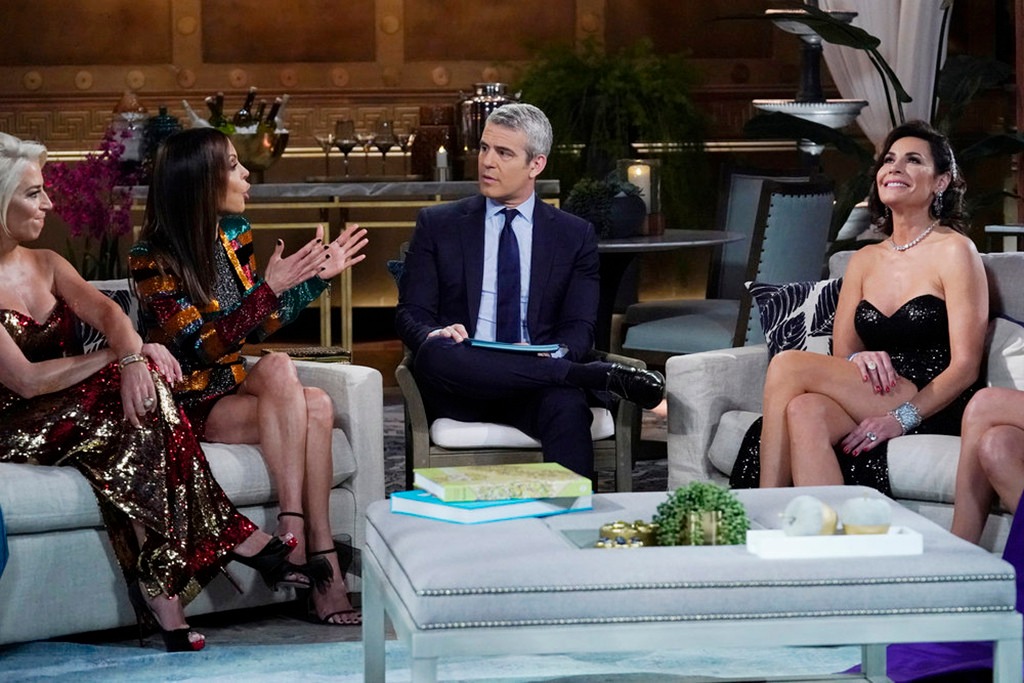 Bravo
Table 62! Table 62! 
Tonight's installment of the Real Housewives of New York season 11 reunion addressed some very important questions from this season, though the answers were sometimes more entertaining than they were satisfactory. 
First of all, we got some explanation for Tinsley's wealth, and it's about as simple as you can imagine: Tinsley is rich, and always has been. Sure, she lived with Sonja for a hot minute, but that was just because she had been arrested and her family didn't trust her with money. Now, she's got money again, and it has nothing to do with the Coupon King Scott Kluth, who she is still no longer dating. Tinsley is fully independently wealthy with money earned by being born into a rich family, and that's all there is to it. 
Now, Ramona. 
She and apparent stud Harry Dubin totally didn't make out except they did, and Ramona totally never said they didn't except they did, but now she'll tell you that she and Harry are like kissing cousins and they're just friends, but that's not really what we cared about. The real question for Ramona was what the hell was going on with the table situation at the Angel Ball. 
If you remember, earlier in the season, Ramona invited Dorinda to a gala, and they were supposed to be seated next to each other at Table 62. Ramona arrived, saw that her table was number 62, and went in search of it, wondering aloud where table 62 is. "Table 62," she kept saying as she wandered, running into her friend Della in the process. 
"People say I'm an inspiration? Look at you!" she told Della, before asking if she could sit next to her, at table 61, leaving poor Dorinda "in the dust" as Sonja later described it. 
At the time, Ramona claimed she thought her table was table 61, and she even swore on her daughter's life about it as she jumped up and down. But the problem is that there's actual footage of her clearly knowing that her table is number 62, with Dorinda. 
"Well you know what, basically, I may look ageless...my mind is not so ageless anymore," Ramona said at the reunion, prompting Bethenny to stand and clap with delight. 
Apparently, Ramona didn't "register it in [her] mind" that she was at table 62, even though she kept saying "table 62," and even though she knew she as at Dorinda's table, and she saw Dorinda at table 62. 
"When you invite someone as a guest, that means you're gonna sit with them," Dorinda explained, but Ramona doubled down. There was a seat next to her! She thought she was at table 61! 
Speaking of invitations, Andy also confronted Ramona over that time she said she didn't not invite Sonja to her birthday party, and but then we saw a clip of Ramona literally saying not to invite Sonja. 
"I weanted my birthday to be personal for me and not to be filmed, normally I invite all the girls but if I invited them, then we'd have to film it and I didn't want to film this year for personal reasons.
"So now I'm your reality TV friend?!" Sonja yelled. 
"I can't break the third world, the third line on TV!" Ramona tried to explain. 
Bethenny also went after Ramona for all the rude things she's said about her, and Ramona didn't even realize she was so mean to Bethenny and she doesn't think she's so mean to Bethenny but she'll try not to be so mean to Bethenny. 
In the end, almost nothing was achieved. 
"Do you think you will ever take this and learn from it?" Andy asked. "I mean, we've done this like 11 times." 
Ramona's just always gonna Ramona. 
Luann's also just always gonna Luann, and Andy took some time to examine Lu's sober journey over the season, including her relapse back at the beginning of the season, which caused her to miss the season 10 reunion. She explained that she has to take a breathalyzer test three times a day, and when she relapsed on Easter, she drank two mimosas and then failed one of her three breathalyzer tests. 
"Your mind, that mind plays funny games on you. I thought you know, it's 10 o'clock, I don't have to blow until 3 o'clock, I'll be OK, but I wasn't," she explained. 
She was also dealing with the lawsuit filed against her by her own children and ex-husband over their trust fund, which basically caused a breakdown. 
"And then this thing that happened with the children just threw me off," she said. "That was an episode that threw me out." 
Lu also claimed that everyone at her rehab was totally cool with her leaving early to do her cabaret show, which no one believed, but that's what she says, and we'll have to wait for next week's finale to finish the story. 
Finally, we started with Tinsley in this post and well end with her again, because we can't forget that time she froze her dog. 
She first tried calling 911, and the fire department came and tried to resuscitate the dog to no avail, and then because her sister wasn't there when she died, the vet froze him so she could say goodbye one last time. Now, apparently Bambi's been cremated. 
"He's in Palm Beach. My dad is in a box there, my other three chihuahuas, they're all in the living room in Palm Beach," Tinsley explained. 
Good to know!
The Real Housewives of New York airs Thursdays at 9 p.m. on Bravo.
E! and Bravo are both part of the NBC Universal family.