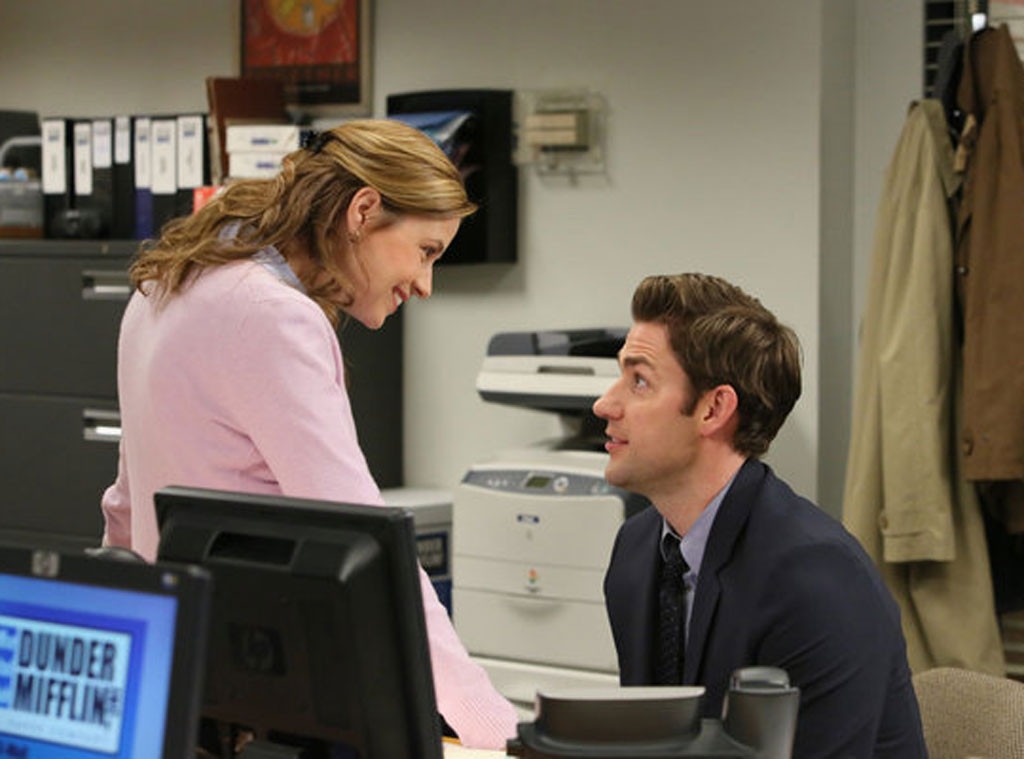 Vivian Zink/NBC
The hottest, most expensive TV shows out there right now? Sitcoms that are decades old.
The Office, which aired from 2005-2013 on NBC, is one of Netflix's most popular shows. As of 2021, that won't be the case. The Emmy-winning comedy is leaving the streaming service and will be part of the untitled streaming offering from NBCUniversal. The news made headlines on Tuesday, June 25. News of Friends' Netflix exit shook viewers on Tuesday, July 9.
"We're sad that NBC has decided to take The Office back for its own streaming platform—but members can binge watch the show to their hearts' content ad-free on Netflix until January 2021," Netflix tweeted. The streamer also told customers about Friends via Twitter: "The One Where We Have to Say Goodbye," it said." We're sorry to see Friends go to Warner's streaming service at the beginning of 2020 (in the US). Thanks for the memories, gang."
NBCUni confirmed The Office news in a press blast. "The Office has become a staple of pop-culture and is a rare gem whose relevance continues to grow at a time when fans have more entertainment choices than ever before," Bonnie Hammer, chairman of NBCUniversal direct-to-consumer and digital enterprises, said in a statement. "We can't wait to welcome the gang from Dunder Mifflin to NBCUniversal's new streaming service."
In the release, NBC said The Office is the No. 1 TV series on subscription-based video on demand (translation, Netflix and Hulu), and in 2018 it was streamed for more than 52 billion minutes. NBCUni said in April 2019, the show was viewed nearly twice as much as the second most-viewed series on SVOD. What's it all mean? The Office is still incredibly popular. According to The Hollywood Reporter, getting The Office back from Netflix is costing $100 million per year, and the deal is for five years. That's half a billion dollars. For The Office.
But The Office isn't the only previous hit TV show netting big bucks. Panic spread across the internet when it looked like Friends was expiring in January 2019. Netflix paid up to keep Friends through 2019 at a reported cost of $100 million. But Ross, Rachel, Monica, Chandler, Joey and Phoebe won't be there for Netflix subscribers when 2020 rolls around. WarnerMedia, the owner of Friends, is poised to launch its own streaming service, HBO Max, and taking the show back.
"Sharing destination assets like that, it's not a good model to share," WarnerMedia's Kevin Reilly said. "They should be exclusive to the service." WarnerMedia made it official on July 9 and announced all 10 seasons Friends would be part of the launch in 2020. According to The Hollywood Reporter, the cost to get Friends from Netflix to HBO Max for a five years was around $425 million.
"HBO Max will bring together the diverse riches of WarnerMedia to create programming and user experiences not seen before in a streaming platform. HBO's world-class programming leads the way, the quality of which will be the guiding principle for our new array of Max Originals, our exciting acquisitions, and the very best of the Warner Bros. libraries, starting with the phenomenon that is Friends," Robert Greenblatt, chairman of WarnerMedia Entertainment and Direct-To-Consumer, said in a statement. "Under the leadership of two of the strongest creative visionaries — Casey Bloys (HBO) and Kevin Reilly (original content and acquisitions)—and two of the most experienced digital experts—Tony Goncalves and Andy Forssell—I have no doubt they and their dedicated teams will deliver the world's best storytelling to audiences of all ages wherever and whenever they want it."
Friends originally aired on NBC from 1994-2004. So, why, now 25 years after launch, is Friends still such a hot commodity? What makes The Office such a prize to land?
For starters, both shows were the most-popular comedies of their times. Ratings hits, they were—and still remain—essential parts of the pop culture fabric. Both shows have universally relatable plots, settings and themes, both shows feature now-established Hollywood stars and both are from a time of…let's just say less divisiveness.
There's a comfort in these shows of yore. Nostalgia is a driving force throughout Hollywood—look at all the revivals or remakes of established properties—especially as more and more entertainment offerings hit the market. Previous hits already have brand recognition. Viewers already know Michael Scott says inappropriate things, they know Ross and Rachel's saga, and they keep coming back to it. As the shows age, so do the original viewers. Parents who watched these shows while coming of age are now sharing them with their kids.
"The Office is one of our most prized series, and we are thrilled it has found an exciting new home where generation after generation will continue to discover and rediscover Michael Scott's most cringe-worthy moments, Jim and Pam's will-they-or-won't-they, and the incredible quirky ensemble that makes each episode a masterclass in comedy," Pearlena Igbokwe, president of Universal Television, said in a statement.
But are these shows big enough to lure viewers to another streaming service? To possibly add another cost to their entertainment bill?
Netflix was the first of its kind. Along with Hulu, Netflix helped spark the cord-cutting craze as viewers ditched traditional TV offerings for streaming services. The Office and Friends found new life on Netflix because the eyeballs were already there. According to reports, the subscriber base for Netflix worldwide is 139 million.
Did Netflix get more eyeballs just because it had the comedies? Possibly, but it's more likely that these shows—and the new streaming services they'll call home—benefited from being easily accessible to millions of Netflix subscribers more than Netflix benefited from having them.
Originally published on Thursday, June 27, 2019, 8:00 a.m. PT.
(E! is part of the NBCUniversal family.)