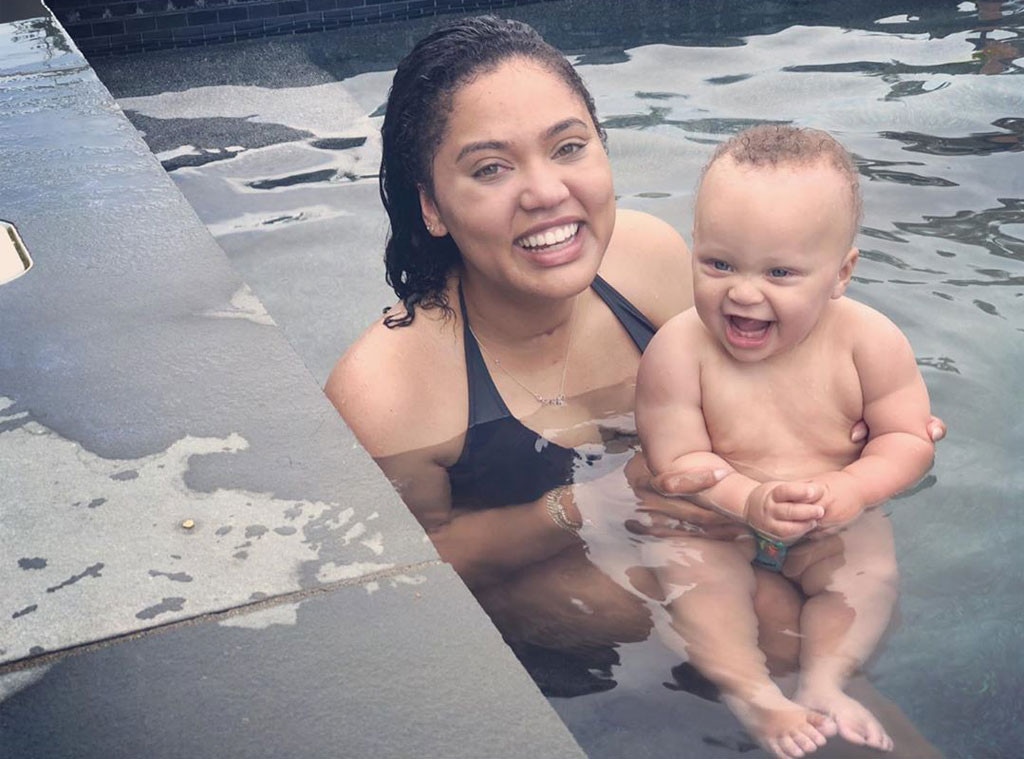 Instagram
Prepare for the NBA Finals with this solid score: Ayesha Curry: 1, Internet trolls: 0. 
Some Instagram users made rude comments about the mom of three recently and it ended up being quite the air ball. On Tuesday, Ayesha shared a family photo after Game 4 of the Golden State Warriors vs. Portland Trail Blazers Western Conference Finals game where the Warriors won their way to their fifth consecutive NBA Finals appearance. Ayesha's husband Steph Curry led the team with 37 points and showed off his stunning basketball skills in a series that pitted the Warriors star against his brother Seth Curry.
Despite the brother vs. brother game, family game together for the picture and celebrated as one. 
"Infinitely proud of these guys. Gods grace and mercy continues to cover our family and we are so grateful. Not about wins and losses, it's all about family," she wrote alongside the picture. "Moments like this simply put it all into perspective. 'But seek first his kingdom and his righteousness, and all these things will be given to you as well.' - Matthew 6:33"
In the picture, Ayesha holds their 10-month-old son Canon W. Jack Curry while Steph stands beside her. One person took a direct shot at The Seasoned Life author's body and wrote, "Are you pregnant again?"
She replied, "absolutely not LOL. My 30 lb son is just breaking my back in every photo."
Another Instagram user took it upon themselves to then make comments about Canon's body and his weight.
"If that kid is 30lbs he's got some serious health issues going on," the second person wrote.
Ayesha clapped back, "excuse you? No. Just no."
The 30-year-old gave birth to Canon on July 2 and he's the third kid for the Currys and their first son. Steph and Ayesha are also parents to Riley Curry, 6, and Ryan Curry, 3.
Before giving birth, Ayesha revealed that she went to the hospital five times during her pregnancy. She posted a photo while six months pregnant and wrote, "6 down 3 to go! Praising God because I can finally eat and cook a little bit again! Pray that it sticks for me y'all! Ive had 5 hospital stays since the new year and have pretty much been sucking at life (at least that's how it's felt.)"
She has also been very open about her own body image and other insecurities. She recently sparked some backlash after making comments on Jada Pinkett Smith's Red Table Talk about what it was like being married to a NBA star and how "ladies will always be lurking, hoping for their moment and waiting."
A few days later, Ayesha added a picture to Instagram of herself throwing away a pair of Spanx.
"I have never been one to cage my feelings and emotions to any capacity. I am human. It brings me pure joy to speak my mind, be vulnerable at times and to know myself inside and out," she wrote. "Seeing as how it's mental health awareness month I really want to take the time to encourage everyone to speak their truth regardless of perception, fitting into a mold or offending someone, because it's YOUR truth. And that's okay."
She continued, "If what I'm not afraid to say out loud about being a 30yr mama of 3 helps another woman like me feel like they're not the alone and not the only one with an insecurity (because we ALL have them, don't play) then that makes all of this hoopla worth it. If you get a chance to watch the actual RTT and not the headlines and rumors please do."
Steph quickly came to her defense and wrote about how "proud" he was of his wife for "being authentic."
He penned, "Proud of you for being authentic and putting yourself out there- not being afraid of the potential bulls--t and nonsense that could and did come at you. Way more positive than negative with all of this. Keep being you. I love you."
Ayesha opened up in a recent interview with Working Mother and revealed that she had a "botched boob job" while coping with postpartum depression that "lingered for a while" after giving birth to Ryan.
She shared, "It came in the form of me being depressed about my body. So I made a rash decision. The intention was just to have them lifted, but I came out with these bigger boobs I didn't want. I got the most botched boob job on the face of the planet. They're worse now than they were before." 
Ayesha said she would "never do anything like that again" but added, "I'm an advocate of if something makes you happy, who cares about the judgment?"