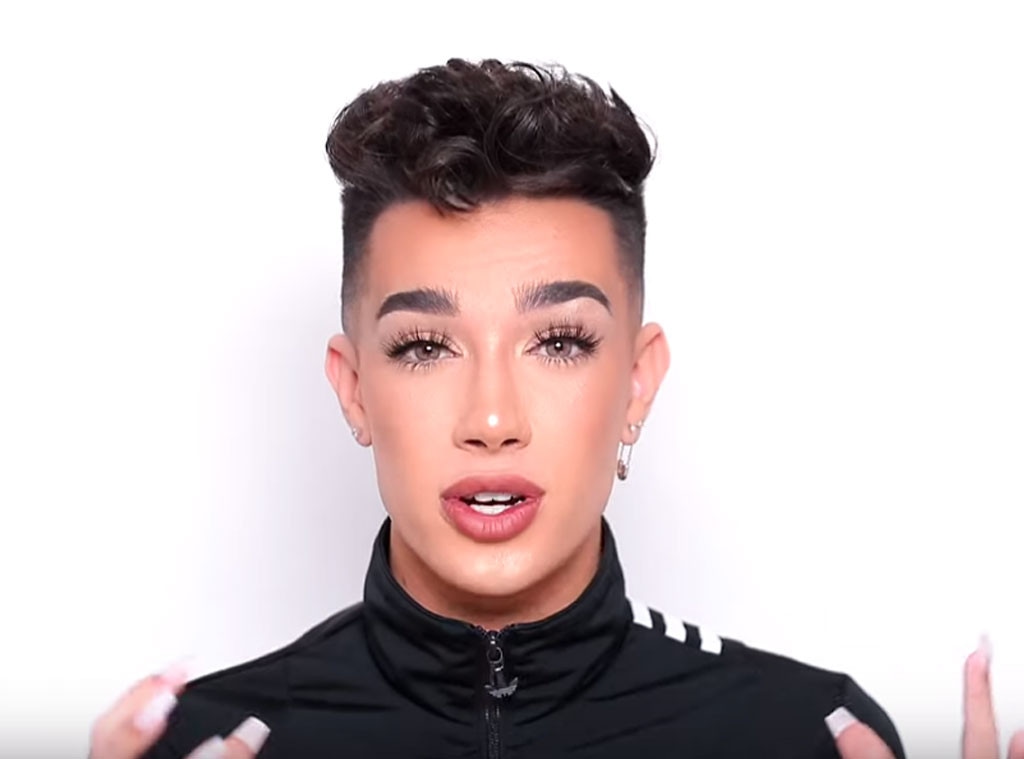 YouTube
James Charles is not going down without a fight.
The YouTube star posted a new video on Saturday just about two weeks after his very public feud with beauty vlogger Tati Westbrook went viral. Since then, YouTube stars and YouTube fans have vocally taken sides in the Tati-James debate and he's lost millions upon millions of subscribers and followers.
The 19-year-old lifestyle star asserted in his 41-minute video titled "No More Lies" that this was the last time we'd hear him speak out about the schism that has rocked YouTube.
"It is very important to me that this video has all the information, all the facts, all the receipts, and is current and present because I will not be addressing it again," he said towards the beginning.
James even went so far as to thank Tati and fellow YouTube celeb Jeffree Star for "taking some of the responsibility for blowing this whole thing up and for starting everything."
James has been the subject of online vitriol in the recent weeks, and he also thanked Jeffree and Tati for "trying to redirect the hate away." 
On Thursday, Tati told her followers in another video that she didn't "hate" James and hoped that people would stop bullying him.
"I don't want you guys hating on him... It's painful to watch someone that you have cared for be dragged and to know that this started because of me," she said. "I don't think anyone deserves that. I think people deserve a wake-up call and people deserve to be called out for actions. I think someone's got to do it. I hope that this inspires parents to have more conversations with their kids, because we are losing that."
Many parts of James' video are his direct response to clips from Tati's first video, "Bye Sister," where she makes comments about their relationship and what led to their friend breakup.
James' video switched between him being makeup-free and other moments where he's glammed up. He spoke openly about how this has been "the darkest time I've ever had to go through" and that he's had some thoughts go to "a really scary place."
Throughout the video, the YouTube star addressed a number of concerns and details about his life that emerged in the past few weeks, including hitting on straight men as well as the Sugarbear Hair drama that started this all.
"There have been allegations made against me and I don't feel comfortable really 'moving on' from those," he said. "There's a lot of misinformation going around."
According to James, the Sugarbear Hair contract occurred at Coachella Weekend 2 when he needed rescuing because he was getting mobbed by fans after taking pictures with them. He wanted to make sure to contradict what Tati said in her video about the whole Sugarbear contract being "orchestrated." He said it was "definitely not a big scheme that was orchestrated beforehand. It really did happen on the spot."
James also provided screenshots of his texts to Tati to show his side of the "countless attempts" he made to contact her after the Sugarbear Hair incident.
A few more minutes into the video, James cut to a clip to Tati talking about an incident at her birthday party in Seattle where he allegedly "tried to trick a straight man into thinking he's gay yet again."
She said in her video, "It's really disgusting to manipulate someone's sexuality when they are still emerging into adulthood and don't have everything figured out."
To this, James addressed, "I am a 19-year-old virgin...I really don't get a lot of action."
He continued, "I have never and would never and will never use my fame, money, or power to manipulate or get any sexual actions from a guy. That is disgusting."
He told the story of his interaction with a guy named "Sam" who was bisexual and they met at dinner. 
James discussed sliding into DMs of straight men and compared it to something Zara Larsson said also on social media.
"Why is it okay for Zara Larsson, a woman, with the public platform to tweet these photos of a shirtless man and say 'Who are you? How old are you? Where do you live? Why are you so fine? How do you like your eggs cooked in the morning?' But for me as a gay man to DM the same person in private with a compliment is predatory?"
James' video goes on and on to talk more about his drama with Jeffree Star as well as other comments made about him. He tweeted after that he recorded the video "NOT to start a war, but to take responsibility for my actions & clear my name."
He wrote, "There ARE two sides to every story, & now you've heard both. I'm sure more will be said, but I'm moving on. You can form your opinions, but PLEASE do not send any hate to anyone."
James said in a subsequent tweet, "I'm literally begging all of you. The internet has seen enough negativity in the last few weeks. Text your friends and tell them you love them. Give someone a compliment (but don't be too forward)! Appreciate what you have and those around you. love you all."
Meanwhile, Tati tweeted and let it be known that she knew her former protégé had indeed posted a new video today, but she was preoccupied.
"I've left town on a digital break to heal & pray for healing on all sides," she wrote. "My family made me aware of what was just posted & I'm disappointed to see it littered with so many lies & half truths. I stand by my videos - do not twist my words into what they are not, hear the message."
She wrote later, "I'm working on not reacting out of anger & working through patience for what this right thing to do is. I remind you all... as I remind myself to do what you can to lead with kindness."
Watch James' full video above.