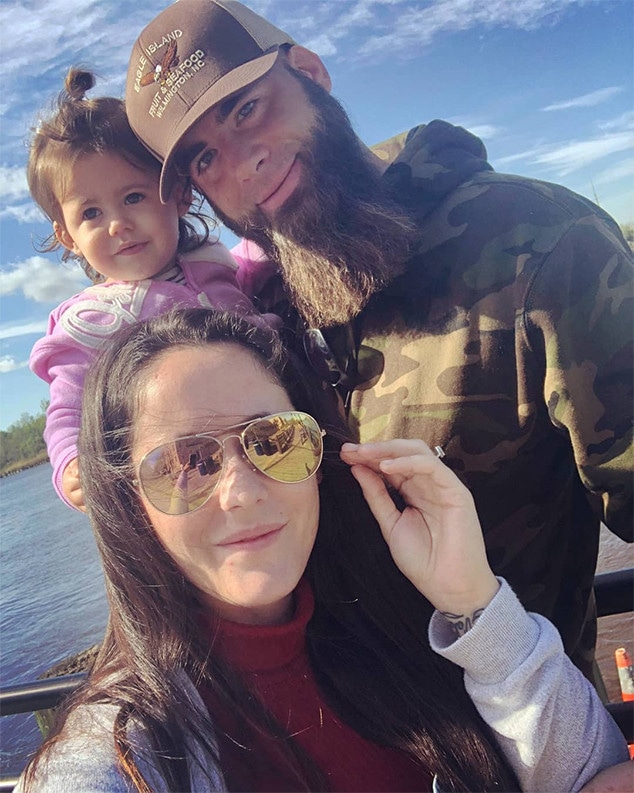 Instagram
Jenelle Evans' husband David Eason says the two "have never been happier," making his first comments about their relationship since it was revealed this week that his wife had recently called the police to report an alleged attack by him.
The 26-year-old Teen Mom 2 star had said last weekend in a 911 call that David had "assaulted" her, pinning her down, and that she thought her collarbone was broken. Police responded and made no arrests, while she declined their offer of an ambulance and made her own way to a hospital to get checked out.
After the call was made public on Friday, Jenelle told E! News that the incident was a "drunk and dramatic misunderstanding" and that she and her husband are "totally fine" and were taking time off social media "to focus on ourselves and our family." At the time, David, 30, posted on Instagram images of the two on an outing with their 1 and 1/2-year-old daughter Ensley.
On Saturday, he posted another selfie of the three from the same outing, writing, "We have never been happier, thanks for asking!"
Also on Friday, David posted on his Instagram Stories a video of him and Jenelle dining at a restaurant. He first shows several dishes, including lamb chops and crab legs.
"A little sizzle dizzle here...ooh, sizzly, sizzly, sizzly, hmm, and the best thing that I'm gonna eat all night is," he says, then pans the camera to Jenelle's face, then down to her chest, as she smiles.
Jenelle and David have been married for just over a year. In addition to Ensley, she has two sons from previous relationships, while David has a son and daughter.
On Saturday, Jenelle and David attended a kids' soccer game. 
David posted a video of his wife, writing, "You are so beautiful babe!"
In her 911 call, Jenelle told the dispatcher that four children were at their house at the time of the incident.
Jenelle's rep had told People on Thursday, in response to a report about the 911 call, that the reality star had tripped and fallen by a bonfire during a party with friends. A source told E! News on Friday that Jenelle did not fall into a bonfire and suffered no burns, adding that she wanted to keep the misunderstanding private and that's why the tripping story was released.