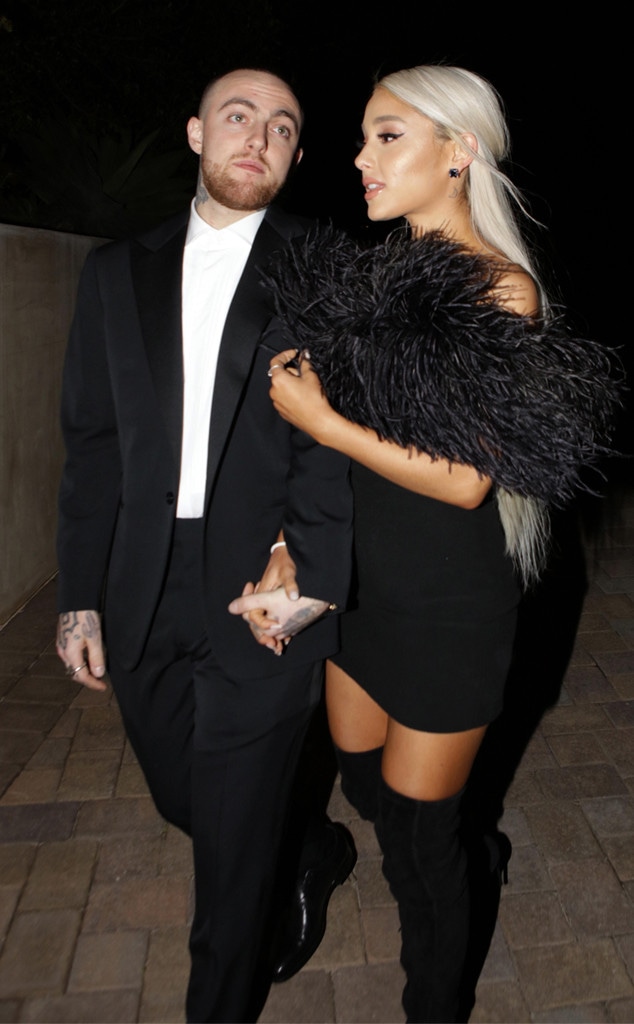 GC Images
Ariana Grande is kicking off her Sweetener tour with a sentimental note.
The singer commenced her tour in Albany, New York on Monday night and it's just stop number one as she heads out across the world to perform her chart-topping songs. Moments before the show at the Times Union Center, many Arianators shared on social media that some Mac Miller songs played in the background as fans eagerly awaited for her to take the stage. 
The 25-year-old has paid tribute to her ex-boyfriend a number of times ever since his sudden and tragic death on Sept. 7 at the age of 26 from mixed drug toxicity. For instance, about two months after his death, she covered up a tattoo that pertained to her ex-fiancé Pete Davidson with one about Miller. The ink on her foot was changed from "8418," which was Davidson's father's FDNY badge number, to one dedicated to the rapper's dog named Myron.
She even got some new ink on the eve of her big show and explained she wasn't covering up another Davidson-related tattoo, but rather she was "just evolvin."
One of her most open and vulnerable homages to her ex was in her hit single "Thank U, Next," which later became the title of her newest album. She sings in the first verse of the song, "Even almost got married / And for Pete, I'm so thankful / Wish I could say, "Thank you" to Malcolm / 'Cause he was an angel."
Kevin Mazur/Getty Images for Billboard
The "Self Care" rapper was posthumously nominated for his first Grammy this year for Best Rap Album, although he lost to Cardi B. Grande seemed less than pleased about that on social media.
Grande tweeted and subsequently deleted a number of tweets, including ones that said "f--k" and "literal bulls--t." She later clarified that the tweets weren't about Cardi winning, but more so that Miller's mom Karen Meyers flew out for the awards show.
She wrote, "THEY INVITED HIS PARENTS OUT. NO."
"she's not at all and that's not what i meant and u know that," another tweet said.
Cardi even took a moment to praise Miller in a video after winning the big award. "I'm sharing this Grammy with you motherf--ker!!!" she exclaimed in the post.
Later that night, the Florida native posted a video of herself sleeping next to Myron while still wearing her princess dress.
"it's me your tiny, highly emotional, italian, and now grammy award winning friend. i'm super tarnished lol," Grande captioned it. "but super grateful. thank u for everything. myron is in my arms n he says hi as well."
Knowing Grande and her penchant for paying tribute to Miller, this surely won't be the last we've heard of his music on her tour. After all, it's just the beginning of a months-long sojourn around the globe.
Congrats on kicking off your big tour, Ariana!