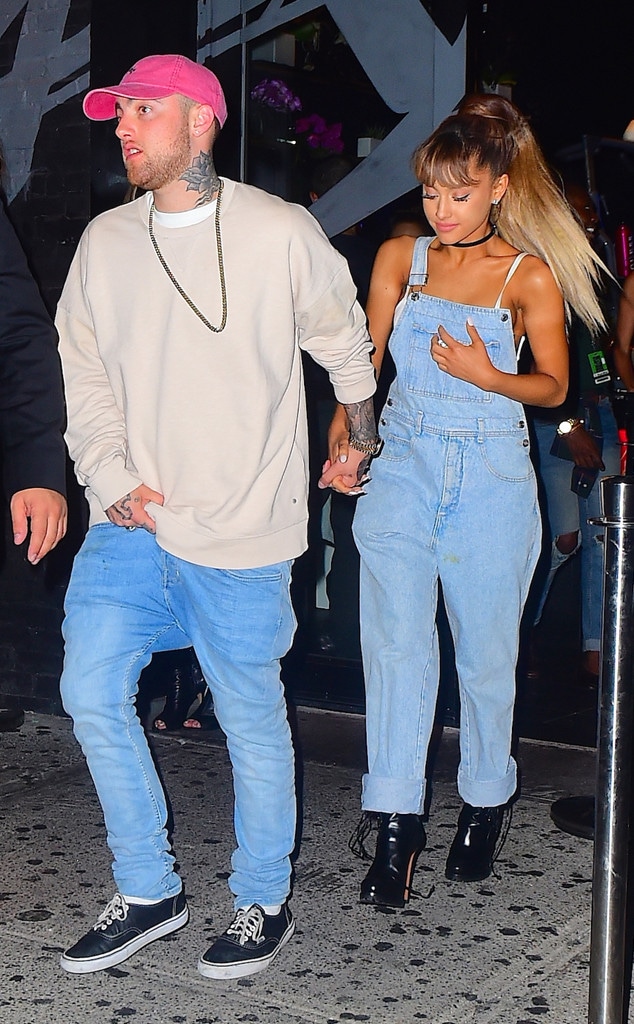 247PAPS.TV / Splash News
Is Ariana Grande's new song "Imagine" about the late Mac Miller?
At midnight, the 25-year-old singer released her latest track off her upcoming album, Thank U, Next. After listening to the lyrics, many fans are convinced the song is about Grande's ex, Miller, who passed away in September at the age of 26. Miller and Grande dated for about two years before their split was announced in May.
Earlier this week, Grande described "Imagine" to her fans on Twitter, explaining that it's like "pretending" a relationship "never ended" and being in "denial." While she didn't call out one specific relationship, there are a few references to Miller in the song.
"Staying up all night/Order me pad thai/Then we gon sleep til noon," Grande sings on "Imagine."
As fans on social media have noted, these lyrics seem to be a reference to Miller's song "Cinderella," which Grande confirmed back in May is about her. 
"And when you hungry, I can chef you up a stir fry," Miller raps in "Cinderella."
Other lyrics to Miller's song include, "You used to tell me all the time I ain't your type/Now you always wanna spend the night."
In "Imagine," Grande sings, "Knew you were perfect after the first kiss/Took a deep breath like 'Oooh'/Feels like forever, baby, I never/Thought that it would be you."
In addition to the "Cinderella," connection, Grande and Miller also shared their first kiss on camera for their 2013 "The Way" music video.
Fans on Twitter have also pointed out that Miller had an "Imagine" tattoo.
"A lot of this album mourns failed yet important, beautiful relationships in my life (as well as celebrates growth / exploring new independence)," Grande told her fans on Instagram Story. "But for those of you asking about 'Imagine': I would say if 'Thank U, Next' = acceptance... 'Imagine' = denial. Hope that makes sense."
Grande also just announced the European dates for her Sweetener Tour. She posted on Instagram Story that Manchester is not on the list of dates just yet because she and her team are planning a "special show."
"We need a bit more time getting things together before we can announce that date but we are of course, coming and we love you," Grande assured her fans.
It's been just over a year since the Manchester terror attack at Grande's concert which took the lives of 22 people.