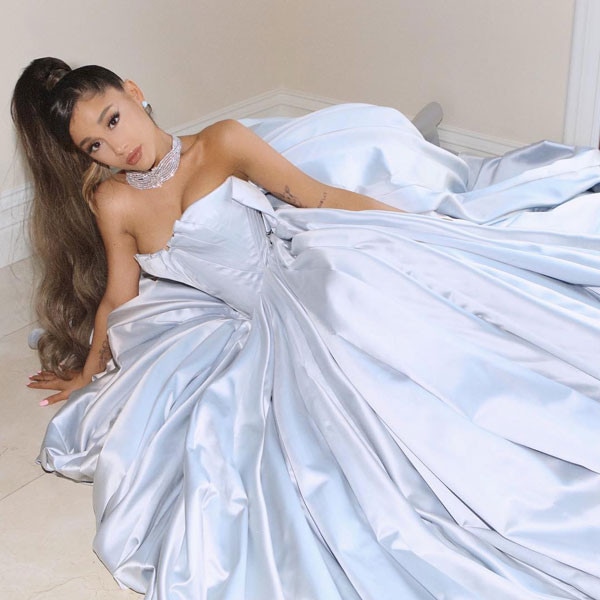 Instagram
Ariana Grande's gorgeous Zac Posen gown might've been a tribute to the late Mac Miller.
On Sunday night, Grande, who decided not to perform or attend the 2019 Grammys after a disagreement with producers over her set list, showed her fans the dress she would've worn to the award show. "when @zacposen makes u a custom gown it doesn't matter if you're singing or not.... thank u," she captioned a photo of herself striking a pose in the Cinderella-inspired gown.
Designer Posen even referenced the movie in several of posts on Instagram, captioning one picture of Grande in the gown, "Bibbidi-Bobbidi-Boo."
The Cinderella reference has fans speculating that Grande's gown was a nod to her late ex, Miller, whose song "Cinderella" is about Grande. The singer also referenced Miller's "Cinderella" in her song, "Imagine."
Miller, who passed away in Sept. 2018, was nominated for Best Rap Album at Sunday's ceremony. After the category was awarded to Cardi B, Grande took to social media to tweet and delete her reaction, allegedly writing, "trash" in one tweet and "literal bulls--t" in another.
But Grande wasn't throwing shade at Cardi, she was upset at the award show. "THEY INVITED HIS PARENTS OUT. NO," Grande tweeted one fan.
Later on in the night, Grande took to Instagram to post a video, thanking everyone after winning her first Grammy for Best Pop Vocal Album. The video shows Grande in bed alongside Miller's dog, Myron. 
"it's me your tiny, highly emotional, italian, and now grammy award winning friend," Grande captioned the post. "i'm super tarnished lol. but super grateful. thank u for everything. myron is in my arms n he says hi as well."