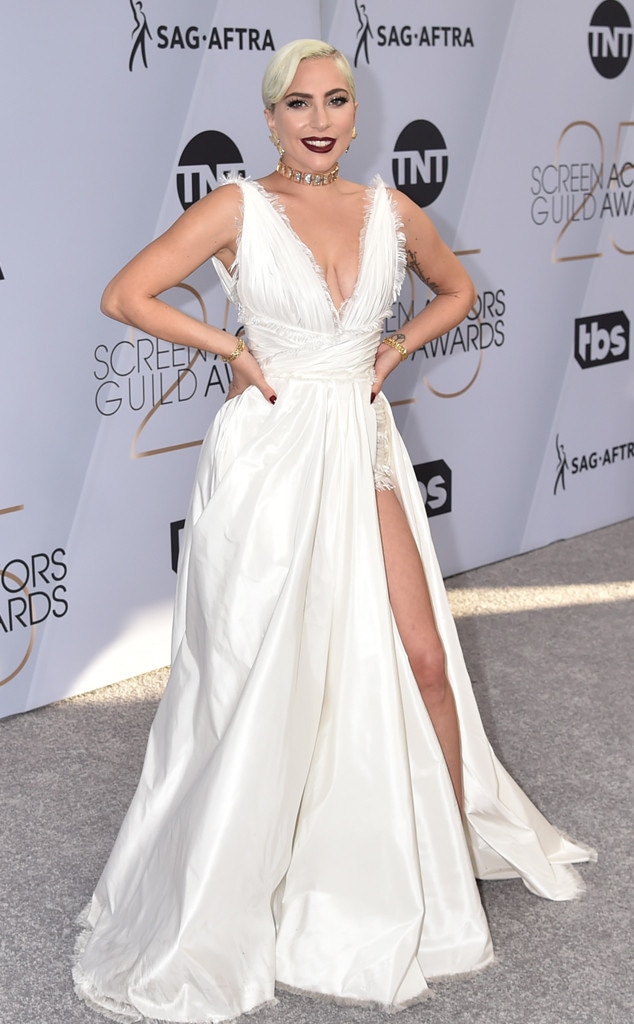 Jeff Kravitz/FilmMagic
Well, Lady Gaga has done it again and there are more than a million reasons why.
After stunning in a lavender Valentino gown at the 2019 Golden Globes, Gaga arrived at the 2019 SAG Awards looking like a vision in white. The Joanne singer wore a sleeveless low-cut and floor-length white Dior Haute Couture gown with a long slit up her left leg. This same dress made its debut on the runway at Paris Fashion Week last week.
She also wore white pointed toe heels. She debuted Tiffany & Co.'s 2019 Tiffany Blue Book Collection with her 18 carat yellow gold and diamond earrings and necklace with 16 carats of diamonds. She also wore four Tiffany T True bracelets. Gaga kept her hair in a very tight and neat low bun and evoked somewhat of a 1920's look with her hairstyle. Her dark makeup provided a gorgeous contrast to her look.
Gaga reportedly declined to do any interviews before the SAG awards in order to help preserve her voice. She's currently in the midst of not one, but two Las Vegas residencies, called Enigma and Lady Gaga Jazz and Piano. It's no surprise that her outfits in both shows are just as jaw-dropping as other looks that she struts on the red carpet.
On Saturday, Lady Gaga and her A Star Is Born director, co-star and overall inspiration Bradley Cooper performed their award-winning song "Shallow" together onstage during Enigma.
Cooper sat in the audience during the show and she invited him onstage to help her sing the song. Their performance of "Shallow" was the first time we've seen them duet the song together live since the film. It was the Jackson and Ally Maine reunion we never knew we needed.
She won an award at the 2019 Critics' Choice Awards for the song and opened up about the meaning of it during her acceptance speech. "This song is a conversation between men and women," she said at the time. "Asking each other questions about life and a desire for more depth of the shallowness of a modern era."
Gaga and Cooper both garnered some 2019 Oscars nominations for A Star Is Born, including Best Picture. They could be bringing home some awards tonight as well at SAG. The film is nominated for Outstanding Performance by a Cast in a Motion Picture, Outstanding Performance by a Male Actor in a Leading Role in a Motion Picture (Cooper), Outstanding Performance by a Male Actor in a Supporting Role in a Motion Picture (Sam Elliott) and Outstanding Performance by a Female Actor in a Leading Role in a Motion Picture (Gaga).