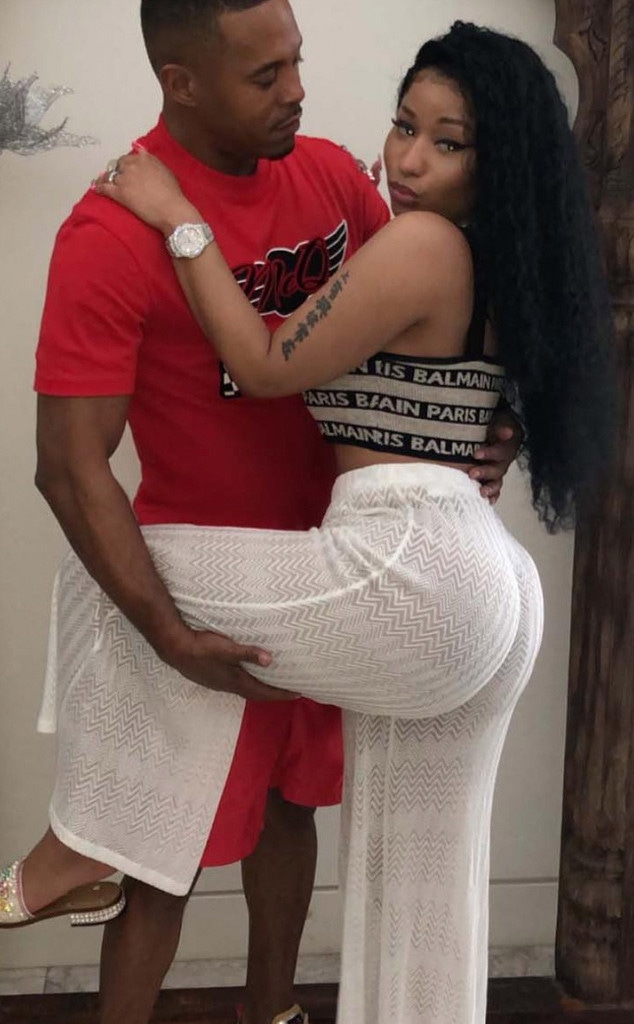 Instagram
TMI? Nope, that doesn't exist for Nicki Minaj.
The "Barbie Dreams" rapper got very real with her Twitter followers on Saturday when she answered their questions about how often she has sex with her new boyfriend Kenneth Petty. She seemed to be doing an impromptu and informal Q&A session with her fans that evening because she got super personal super fast. At the very least, she was just catching up on her mentions.
One fan wrote, "Nicki probably getting dick 6x a night and giggles when y'all keep saying 3."
According to Minaj, "6 is a bit much." She said she and Petty do the deed "3-4 [times] on average."
It seems like she and her significant other could be planning to stay together for the long haul.
Another user made a comment about the rapper and Petty starting a family together.
"I have a couple suggestions for baby names, just putting that out there," someone tweeted.
Well, that person might have to offer those names to someone else because according to Minaj, "We already chose them babe."
In another message, the 36-year-old praised Petty and described how he complements her so well. "He's like the male version of my bff TT. They both can make me calm with one look, hug, word," she explained. " I tell them both all the time. My peace. Cuz they knew me since I was a kid so they understand me in a diff way I guess. Him & TT used to hate each other when we was younger tho lol."
Petty is no stranger to Minaj. She explained that they've known each other for a long time and their PDA-packed days are nothing out of the ordinary for the duo. "We were like this about each other since we were very young kids in the hood," she tweeted. They had history before she made it big and "b4 the fame and fortune."
She added, "Timing is everything."
Don't expect Petty to make tons of public comments on social media. Minaj said he is "not a internet dude" and she likes it that way. "I prefer his mystique," she tweeted. "I'll do all the talking for him. He'll do the rest."
Minaj and Petty have been Instagram official for about a month now and don't shy away from letting their affection show on social media platforms. Her boyfriend really put the P in public displays of affection after getting her name tattooed on his neck in huge lettering.
The 40-year-old has been a bit of a controversial pick for Minaj because he's a registered sex offender in New York. Petty has also reportedly been convicted of attempted rape in the first degree. He was convicted and registered as a sex offender in 1995. According to TMZ, Petty spent 4 years in state prison. In 2006, Petty was sentenced to 10 years in prison after pleading guilty to first-degree manslaughter.
Minaj is going to let the haters hate as she does her own thing. "Y'all can't run my life," she replied to a comment on an Instagram picture of the two of them. "Y'all can't even run y'all own life. Thank you boo."