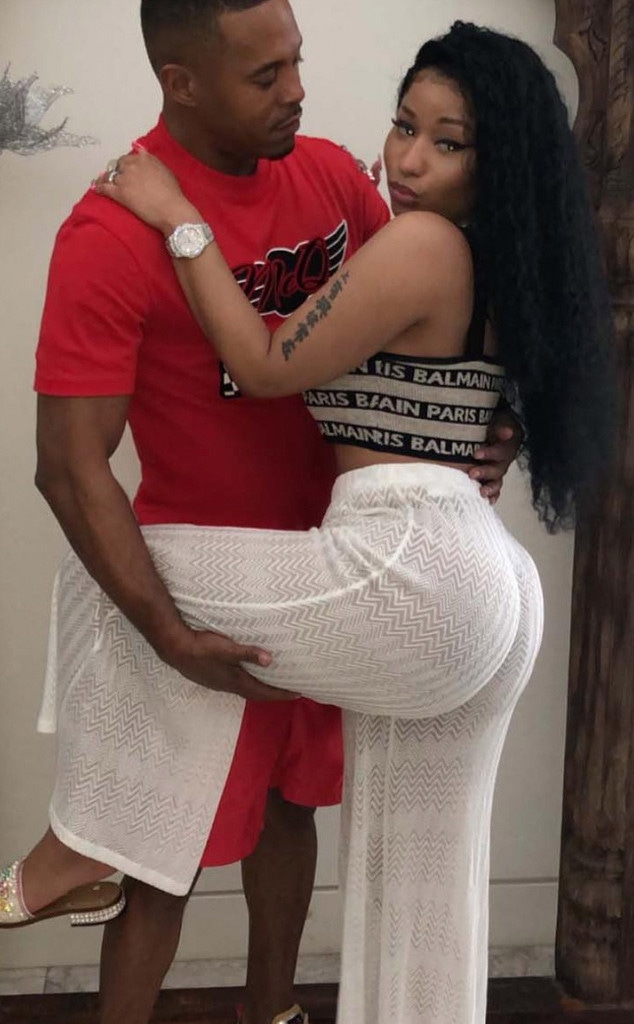 Instagram
Nicki Minaj's new boyfriend is proving his loyalty to the rapper in a big way.
Kenneth Petty is now sporting a large tattoo of Nicki's name on his neck and Nicki couldn't be happier. She revealed the new ink, which happens to be his first, in a video shared to her Instagram on Friday night.
In the video of the pair, Minaj asks, "Did your tat hurt?"
He replies, "Nah." Nicki then casually fixes her hair as she stares into the camera. 
The rapper, née Onika Tonya Maraj, captioned the close-up of the tattoo, "Did ya tat hurt zaddy? his first tat—frontin like it didn't sting." 
The couple's relationship appears to be moving at a fast pace since they only recently went public with their romance. Nicki revealed her new beau to her 96.6 million Instagram followers on Instagram on Dec. 10, when she shared a PDA-filled pic of the pair.
Since then, the couple has been nearly inseparable. He even celebrated her birthday with her and all of her friends at a New York City dinner party. At the ultra-private event, a source said Nicki and her man were "inseparable, making out and dirty dancing all night." This was confirmed in videos Nicki shared of herself twerking on the 40-year-old while her friends cheered her on.
While Nicki appears to be more than pleased with Kenneth, her fans are a bit concerned because of his checkered past. Petty is a convicted felon and registered sex offender in the state of New York. According to court documents, Petty was convicted of attempted rape in the first degree in April 1995. The incident occurred when Petty was in his teens and the female was 16. The rapper served four years of the 18 months to 54 months he was sentenced to, according to TMZ.
This is no issue for Minaj apparently, who clapped back at fans on Instagram for judging her new love interest. "He was 15, she was 16... in a relationship. But go awf Internet. y'all can't run my life. Y'all can't even run y'all own life," the 36-year-old defended.
He also was sentenced 10 years for first-degree manslaughter in March 2006. TMZ reports that Petty served seven years for "shooting a man" and was released in 2013.