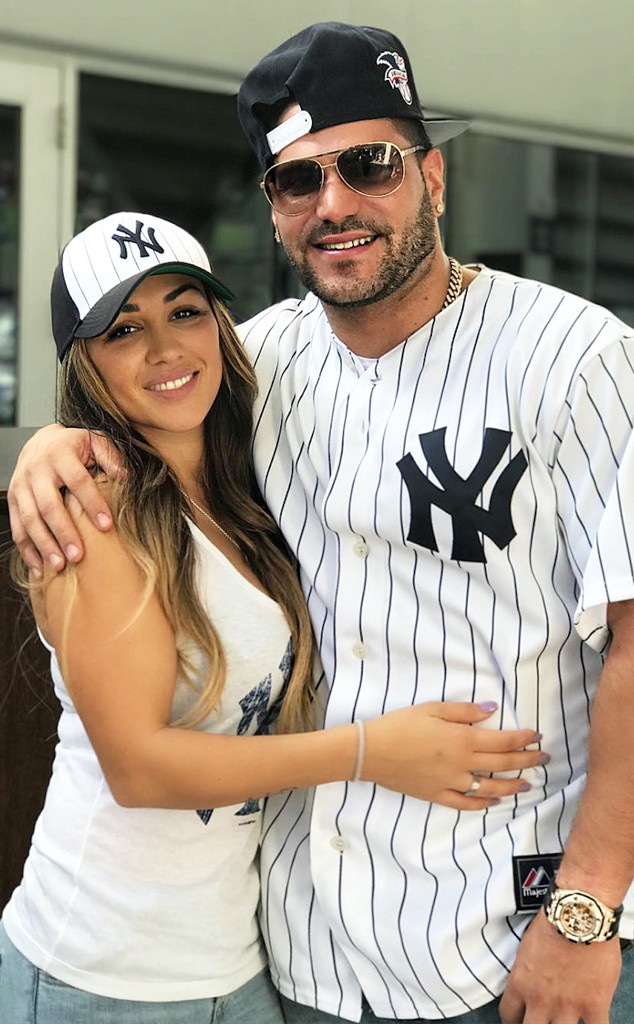 Instagram
It's been a rocky road for Jersey Shore star Ronnie Magro-Ortiz and his girlfriend Jen Harley, but it sounds like the couple is currently in a good place.
On Tuesday, Jen took to her Instagram Story to do a Q&A with her social media followers, during which she answered questions about her relationship with Ron, even calling him her "soulmate."
When asked why she's with Ron and if the reason is for money, Jen replied, "LOL let me be clear I had my own money owned my own house cars etc. before Ron. I've never been broke or needed to live off of someone ever."
She continued, "I'm with him because I love him and we have a connection that most people do not have and it sucks you guys do not get to see it on JS but it's there and it's real and I do believe he's my soulmate."
Jen was also asked if the couple had any plans to get married, which she shared, "No, we have no plans on getting married."
In late April, less than one month after welcoming their daughter Ariana Sky, the couple called it quits. The split came after a series of explosive social media fights, including one broadcast on Instagram Live.
A month later, an insider told us that Ron and Jen were "peaceful" for the sake of their daughter. Then in early June, the duo was involved in a domestic dispute in Las Vegas. The Las Vegas Metropolitan Police Department confirmed to E! News that Ron and Jen got into a physical altercation at Planet Hollywood. E! News confirmed at the time that the fight was sparked by the sudden death of Jen's beloved dog. 
Weeks later, Jen was arrested for alleged domestic battery. She was taken into custody at the Clark County Detention Center in Las Vegas, where she was later released after meeting $3,000 bail. The Clark County District Attorney's office confirmed to E! News in early July that Jen will not face charges for the alleged domestic battery incident. The case was dropped due to insufficient evidence.
Shortly after, Ronnie and Jen celebrated the Fourth of July together and seemingly have been back on since then. A source confirmed to E! News that the couple is "back together" in August as they spent time with their baby girl in Puerto Rico.
"They've been quiet about it but it's been about a month now," a source told E! News at the time. "They want peace and they want things to work out for the baby's sake.
Earlier this month, the couple took Ariana and Jen's son Mason to Central Park in New York City, where they snapped some adorable photos. Jen later took to her Instagram Story to share a video of her and Ronnie embracing, also giving a relationship update.
"How we are all the time," Jen captioned the video. "We went through a rough time but we are strong and best we've ever been. I love you and have your back always."
Fans of Jersey Shore have seen the romance drama play out on the show this season, and during her Instagram Q&A, Jen said the MTV series has been the "route to all our problems."
When asked if she'd want Ron to quit the show to make their relationship better, Jen replied, "Duh."