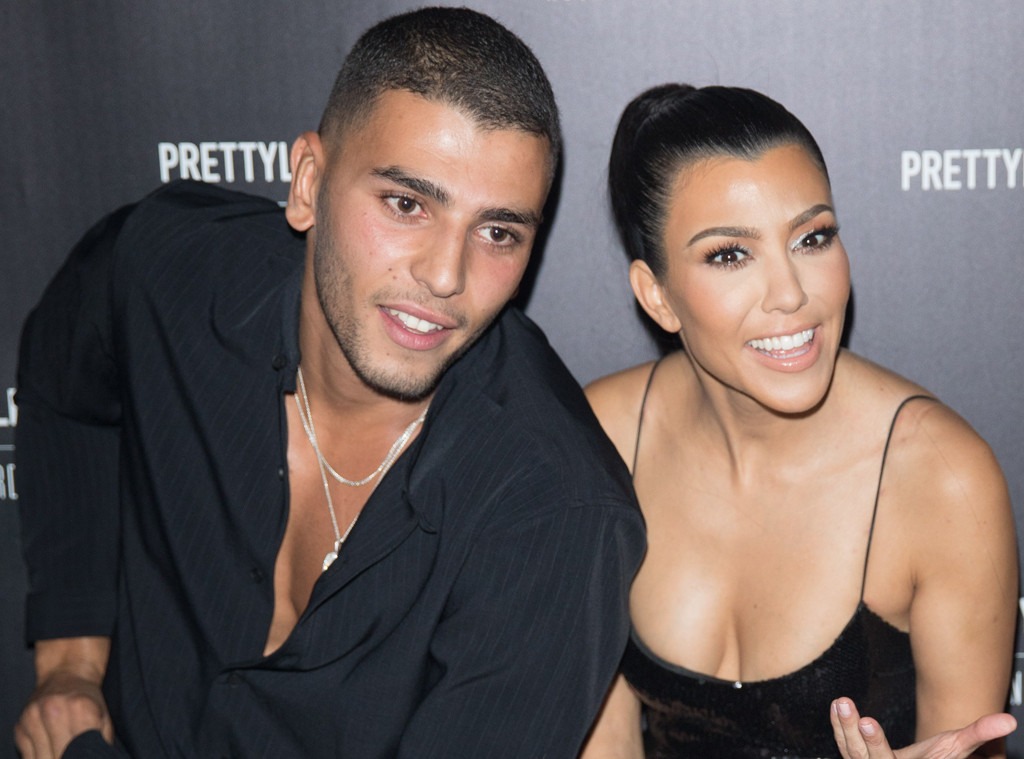 Mr. Canon / Splash News
After last week, we'd guess Younes Bendjima has learned an important Instagram lesson: Jokes that may sound funny in your head, don't always land in print. 
The model was presumably aiming for clever when he commented on Kourtney Kardashian's bikini pic, asking, "That's what you need to show to get likes?" but he landed a little closer to controlling boyfriend. And Kourtney—and her legions of fans who flooded the model's shirtless Instagram snapshots with his own words—weren't having it. 
Noting this wasn't a onetime issue, a source tells E! News, "Kourtney doesn't appreciate Younes posting his feelings in a public forum and being impulsive." 
And though he quickly realized his mistake and rushed to delete, in this age of smart phones and screenshots, regrettable Instagram quips live on forever. "He overreacted and put up a comment without thinking it through," says the source. "Then he realized what he did made it even worse." 
At this point in his Kardashian tenure, the 25-year-old former boxer should have graduated past such amateur social media mistakes. But considering this is his first major slip-up in the nearly two years he's known Kourtney, he might be ahead of the curve. Scott Disick may just have been on to something when he hired a spiritual medium to help purge him of the so-called Kardashian curse. With the exception of Kanye West—already an 18-time Grammy winner well versed in courting controversy when he began dating Kim Kardashian—most men brave enough to enter the Kardashian orbit simply aren't equipped to deal with the intense, unrelenting glare that accompanies reality TV's most famous family. (See: Lamar Odom, Kris Humphries.) 
"They come and can't handle it," Kylie Jenner recently opined to GQ, noting she's seen both boyfriend Travis Scott and best friend Jordyn Woods crack when they become the subject of a less-than-factual news story. "It's everyone around us that aren't used to it. And we're just like, 'Oh, that'll go away in a day.' I know these stories aren't going to matter, so don't even let them affect you, you know?"
And while Bendjima is clearly still struggling with the acting indifferent portion of fame, months after some fans predicted the little-known model 14 years Kourtney's junior would flame out, he's still in heavy rotation. Because for any fights over showy 'grams, an insider insists Kourtney is "very happy" with Bendjima, adding the duo are "in love." 
From the first night, Bendjima showed he had what it took to keep up with the Kardashians—and it amounted to little more than being fluent in French. You see, having indulged in some flirting with Kourtney the night before, Bendjima was next to her in that Paris bar when she got the call Oct. 2, 2016—the frantic message that sister Kim had been robbed in her hotel room.  
"So then the party was over," Kourtney recounted on a 2017 episode of Keeping Up With the Kardashians. "And then he was like, 'I'm not leaving you guys,' and he, like, had to translate everything."
The Algeria native's chivalry charmed Kourtney, an insider tells E! News—"He was really helpful and supportive during that time,"—and soon the pair were casually dating.  
Mehdi Taamallah / Nurphoto
By the time they stepped out in coordinated distressed denim last May, sparking curiosity from fans and inspiring more than a little jealousy in Kourtney's ex Disick, they'd been quietly logging dates for months. 
"Kourtney really likes him and will text him to meet up whenever she has time without her kids," the insider told E! News at the time, their dates amounting to a collection of art gallery outings and West Hollywood lunches presumably when Mason, 8, Penelope, 6, and Reign, 3, were at school or with their dad. 
Their first six months of courting weren't serious, a source close to Bendjima noted at the time, "But they are really getting to know each other and having fun."
As the twosome crisscrossed the globe together—a sighting on a balcony in Cannes here, posing in front of the Eiffel Tower there—their only struggle revolved around coordinating a time and picturesque location in which to meet up. Eagerly collecting gigs with the likes of Calvin Klein and Ralph Lauren, Bendjima was focused on building his career while Kourtney's kids kept her tied to southern California. 
It was a pull she wrestled with on camera, finally deciding to put herself, and her burgeoning relationship, first by accepting Bendjima's invitation to join him in Egypt last August. "She is trying to live it up as much as possible this summer," a source explained at the time. "He planned this adventure for them and wanted to take her somewhere new and exciting." 
Her desire to see the pyramids and ride a camel trumped her growing mom guilt—the nagging voice that makes itself known whenever women dare have fun without their precious offspring. "I've definitely learned from my past relationships, where I really wouldn't travel without my kids. And I think it is important to take time, especially because my relationship is important to me," she reasoned. "Just because those worlds aren't colliding right now, just making sure that I make time for both. And I think going on a trip once in a while reminds me the importance of being present and in the moment when I'm home." 
That particular juggling act became easier after the couple logged their first holiday season together. By this spring (as sources were whispering about how serious the reality star had become with the trilingual model) their jealousy-inducing getaways featured a few special guests. Kourtney's two eldest appeared to be on hand when they stayed in a private villa at the Amanyara Turks and Caicos and all three tagged along when the couple alighted in Italy's Positano this June after stops in Rome and Capri. 
Thanks to a winning combination of boat rides and gelato shops, the whole blended gang had an "amazing and relaxing" trip a source told E! News. "Younes is great with the kids and enjoys having them around. They are all comfortable together and look like a very happy family."
If there was one snag in the duo's otherwise literally picture perfect romance, it made itself known this March when they each briefly shut down their Instagram accounts.
Though it's unclear if that choice to go dark was related to the Insta drama that would follow four months later, sources close to Kourtney insist Bendjima's recent social media misstep wasn't a singular incident. While most any person as dedicated to a no-frills diet as Kourtney would be eager to put their hard word on display, Bendjima has always been just a bit uneasy with his gal's 65 million-plus followers being able to double-tap shots of her in swimwear. 
"Younes gets jealous and can be possessive of Kourtney," an insider explains to E! News. "When she posts half naked pictures, he gets very upset. He wants her for himself and doesn't want to share her with the world." 
His inner green-eyed monster became even harder to squelch after their weeks-long tour of Italy came to an end. "It was sad when they had to say goodbye and she returned to the States," notes the insider. "He's been missing her like crazy and got emotional." 
Having recognized his misstep, though ("Kourtney has explained its part of her job and its not going to change, says the insider) Bendjima has since tried to paint the whole exchange as a misunderstanding. 
When Kourtney uploaded some spon con of herself draped in a weighted blanket, he, uh, weighed in, joking, "Hmmm well...ok for this one." 
The situation at least temporarily smoothed over, with Bendjima seeming to get Kourtney's message to just knock it off, he jetted off to Las Vegas to blow off steam with friends. 
Hopefully he's learned not to take any big gambles while he's there.