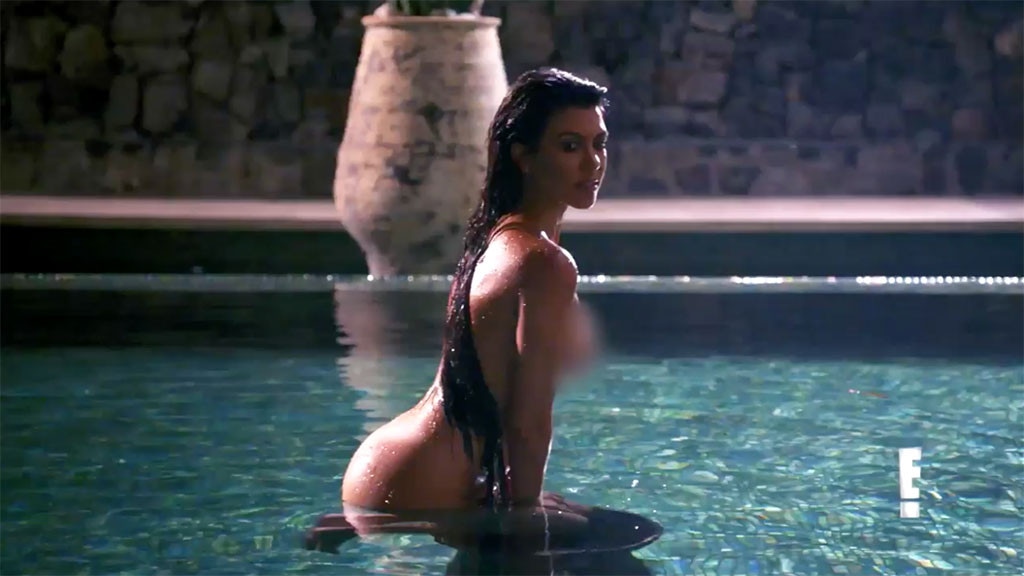 E!
Kourtney Kardashian has welcomed back an old friend.  
In an Apr. 13 post on her app, the reality star revealed she's slightly, ever so slightly, relaxed her notoriously strict diet. Now, instead of eschewing all dairy and gluten, she will consume "small amounts" of each regularly.
She was inspired to make the switch when she realized how much she was vacillating between her normally stringent clean eating and the anything goes attitude she would adopt during vacations, like her March trip to Japan. "That wasn't making sense for me anymore," she wrote. "I don't want to throw my body off by eating whatever I want when I travel and then be really strict other times."
Now, she'll indulge in a bit of pizza or ice cream "in moderation," she says, noting she's careful not to label that splurge a cheat. That word, she reasons is negative, "which doesn't make sense for all the hard work and eating healthy I do most of the time."
Because make no mistake, maintaining that body—in February, the 5-foot star revealed she was a toned 98 pounds—is a challenge for the mom of three, who marks her 39th birthday today. The organics-only eater, who sisters Khloe has affectionately dubbed "a health freak" steers clear of "addictive" sugar in addition to limiting gluten and dairy and makes it a point to exercise five days a week at a minimum. "I think I take time for myself to work out every day, which I never did—especially having three young kids," she tells E! News. "I just never made it a priority, and now it just makes me feel so much better—mentally and physically."
Kourtney's morning routine is a non-negotiable. Most days she'll warm up with a quick run or a jump rope session before leaping into strength training. Some days that means using a stair master or Pilates reformer, but she also has a series of go-to exercises that involve less intense equipment such as leg kick-backs using a resistance band (a move she says she swears by for toned glutes) and weighted squat cleans using a kettlebell or sandbag.
Snapchat / Khloe Kardashian
While the mom to Mason, 8, Penelope, 5, and Reign, 3 (with ex Scott Disick) often sweats with trainer Don Brooks, her so-called "main b" when it comes to exercising is Khloe. Notes the new mom, "She'll try everything and do her best without complaining."
Kourtney credits her sister's presence with getting her through the sessions excuse-free. "I know for my body, I need four to five days a week of working out," she tells E! News. "Khloe and I really push each other to do that."
Exercising is so much a part of her daily routine, she said in a post last summer, that she doesn't use her frequent travels as an excuse to slack off. "Even though I like to relax on vacation," she said, "getting a workout in is still important to me." Plus, the sweat sessions help fend off jet lag, she noted, and make it easier to resume her regular routine when she's back at home.
During a trip to Egypt last August with 24-year-old boyfriend Younes Bendjima, Kourtney committed to power walks on the beach with lunges, triceps dips, "classic, old-school push-ups" and endless squats. "I did 200 chair squats to keep my hamstrings, glutes and quads toned," she wrote. "Just pretend you are about to sit in a chair and pop up into standing position while engaging your core."
Staying primed for such strenuous sessions means fueling up with non-processed whole foods, which is why she makes it a point to avoid sugar. The sweet stuff, "doesn't sustain you when you when you actually need energy, like for a workout," she wrote on her blog. (Other drawbacks: eating sugar just makes her crave more desserts and "I find that more cellulite appears.")
Instead, she energizes with the same series of pre-workout eats. "Every morning, when I wake up, I take collagen supplements on an empty stomach," she said. Roughly 20 minutes later, she chugs down a glass of water mixed with one tablespoon of organic apple cider vinegar. "Both of these habits have a ton of health benefits that affect everything from your skin to the way your body processes nutrients," she wrote. (For instance one Japanese study showed participants that consumed two tablespoons of the vinegar daily dropped weight.)
Finally, after a vegan probiotic shot, Kourtney blends up her avocado pudding by mixing the fruit with E3Live blue-green algae, bone broth protein powder and MCT oil. "It only takes a few minutes to make," she says, "and it provides healthy fats to give me energy before a workout."
Post-sweat, she hits the kitchen again to whip up a serving of whole grain oatmeal on her stove that she'll top with fruits, seeds, bee pollen or a drizzle of honey. "I try to eat healthy and include as many organic whole foods as possible," she explained in a January post.
Kourtney Kardashian/Instagram
That means a salad with chicken or salmon and her own homemade, sugar- and preservative-free balsamic or ginger dressings for lunch, cut vegetables with avocado hummus or raw almonds for snacks and—after another round of apple cider vinegar and a probiotic shot—a light dinner: "I love fresh, simple soups made with asparagus, sweet potatoes or beets." And while she allows herself dessert—"It's really important to have something sweet,"—her go-to is a nutritious, fiber-filled matcha chia seed pudding.

Even her kids get in on the low-gluten, low-dairy act. "I don't think everyone needs to eat this way," she's explained. "But we had muscle testing done, which showed we all have sensitivities to corn, gluten and dairy."
To deal, she sought out quality swaps, she said, and filled her pantry and fridge with coconut milk, dairy-free shredded cheese and tortillas made from sweet potatoes. (On her list of preferred brands: So Delicious, Kite Hill, Daiya and Earth Balance.)
While she admits it can be a struggle at times, the lifestyle change was well worth it. "I kept battling with myself back and forth—like why am I doing this diet?" she wrote on her app. "I have always felt fine before when eating dairy and gluten, but I do believe that we have one life to live and I would like to live it feeling my best." Her kids benefit, too, she said: "I have noticed a great positive change in behavior with my children when we stick to a gluten-free and dairy-free diet."
To make it as easy as possible on her brood, she whips up dishes such as gluten-free waffles and scrambled eggs or hot dogs wrapped in gluten-free rice tortillas. And, after a great deal of research, has found some all-natural candies (devoid of food coloring and artificial dyes) that she likens to Starburst and jelly beans.
And when certain cravings strike, "We pick our battles," she says, "and I do let the kids have popcorn at the movies and a churro at Disneyland."
She also allows herself to indulge. Describing her "ideal" food day, she said it would start with a breakfast of Bishi—a donut-like Armenian dish "that my grandma taught me how to make,"—turkey bacon and berries. Then she would head to the Beverly Hills Hotel for their "top secret" chopped salad. Finally, for dinner, she'd splurge at Mastro's Steakhouse with pretzel bread, the cold crab legs, cream spinach and butter cake.
None of those were on the menu last year when she tried out a three-month keto-like diet. After doctors discovered high levels of mercury and lead in her system, she revealed in on her site, she decided to start detoxing "on and off for a few months" following a plan so restrictive she advises fans consult their doctors before implementing it themselves.
To keep her body in a state of ketosis—"when the glycogen in your liver is depleted and the body burns fatty acids for energy," she explained—she consumed three meals a day that were high in protein and healthy fats and low in carbs. Like, no grains, beans or legumes low in carbs.
"Once I knew the ground rules, I was very strict and stuck to it," she said. "I would make broccoli rice or cauliflower rice to at least feel like I was eating some carbs," she wrote. "Then I would add protein, so I often ate grilled chicken and fish over broccoli rice, cauliflower rice or spaghetti squash. I mixed in roasted vegetables, fresh salads with homemade dressing, and smoothies made with avocados and bananas."
Since intermittent fasting was also part of the program, she would stop eating after 7 p.m. and wait to have breakfast until about 11 a.m., after she finished her morning workout. Even tougher, once a week she would do a 24-hour fast where she'd drink only water and bone broth and steer clear of the kitchen to avoid temptation.
For the first few weeks, she had to push through headaches and low energy, she said, but to keep herself from cracking, she did "a 'treat yourself' day once a week, which really helped me get through the few months that I did this diet."
While she admitted the experience wasn't exactly a breeze—"I'm not going to sugarcoat it, this detox is difficult,"—she plans to try it again this year.  
And there's another potential health plan on her horizon. On a February episode of Keeping Up With the Kardashians, she revealed to sisters Kim and Khloe that she was considering freezing her eggs. "What if I want a kid in the next 10 years?" she questioned. "Wouldn't you rather have the insurance sitting there?"
As her sisters teased her and danced around the idea that she was hoping to have a kid with Bendjima, she made it clear this was strictly future planning. "If I wanted to have it with my situation right this second I would take out my IUD and I would get to work," she noted. "Right now I'm good." But if at some point, as Khloe said, she were "in love and want to fulfill a man's dream of a baby," she wanted to be ready.
Opined Kourtney, "What if I want my love to come into the world?"