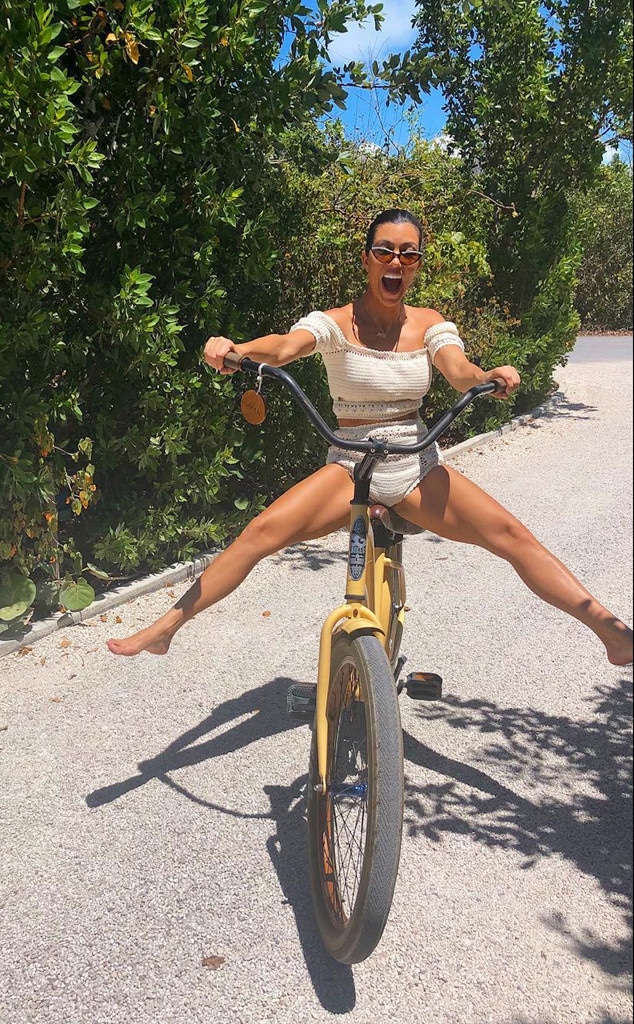 Kourtney Kardashian/Instagram
Another day, another romantic getaway!
Soon after getting back from her recent trip to San Francisco and Big Sur earlier this week, Kourtney Kardashian and boyfriend Younes Bendjima jetted off to Turks and Caicos in the Bahamas for a romantic romp.
A source tells E! News, Kourtney and Younes were in Turks and Caicos for five days, but left to go back to Los Angeles on Saturday afternoon.
Of course, during their getaway, the pair got away to one of the most lavish resorts around, the 5-star Amanyara Resort.
The insider adds, "They stayed at Amanyara in a private villa overlooking a pond with a private swimming pool and chef."
The source also said that the 38-year-old mother of three and the 24-year-old were all about each other while on the famed archipelago.
"They were very sweet together and blissfully in love. They seemed like they were on their honeymoon the way they held hands and smiled at each other." The insider adds, "Their stay was very private and romantic." 
Over the weekend, Kourtney has been posting several fun-filled photos from her adventure with her beau. The pair hit the beach, rode bicycles and did a lot of relaxing. Kourtney's daughter Penelope and son Mason also appear to be on the trip.
Kourtney Kardashian/Instagram
Kourtney Kardashian/Instagram
Kourtney Kardashian/Instagram
Kourtney Kardashian/Instagram
The source also said that the high-profile couple was all about spending some low-key quiet time together.
"They spent time on their deck listening to music and had massages with a masseuse. They rode their bikes all over the property and chased each other down to the water," said the source. "Their villa came with a golf cart and they took it to dinner at the resort's restaurant and to look at the ocean and views. They had an amazing time and loved the beauty and nature of the resort."
Kourtney took to Instagram Stories after leaving the beachy location and shared some fun-filled and playful videos with her man during their dreamy destination. 
About 11 months have passed since Kourtney and Younes' romance first sparked, and they're relationship timeline is filled with travels to luxe locations by themselves and with friends. From Cannes to St. Tropez, to Egypt, Mexico and Paris (where they actually met in October 2016), this celebrity relationship has certainly gone global.