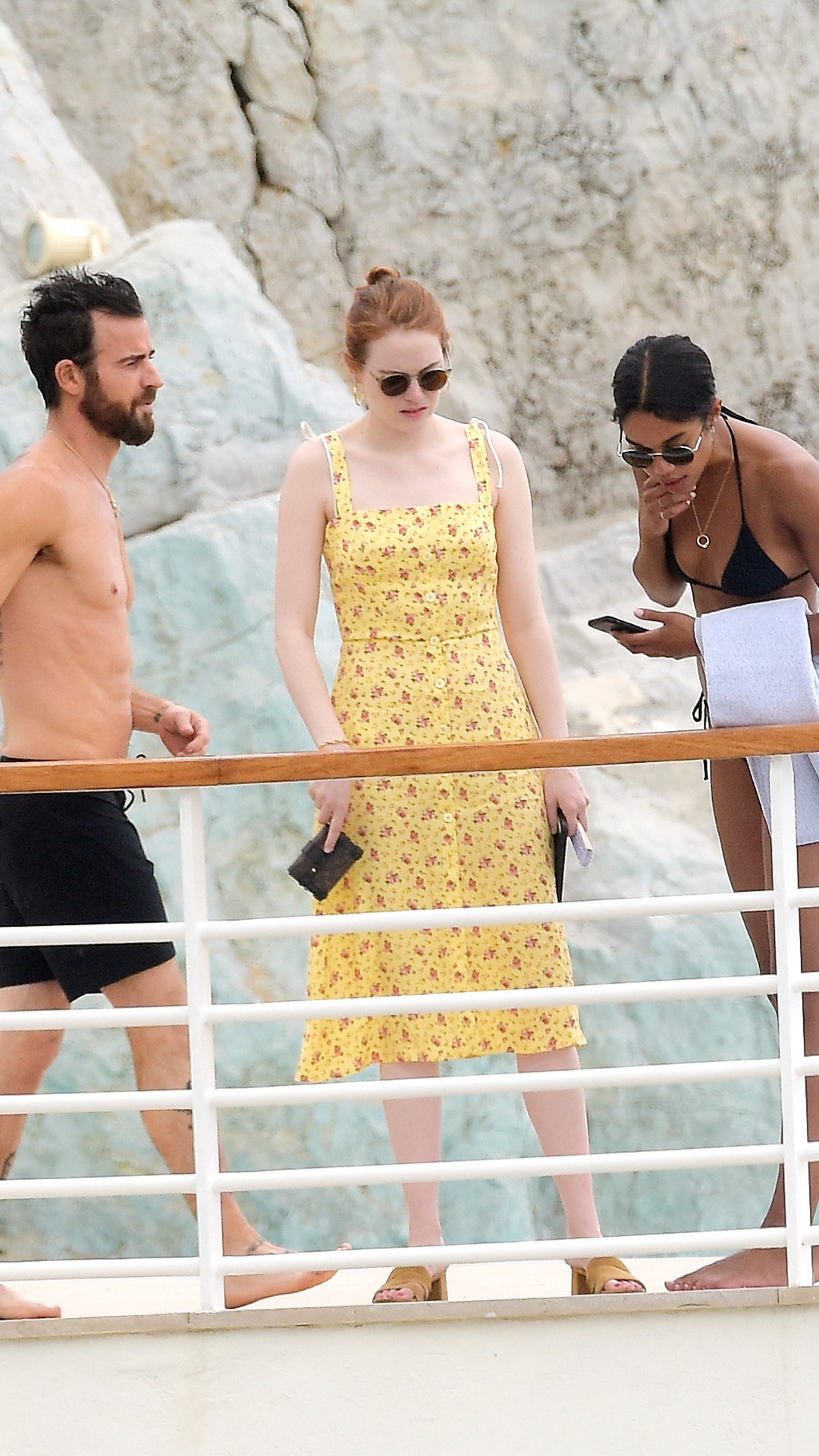 Spread Pictures / MEGA
Hollywood men are finding different ways to cope following their public splits.
It's been almost four months since Justin Theroux and Jennifer Aniston announced their separation after three years of marriage. Since that time, 46-year-old Theroux has removed his wedding ring and has been spotted out and about in New York City, as well as attending fashion shows and vacationing in the south of France.
Theroux is "enjoying his new single life," one source told E! News in March. "He's been hosting and attending a lot of different friendly gatherings," said the insider, adding that the actor "is trying to keep himself around friends a lot more than he used to—he's not at home thinking about his divorce."
Let's see what else Theroux and more Hollywood men have been up to following their celeb breakups:
Michael Kovac/Getty Images for for J/P HRO Gala
Brad Pitt: Brad Pitt has kept a very low profile since his split from Angelina Jolie in Sept. 2016, only stepping out in Hollywood on rare occasions.
Back in March, Pitt was all smiles during a surprise appearance at an Oscars party. Following this sighting of the actor, a source told E! News that Pitt is in a good place following his breakup with Jolie.
"The separation was brutal and a very sad time in his life," the source shared. "[Brad] made some important changes and is much better off now. He is happier and healthier. He has an active social life and has rekindled old friendships. He goes out to dinner a lot and enjoys being out doing different things."
"[Brad] spent a lot of time alone and in private looking at himself and reevaluating what was most important and who he wanted to be," the source continued, referencing the actor's time away from the spotlight, where he worked on art. "Now he's in a place where he's implemented those changes and has a lot more clarity. He's come out of that dark time and is in a much better place."
Chris Pratt: When he's not promoting some of the biggest movies of the year, Chris Pratt has been enjoying the farm life after his split with Anna Faris.
It's been almost a year since the Jurassic World: Fallen Kingdom actor and the Mom star announced their separation after eight years of marriage. "Anna and I are sad to announce we are legally separating," Pratt shared on Facebook in August. "We tried hard for a long time, and we're really disappointed. Our son has two parents who love him very much and for his sake we want to keep this situation as private as possible moving forward."
His statement continued, "We still have love for each other, will always cherish our time together and continue to have the deepest respect for one another."
Since that time, Pratt has been on a number of promotional tours for his films. But when he's had time off, Pratt has been on the farm with his and Faris' son, Jack.
"Divorce sucks," Pratt said in Entertainment Weekly's Summer Movie Preview issue, released in April. "But at the end of the day, we've got a great kid who's got two parents who love him very much. And we're finding a way to navigate this while still remaining friends and still being kind to one another. It's not ideal, but yeah, I think both of us are actually probably doing better."
Justin Theroux: Following his split with Aniston, Theroux has been spotted spending time with friends, most recently in the south of France. Earlier this week, Theroux attended the Louis Vuitton Cruise fashion show.

He then was photographed enjoying his vacation at Hotel du Cap-Eden Rock alongside pals Emma Stone, Sienna Miller, actress Laura Harrier and journalist Derek Blasberg.
"Justin is hanging out and having the time of his life. He's casually dating, but it's nothing more," a source recently told E! News. "He's in a great place and very happy. He's enjoying being social and meeting people from all walks of life. He is excited about doing new things and traveling. He's looking forward to a great summer of fun and just seeing where it leads." 
Channing Tatum: Channing Tatum and Jenna Dewan shocked fans when they announced their split at the beginning of April, ending their relationship after eight years of marriage.
The actor made his first public appearance since the split at the Honda Indy Grand Prix of Alabama, where he posed for pics with The Bachelor's Arie Luyendyk Jr.
Since then, Tatum has been spending a lot of time in the "middle of nowhere," which he called his "sanctuary" on social media. Tatum has also been sharing photos while spending time with his and Dewan's daughter, Everly.
"[It's] a new normal where there is a lot of love. We're just getting used to it," Dewan recently told Harper'sBazaar.com. "We're in a very positive energy together, trying to be the best parents to Everly [Tatum]. We support each other."
Ben Affleck: It's been three years since Ben Affleck and Jennifer Garner announced their divorce after 10 years of marriage.
Since that time, Affleck and Garner have found a balance co-parenting their three kids while continuing their successful careers. The exes even celebrated Christmas together this past year in Montana.
Affleck has also started dating again following his public split from Garner. E! News learned in July 2017 that the actor had started dating Saturday Night Live producer Lindsay Shookus.
Affleck also has some new permanent ink following his split. After pictures surfaced of Affleck on the beach in Hawaii, fans learned that his giant phoenix back tattoo (first spotted in 2015) is real.