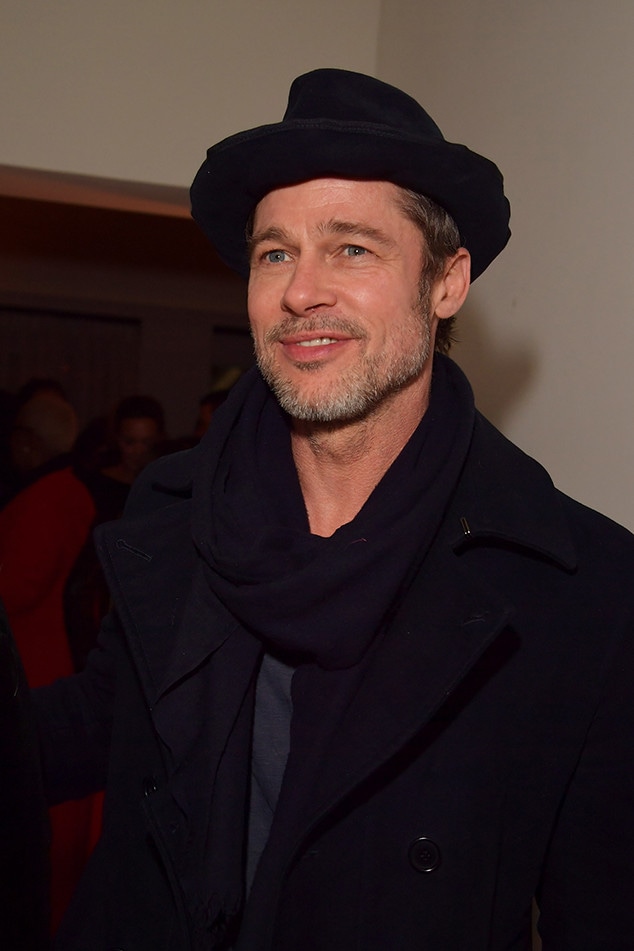 Lester Cohen/Getty Images for Gersh
Things are looking up for Brad Pitt.
Following a rare sighting at the Gersh Agency's pre-Oscar event last Thursday, a source tells E! News that the father-of-six is in a good place since his split from Angelina Jolie, finally coming to terms with the break-up.
"The separation was brutal and a very sad time in his life," the source says. "[Brad] made some important changes and is much better off now. He is happier and healthier. He has an active social life and has rekindled old friendships. He goes out to dinner a lot and enjoys being out doing different things."
The 54-year-old actor has been keeping busy as of late, recently signing on to join Leonardo DiCaprio in Quentin Tarantino's upcoming film about the 1969 Manson family murders—Once Upon a Time in Hollywood.
The source continues, "[Brad] spent a lot of time alone and in private looking at himself and reevaluating what was most important and who he wanted to be. Now he's in a place where he's implemented those changes and has a lot more clarity. He's come out of that dark time and is in a much better place."
As E! News previously reported, Angelina filed for divorce from Brad in September 2016 after two years of marriage and a 12-year relationship. The pair got involved in a custody battle over their kids, Maddox, 16, Pax, 14, Zahara, 13, Shiloh, 11, and twins Vivienne and Knox, 9, before reaching a temporary agreement the following December.
According to court documents obtained by E! News in 2016, the former couple's six children were to remain in Angelina's custody. Brad would continue to have "therapeutic visitation" with his kids, as well as to attend weekly individual therapy sessions. The War Machine actor was also ordered to attend group therapy and submit to random drug tests.
The temporary custody agreement came after the FBI officially closed its investigation into Brad's actions on a private plane. 
And while he may being heading in a positive direction regarding his separation, the custody of Brad's children is still a sore subject.
"[Angelina and Brad] are still working out the divorce and the custody details," says the source. "Brad isn't happy about the custody arrangement. He wants to see his kids more and struggles with not being able to. Overall, he is doing well though."