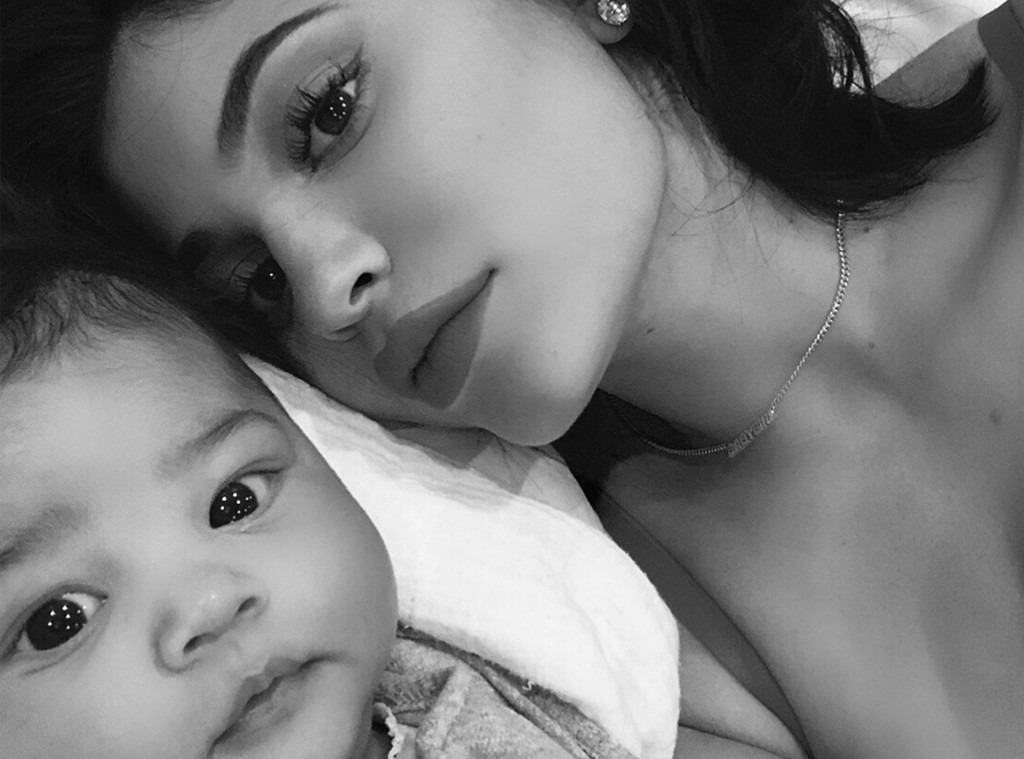 Instagram
Stormi Webster turned 2 months old on Sunday, and it's been a transformative time for new mom Kylie Jenner.
The 20-year-old Keeping Up With the Kardashians star gave birth to her daughter on Feb. 1 and was filled with joy. 
"Kylie's first few days of motherhood have been the happiest of her life," a source told E! News just days after the baby's birth. "She feels like being a mom is her true calling, and there's nothing that's ever felt so right. Bringing the baby home has been the greatest joy and most sacred experience. She is elated and overjoyed."
After remaining fairly private throughout her pregnancy, Kylie shared her journey to motherhood in an 11-minute video. However, she still made fans wait until Feb. 6 to find out the little one's name. Another insider told E! News "the name had been decided on for a while now."
Kylie continued to give fans sneak peeks into life with her little girl. She even gave followers a glimpse of the baby's nursery and stylish wardrobe.
"Kylie thinks it's so fun to dress her every morning, and loves organizing Stormi's baby closet," a third source told E! News. "She has received SO many gifts from friends and family members, and Stormi basically takes up a huge chunk of her house now."
Of course, Stormi wasn't the only one to get a few gifts. Kylie also received a black Ferrari La Ferrari as a "push present."
In addition, the new mom launched a makeup collection inspired by her daughter and shared picture of her little's one first selfies.
Still, like any parent, Kylie experienced her fair share of challenges.
"It's been a big adjustment for Kylie, but she's loving being a mom and watching all the little things that Stormi is doing each day," a fourth source said. "She's exhausted and emotional, but she's also completely in love. It's been a rollercoaster, but she's figuring things out and getting more and more comfortable each day. 
Thankfully, Kylie wasn't afraid to lean on her friends and family for help.
"She has a baby nurse that's been helping out and that gives her little breaks and some guidance," the fourth insider continued. "Her sisters have been very helpful and a wealth of knowledge when it comes to feeding and fussiness. They talk all the time and are comparing notes on how to get Stormi on a feeding and sleeping schedule."
Adjusting to life as a new parent was also a big change for Kylie's boyfriend Travis Scott. However, the fourth insider said Travis is "obsessed with the baby."
"He can't get enough and wants to just hold her and stare at her," the source added. "It's surreal for him that they created this. He's working a lot but spending time with Kylie and Stormi when he isn't. He misses them so much when he's gone and wants to make sure he doesn't miss anything."
In fact, a fifth source told E! News having Stormi "strengthened" the couple's relationship and "elevated it to a new level." The new parents have been able to squeeze in a few breaks from baby duty. They enjoyed a brief getaway to Miami earlier this month and have stepped out for the occasional lunch and dinner date. They were recently spotted cuddling at the birthday party of Jordyn's mom Elizabeth Woods and celebrated Easter together as a family.
"They also are making time to get out just the two of them and Kylie appreciates and enjoys that," the fifth insider said. "She feels like she has the best of both worlds with her amazing baby at home and a little bit of time with Travis doing the things they love to do."