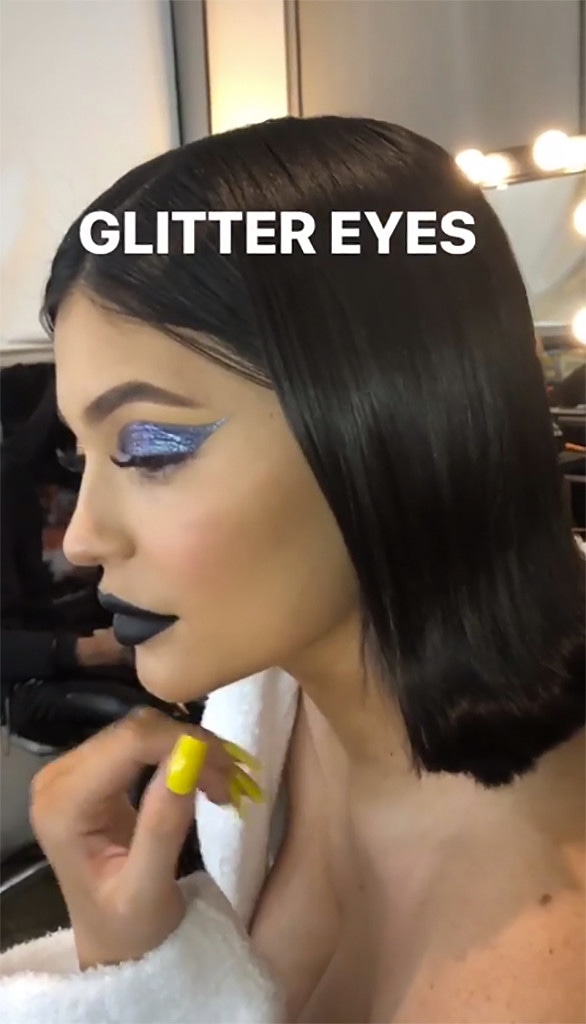 Instagram
The weather forecast is in! Kylie Jenner's latest makeup collection is stunning with a chance of Stormi Webster. 
The E! reality star debuted a plethora of brand new Kylie Cosmetics products via social media on Thursday, all of which were inspired by her newborn daughter.
"I worked on this pretty much my entire pregnancy," Jenner explained in a video shared to her Instagram Story. "Right after we chose Stormi's name, her name really inspired me. I spent a lot of time on this collection and put a lot of detail into it... So I'll try to show you guys all the fun detail." 
As per usual, Kylie modeled the must-have additions to your makeup bag, which include matte lipsticks, glitter eyeshadows, lip gloss, highlighter and eyeshadow palettes. Even the packaging features a nod to the 3-week-old with silver lightning bolts and clouds. 
In addition to dubbing the palettes "Calm Before the Storm" and "Eye of the Storm," the 20-year-old named many of the individual shades after her and Travis Scott's bundle of joy. 
With eyeshadows like "True Love," "Sunshine," "Northern Light," "Little Wonder," "Starbaby" and "Heaven Sent," beauty fanatics can rest assured knowing Kylie dedicated plenty of heart and soul to her first collection since giving birth in early February. 
So how is Kylie adjusting to life as a working mom with a $420 million empire? She recently updated fans on Twitter, saying Stormi is doing "good" and "looks just like me when I was a baby." A source also recently told E! News exclusively, "Kylie is in a really good place right now and is loving being a mom."
Will you be picking up Kylie's Stormi-inspired products when they become available? Let us know in the comments!