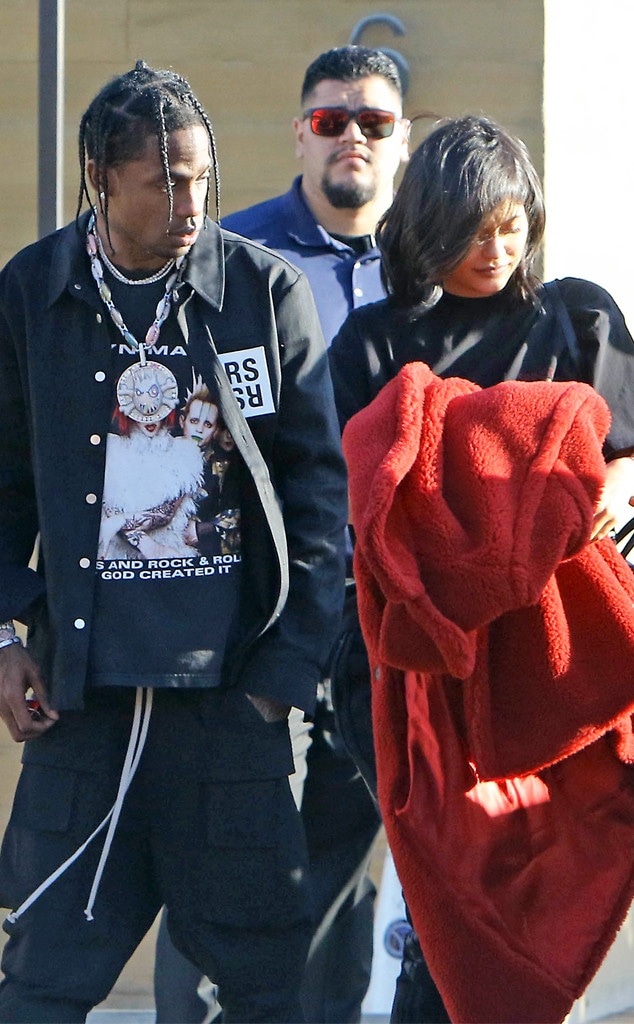 Splash News
They're leaving the baby at home!
Just weeks after welcoming their daughter Stormi Webster, Kylie Jenner and Travis Scott left the newborn at home for a lunch date with each other on Saturday.
It's the first time the two have been photographed out together since the reality star broke the news on Feb. 4 that she'd given birth to a child on Feb. 1.
For their outing, the pair hit up Nobu Malibu with some friends, including her BFF Jordyn Woods, and family on Saturday afternoon.
"The group ate overlooking the ocean on a chilly day," an eyewitness told E! News exclusively. "Kylie was carrying a big red coat to stay warm. They had security watching over their table so nobody could approach them or get close. Kylie seemed happy to be out and about and was really enjoying the day. She was laughing with Jordyn and having a good time. She was on her phone and texting throughout the meal but was very happy and relaxed. They stayed for a little over an hour before heading out."
Another source told E! News that mom Kris Jenner and her boyfriend Corey Gamble joined them inside for a meal and eventually left after the new parents.
For the day date, Kylie wore an oversized black t-shirt by Balenciaga, black pants and a bright red coat. The rapper donned a black jacket, band t-shirt, jeans and large skull and cross bones necklace.
The duo arrived in Kylie's ultra luxe black LaFerrari Ferrari. It is unclear where it was purchased. A rep from the Beverly Hills Unique Sports Cars dealership told E! News that the car is estimated to be worth $1.5 million.
Earlier in the day, Kylie showed off the pimped-out ride on her Instagram Stories and said that it was a "push present." 
"They wanted to take the car out for a spin and Malibu was the perfect destination," the eyewitness told E! News. "[The friends] all came over and admired the car."
"As they were leaving, Travis shielded Kylie and asked her if she needed any help," the eyewitness said. "He led them back to the car and Kylie's security helped her get in. She seemed very excited about the car and loving the ride with Travis at the wheel. She was looking over at him as they drove off with a sweet smile on her face."
While Kylie was out to lunch with her main man at the Malibu hotspot, the rest of her family was competing against each other on Celebrity Family Feud.
After months of pregnancy speculation, the 20-year-old youngest Kardashian-Jenner sibling confirmed the birth news on social media that she'd welcomed a child a few days prior. During her pregnancy, Kylie had stayed away from social media almost completely in the months leading up to Stormi's birth.
But, since she let the world in on her baby news, the social media star has been posting up a storm (pun intended) of her life as a mom.
Similarly, the reality star had not been photographed out in public for months before giving birth, however, she's been spotted around Los Angeles on multiple occasions in recent weeks, as has Travis—just not together.
E! News previously reported that the rapper has completely fallen in love with being a dad.
"Travis is in love. He says his baby girl is a blessing and he is so grateful she is healthy," a source shared with E! News. "Travis is on baby duty and helping Kylie."
Despite the two keep quiet about their relationship, the Keeping Up With the Kardashians star documented quality time with her beau in Kylie's 11-minute video message for her daughter. She also revealed footage from the delivery room where Travis was present.
—Additional reporting by Amanda Williams