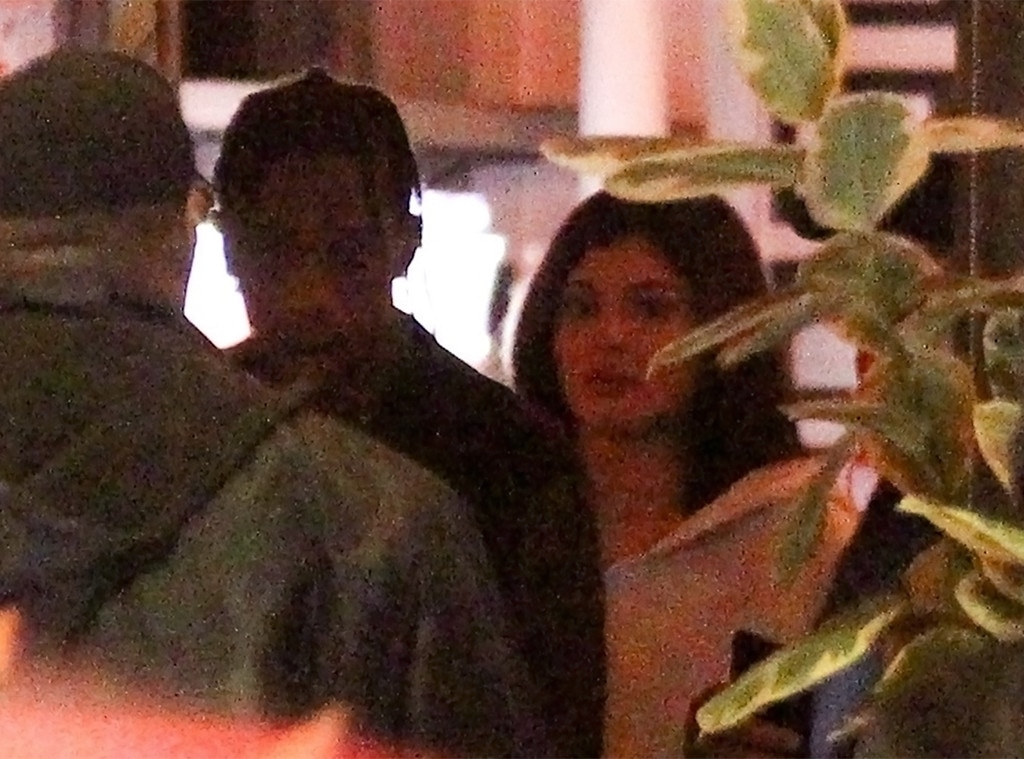 BACKGRID
Kylie Jenner and Travis Scott took a break from baby duty on Tuesday to enjoy dinner at Sweet Chick in Los Angeles.
Kylie kept it casual for their date night and wore a gray zip-up hoodie, jeans and white sneakers. Travis wore a black jacket with a dragon on the back.
This wasn't the only outing the new parents enjoyed that day. Kylie and Travis also stopped by Jamba Juice that afternoon for a tasty treat. 
"Kylie was very friendly and was asking suggestions for a smoothie," a Jamba Juice employee told E! News. "She decided to get an 'Aloha Pineapple' with no Greek yogurt and also ordered oatmeal."
The employee said Travis ordered the same smoothie but added some fresh orange juice and a banana. The two also weren't afraid to pack on a little P.D.A. while they waited for their orders.
"While they were waiting for their drinks, they were hugging, kissing, and showing a lot of affection," the employee said. "It was really cute. Love was definitely in the air and you could tell they were really happy."
Squeezing in date nights while raising a newborn isn't easy, but Kylie and Travis have seemed to make it work. Earlier this month, the two enjoyed a quick getaway to Miami. They also stepped out for a lunch date in February.
Thankfully, the two aren't afraid to lean on family and friends for help. 
"She has a baby nurse that's been helping out and that gives her little breaks and some guidance," a source told E! News. "Her sisters have been very helpful and a wealth of knowledge when it comes to feeding and fussiness. They talk all the time and are comparing notes on how to get Stormi on a feeding and sleeping schedule."
The proud parents welcomed their daughter Stormi Webster Feb. 1. While the insider told E! News becoming a mom has been a "big adjustment for Kylie," the source also revealed she's "loving being a mom" and is "completely in love" with the child. 
"Travis is obsessed with the baby," the source added. "He can't get enough and wants to just hold her and stare at her. It's still surreal for him that they created this [child]. He's working a lot but spending time with Kylie and Stormi whenever he isn't. He misses them so much when he's gone and wants to make sure he doesn't miss anything."
In fact, another source said having Stormi has actually "strengthened their relationship and elevated it to a new level."
"They are so happy with their little family and for all of the new love it has brought out between them," the second insider said. 
The source then added, "They also are making time to get out just the two of them and Kylie appreciates and enjoys that. She feels like she has the best of both worlds with her amazing baby at home and a little bit of time with Travis doing the things they love to do."