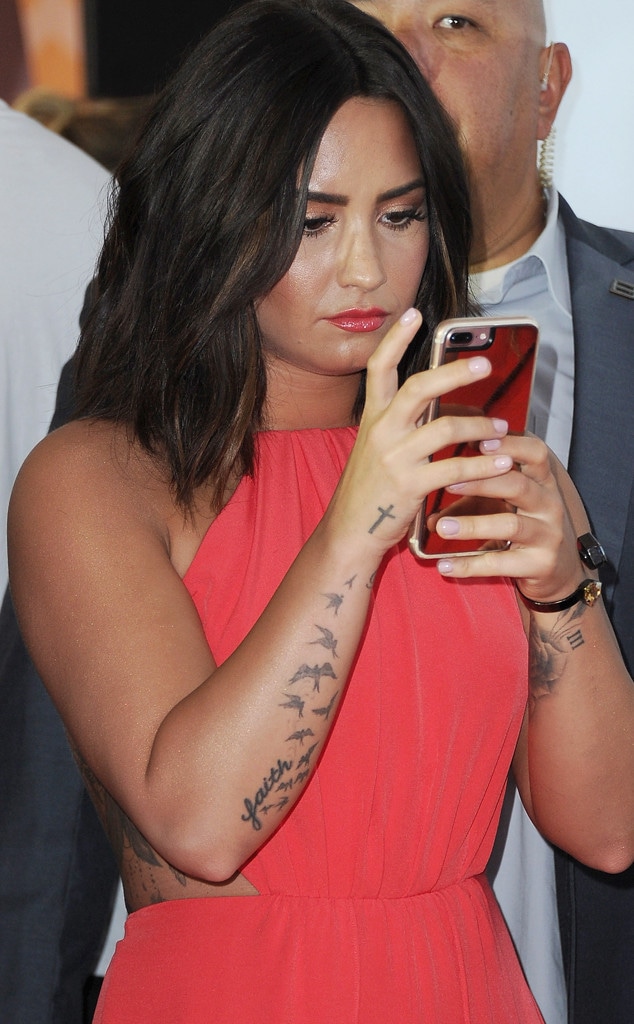 Jon Kopaloff/FilmMagic
Even stars look online for love. 
When it comes to modern dating, it seems even Hollywood is turning to dating apps to find their happily ever after—or at least, their happily this week. 
Hey, matters of the heart can be tricky, especially in 2018, and when your name is known all over the world, it's not so easy to mingle at a bar. Cue the apps!
Many of Hollywood's biggest stars have tried their hand at the online world and found success. In the words of Demi Lovato, "You can't win if you don't play the game" and that game today involves apps. 
Check out more stars below who have tested the digital dating waters:
Demi Lovato
The 25-year-old songstress is deep into her dating life right now and is getting some help from her phone. As she revealed in her documentary, Simply Complicated, she matched with someone on Raya, a dating app favorite among celebrities. During the documentary, Lovato made it clear that she's dating around. In her words, "You can't win if you don't play the game."
Hilary Duff
Like her fellow stars, the Younger star took a swing at online dating via Tinder after she realized she had never been on a blind date. She even called the whole process "wildly addicting" and it even inspired her music video for "Sparks."
Laverne Cox
The actress is a self-described "Tinder girl." As she revealed on Access Hollywood, "You have to be on the apps to be in the game."
"I'm really good at screening," she added. "I've been Internet dating for a very long time."
Gareth Cattermole/Getty Images
Amy Schumer
Before the comedian was a married lady, she found ex-boyfriend Ben Hanisch on Raya. "We sent each other very simple hellos and short, funny messages," she wrote in her book, The Girl With the Lower Back Tattoo.
While the couple is no more, they did date for almost two years before calling it quits. 
Eric Stonestreet
The Modern Family star wasn't kidding when he revealed to Howard Stern that he had some luck with Tinder. 
"I've gone out with a couple girls in L.A. that I met on Tinder, like on real dates," he added, noting that he'd actually had a few "same day" hookups. "It's hard to meet people."
Lindsay Lohan
Back in 2013, the actress called out her brother Michael on social media when she found his profile on Tinder. However, she simultaneously revealed that she herself must have had a Tinder account. 
Felipe Ramales / Splash News
Drew Barrymore
The divorced star had heard about Schumer using Raya and decided to give it a whirl one night while on a flight. Unfortunately, the actress had little luck in the few days she used the app and, to top off the awkward situation, her ex Will Kopelman saw her profile. 
"He goes, 'Why are you on Raya?'" she recalled to Ellen DeGeneres. "I was like, 'How do you know? I was on it for four days! Five days! How do you know I'm on Raya?' He goes, 'Because I just saw your profile. It came up on my phone.' I go, 'When?!' And he goes, 'Like two days ago.' I was like, 'Motherf--ker!' I'm still on it! I'm still trying to get off of the site!"
Zach Braff
As the actor revealed to Anna Faris on her Unqualified podcast, he's also tried Raya because he was intrigued and ended up dating a woman for nine months