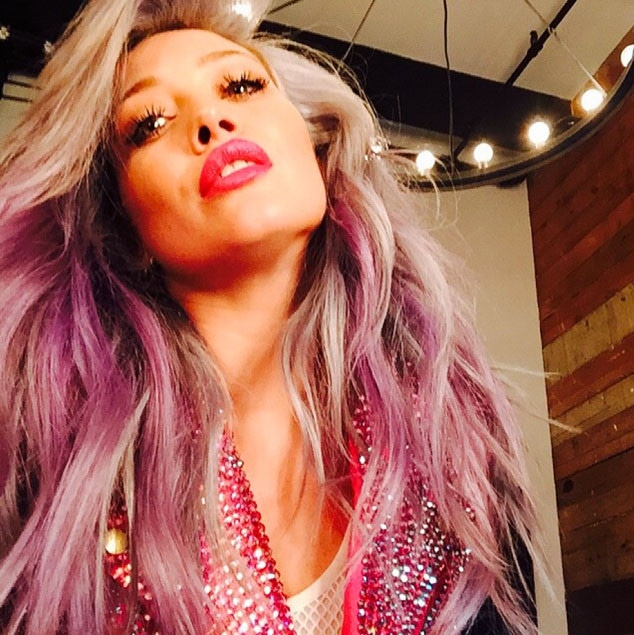 Instagram
Hilary Duff has no shortage of suitors.
Though she's in the midst of divorcing Mike Comrie, the Younger actress hasn't given up on love. In fact, Duff said she joined Tinder a few "days" ago and has already lined up two dates with two different guys!
"It's true," she said on Valentine in the Morning Monday. "I'm on Tinder."
"I was sitting with my friends one night at the house and we were joking around. In my life, I have always had really serious boyfriends. I've always met people through work and I have never been on a blind date. What's the worst that could happen?"
Duff added that "the whole process is wildly addicting."
She also revealed that she's "talking to probably about nine guys right now."
"I have my first date tonight and I'm really, really nervous." Still, Duff is unsure if the guys know she's famous. "I think some people know. You only have your first name. Some people don't know. I think some people act like they don't know but they do. And a lot of people are like, 'This is a joke, right?'"
What attracted her to the guy she's seeing tonight? "I think the first thing is obviously looks, which sounds super vain, but that is what you first go for: natural chemistry," the single mom admitted. "Also what they say in their profile has to be funny. I don't want to see a shirtless, mirror selfie. That is instantly a left. I don't know. Someone who looks like they like to do fun things and someone who can make you laugh in their profile. My profile says: Let's eat pizza. I've had a lot of convos because of that."
If the date goes south, she joked, "Hopefully the bathroom window will be big enough to crawl out." In all seriousness, she said, "I'm too nice...I'll stick around."
Duff is excited by the prospect of dating a non-celebrity. "We're going bowling, so it can't be too expensive. I like that. I've never dated just a total normie."
Because she's got ason, Duff said she has "like 15 minutes to get ready" tonight. She also plans to bring "some friends" wit her since it's "the first time" she's going a Tinder date. "I still have my training wheels on!" Her date is bringing just one friend, however. "He knows! I've been totally honest with him about it."
If tonight doesn't go well, no matter. "I'm talking to another guy and I think we're going to go go-kart racing," Duff said on Valentine in the Morning.