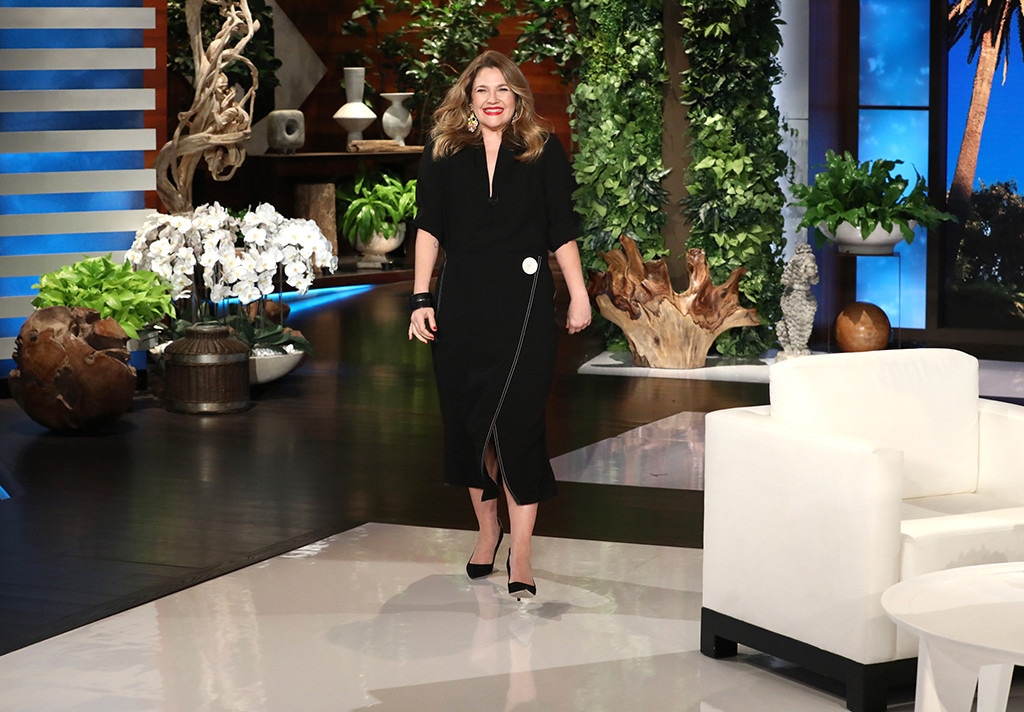 Michael Rozman/Warner Bros.
Dating in the digital age is tough—just ask Drew Barrymore.
The Santa Clarita Diet actress stopped by The Ellen DeGeneres Show Friday, where she spoke candidly—and hilariously—about her recent dating disasters. "Here's the deal: Ever since I was a teenager and excited about the idea of dating someone, I always had fantasized about a blind date—which I had never and will never be able to have—on my side, at least," Barrymore said. "When the whole dating apps started, I remember eHarmony said, 'Answer 25 questions and we will place you.' I was like, 'What are the 25 questions? And who would they place me with?'"
Years went by before Barrymore mustered up the courage to sign up for Raya, which a friend had been using. "I heard Amy Schumer saying she met her boyfriend on there," she explained. "Then one night, I'm flying home by myself and I'm like, 'Screw it! I'm going to fulfill my fantasy and go on a dating app! Do a blind date, but not really.' So, I went on it and no one responded."
To Barrymore's credit, it wasn't for a lack of effort on her part.
"One guy wrote, 'What is someone like you doing on an app like this?' I was like, 'Is that a compliment and an insult all wrapped ambiguously and super clearly in one fell swoop? OK, there's that,'" she told Ellen DeGeneres. "Then I texted with this one guy and I said, 'OK, sure, if you feel inclined to go for a drink, that'd be great. But zero pressure.' Never, ever a response."
"Then there was a guy who said, 'I can meet you from 7 to 8 p.m. I have something afterwards, so that's my limited time window.' I'm such a Josie Grossie from Never Been Kissed, because I'm like, 'OK! So, I can't do it tonight—but I'm available every night this week.' It's, like, as lame as it gets! He writes me back and he goes, 'Uh, I'm gone for the holidays.' And that was it. Then he was gone. So, I got off. Off the site, I mean!" Barrymore laughed. Days later, she found herself in the kitchen with her ex-husband, Will Kopelman. "He goes, 'Why are you on Raya?' I was like, 'How do you know? I was on it for four days! Five days! How do you know I'm on Raya?' He goes, 'Because I just saw your profile. It came up on my phone.' I go, 'When?!' And he goes, 'Like two days ago.' I was like, 'Motherf--ker!' I'm still on it! I'm still trying to get off of the site!"
"We'll help you get off," DeGeneres said. "Help you get off of that site. That's what I meant!"