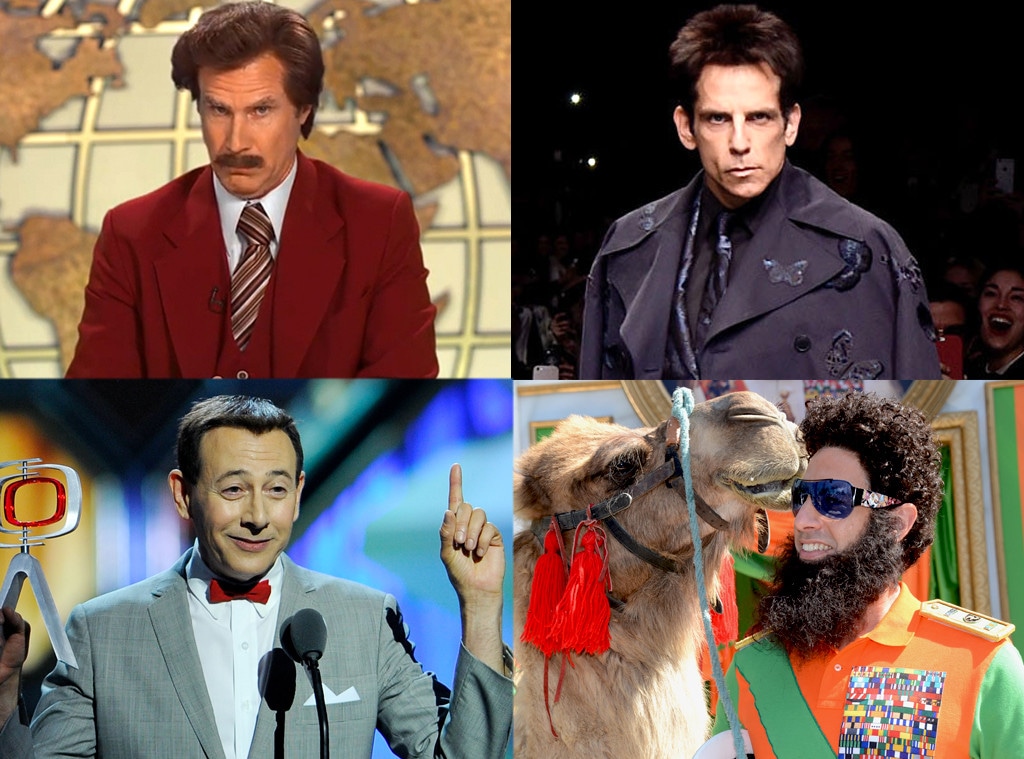 YouTube/Getty Images
Some stars have campaigned for Vogue magazine covers, but Derek Zoolander just landed his first, and he's not even a real person.
Sorry, is that a spoiler?
The "ridiculously good-looking" model character played by actor Ben Stiller, has a sequel coming out next month.
In advance of Zoolander 2's release (the movie hits theaters Feb. 12), the character has shot a Vogue spread alongside costar Penélope Cruz, crashed Paris Fashion Week with fellow fictional model Hansel (Owen Wilson), and struck his best "blue steel" with Justin Bieber.
Through Zoolander, Stiller, a huge movie star in his own right, has had another chance to reach a level of fame as a completely different alter-ego.
Why be famous as just one person when your characters can be celebrities, too?
Larger than life comedy characters lend themselves to pop culture crossovers.
Several of Will Ferrell's characters have hit red carpet events and made late-night TV appearances.
As Ron Burgundy, Ferrell has starred in two films. A sequel, Anchorman 2: The Legend Continues, was released in 2013.
Beyond the two Anchorman films, the legendary Saturday Night Live alum has taken Burgundy to new heights.
The newscaster character has appeared on actual newscasts, like co-anchoring an entire KXMB evening newscast in Bismarck, North Dakota.
The revered San Diego newsman has penned a memoir, covered Rolling Stone, and collaborated musically with Robin Thicke.
Emerson College even turned its school of communication into the Ron Burgundy School of Communication (granted, for one day only) to honor the hilarious, fake news personality.
So yeah, he's kind of a big deal.
Comedian Paul Reubens has appeared in other projects, but its his character Pee-wee Herman that he has become best known for.
The Herman franchise has had multiple TV series, movies, and Reubens has made countless cameo appearances as the character.
The cult figure even has a star on the Hollywood Walk of Fame.
He has hit WrestleMania and got wild with Andy Samberg for an SNL "Digital Short."
That suit, that voice, those shoes... Pee-wee Herman is easily one of the most recognizable comedy characters to have achieved star status.
Several of Sacha Baron Cohen's notable characters have blurred the line between entertainment and reality as they've become stars in their own right.
Bruno, Borat and Ali G are all recognizable alter-egos, appearing in interviews and at press events.
Cohen's character Admiral General Shabazz Aladeen, from The Dictator (2012), hit the Oscars red carpet and had a memorable run-in with Ryan Seacrest.
Not all characters have to be in crazy costumes, like Martin Short's Jiminy Glick or Andy Kaufman's Tony Clifton.
During his tenure on The Daily Show, and more famously on his spin-off The Colbert Report, Stephen Colbert's conservative pundit alter-ego gained an impressive amount of fame, leaving many wondering who the actual Colbert is.
(Now that he hosts The Late Show, audiences can finally get to know the guy they've been watching for years.)
Colbert's caricature on his Comedy Central show established a real Super PAC, ran for president (twice!), and spoke at the White House Correspondents' Dinner.
He also hosted a rally in D.C. and released multiple books.
Colbert the real man and Colbert the character were two totally different people, and the character went places that Colbert alone may have never seen.
Daniel Whitney's character Larry the Cable Guy, as well, is so tied up in who we know the star to be, that the character itself is the one with celebrity status.
Whitney primarily performs now under that stage name, doing standup, film, radio and TV, and getting roasted, as Larry, on Comedy Central.
Essentially, in the public eye, Whitney is Larry the Cable Guy. That's the celeb we know.