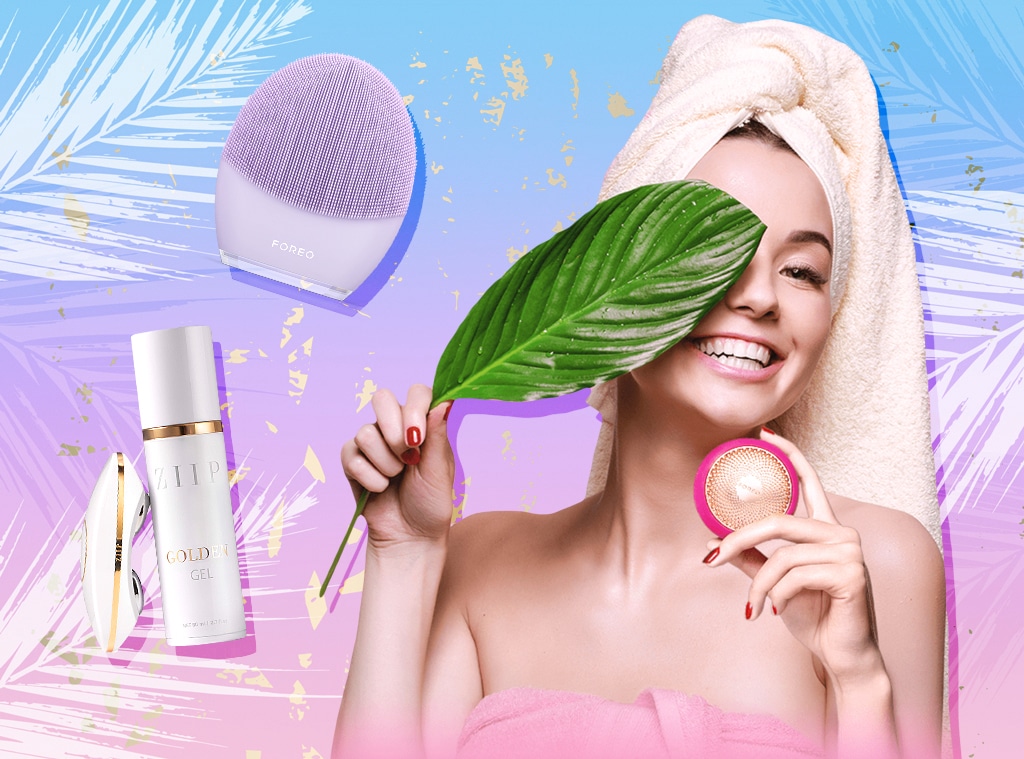 We love these products, and we hope you do too. E! has affiliate relationships, so we may get a small share of the revenue from your purchases. Items are sold by the retailer, not E!.
Let's face it: skincare ain't cheap. But when you invest in the right tools, they can make all the difference between good skin and great skin... so sometimes, you've gotta splurge!
Whether you're super into masking and want to make them go the extra mile for your face, want to change the surface of your skin to help your products sink in (and give your makeup a flawless canvas), or totally zap fine lines, wrinkles and other signs of aging into oblivion, there's a beauty gadget for that... and to us, these ones are the best.
Shop our picks below to find the right beauty gadget for you!
Ziip
Get ready to transform your face. The Ziip is an incredible little handheld electrical skincare device that uses energetic vibrations and pushes them into the skin through positive-and negatively-charged discs. The result? Younger-looking skin, reduced signs of aging (but for real), and even decreased acne and pigmentation, if you use the corresponding treatments on the Ziip app. And though it comes with it fan favorite Golden Conductive Gel, those who wish for a vegan option with organic ingredients can now opt for the Crystal Gel. You may break up with your facialist over this one, 'cause it really does do what it says it does. Trust us: it's a game changer, and worth every penny.
Dermaflash Luxe Anti-Aging Exfoliation Device
If your skin is feeling a little lackluster and not sopping up your skincare products the way you like, the Dermaflash Luxe may be the answer to your prayers. It removes dead skin cells, built-up debris and peach fuzz, eliminating the barrier to penetration so your creams and serums can do their duty and reveal flawless skin.
Dr. Dennis Gross Skincare SpectraLite Faceware Pro
A celeb favorite, this LED mask is one of the only FDA approved LED masks for at-home use. It features 162 red and blue LED lights, with the red dedicated to decreasing inflammation, increasing circulation and boosting your skin's elastin and collagen production, while blue light kills acne-causing bacteria and regulates oil production. The result? Awesome skin.
Foreo Luna 3
You'd be forgiven for falling asleep while you wash your face with this innovative tool... the sonic vibrations are just that soothing and calming! But more than that, they help lift away dirt and oil while they massage your face into a firmer, smoother, younger-looking version of yourself. You can even select one that suits your specific skin needs, from Normal to Combination to Sensitive skin.
Lancer Pro Polish Micro- Dermabrasion Device
Inspired by the professional-grade microdermabrasion at Lancer Dermatology, this device was created for home use, calling on diamond-encrusted exfoliating tips, vacuum suctioning, and a 180-degree swivel head to exfoliate and suction dead skin cells right off your face. The result is a more even skin tone, a reduction in the appearance of dry fine lines and wrinkles, and a refining of pores and imperfections.
Stacked Skincare Microneedling Tool 2.0
This sustainable Microneedling tool was developed by an expert aesthetician to refine uneven texture, lift dark spots and encourage a more youthful complexion. How does it work? By gently micro-exfoliating the skin to stimulate its natural regeneration process. It's safe enough to use daily no matter what your skin type, but just remember to replace the roller head every month.
Foreo UFO 2
This is a sequel we're not mad about in the least. The famed face masking wonder that is the UFO gets an upgrade in the UFO 2, with additional LED lights to give your skin some extra oomph. But it still features all the things you love about the UFO, like the thermo and cryo therapy, the t-sonic pulsations, and the aforementioned light therapy that coincides with whichever mask you're using by talking to the Foreo app on your phone. Your skin will look lush, refreshed, and super glowy when you're done.