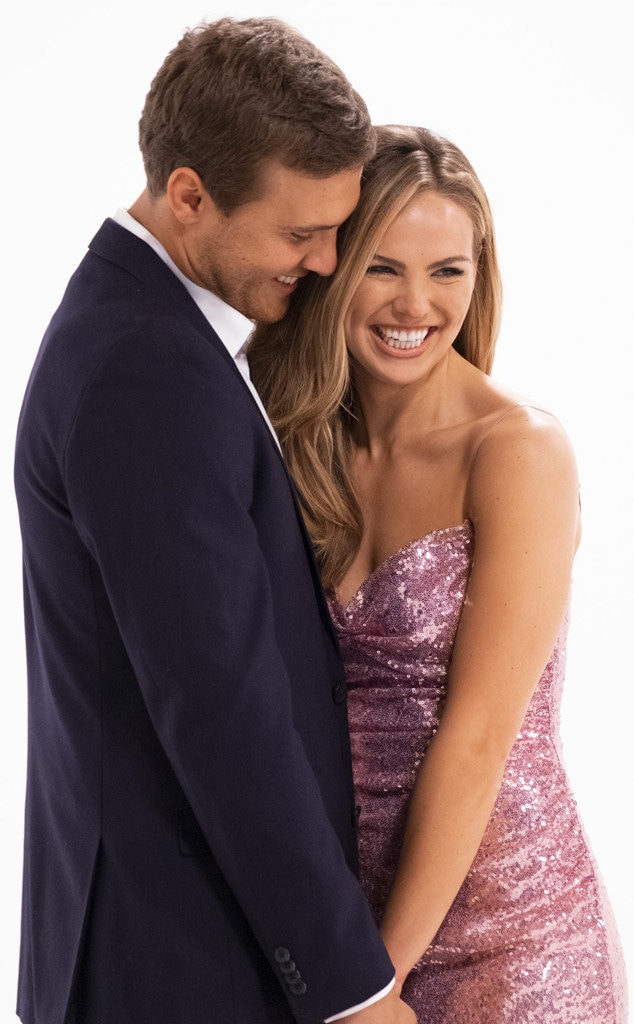 ABC/John Fleenor
Love is a battlefield!
The Bachelor's Peter Weber was still head-over-heels for Hannah Brown, even after she sent him home during last season's The Bachelorette.
In fact, the 28-year-old pilot, who's been perfectly dubbed Pilot Pete, really believed he and the Dancing With the Stars winner had another shot at love after the ABC show was over.
While speaking on the podcast, Bachelor Happy Hour with co-hosts Rachel Lindsay and Becca Kufrin, the California native admitted he almost turned down The Bachelor to be with Hannah.
"At [After the Final Rose], I was prepared to give it a shot and I knew there was a chance for The Bachelor, and I was gonna say no to the show," the reality TV personality shared, after being let go from The Bachelorette. "'Cause I saw her for the first time after the show... She said that she actually moved out to close to where I was living. I was like, 'Let's meet up.' We had agreed and I honestly got excited, and [thought] maybe this isn't over yet."
He explained that he still "felt some chemistry" with the DWTS winner and was eager to hang out with her when he got back from a family trip in New York. However, things quickly changed after he watched an episode of After the Final Rose with Hannah and Tyler Cameron.
Watch:
Peter Weber on Hannah Brown Crashing "The Bachelor"
"I was really excited," Peter said of his upcoming date with the former Bachelorette star. "[But] it was the second night of AFR and it was her and Tyler. And she asked Tyler out. I was like, 'What the hell?!'"
"So right there, I'm done, over it and moving on," he explained, also pointing out that he had no idea Brown and Cameron had been messaging each other that summer. "It hurt, 'cause I was not expecting that."
The 28-year-old pilot expressed that he got some closure during the season 22 premiere, when Hannah paid him a surprise visit... not once but twice! At first, the Alabama native showed up in a limo and told the man of the hour that she wanted to return the pilot wings he gave her.
"Honestly, I did not expect for her to show up that first night," Peter said on the podcast. "Maybe some time throughout the season, but not that first night. That was a complete shock to me. I can be honest... whether I should've or I shouldn't [have], I start getting a little more excited."
Her second appearance on the ABC series came when she hosted a group date. However, what was supposed to be a chill time turned into an emotional confrontation between Brown and Weber.
"You guys have to realize, I went in because she was very emotional. I wasn't trying to catch up with her," the 28-year-old said of the tear-jerking encounter. "She was crying like crazy and so I walked over and I see her mascara everywhere. I try to go comfort her and talk and then I get emotional. Stuff just floods back to me."
He added that he felt it was the right time to address her Tyler situation.
"So I called her out on that and was like, 'Why the hell did you do that,'" he shared. "It obviously broke my heart to see her that way, I didn't know that she still felt that way for me. I wasn't DM'ing her. Apparently, she said that she and Tyler had been DM'ing that summer."
Hannah and Peter's reunion had Bachelor Nation divided and it looks like there's more drama and gasp-worthy moments in store for fans this season.
We'll just have to keep our eyes peeled come Monday, when the next episode airs.