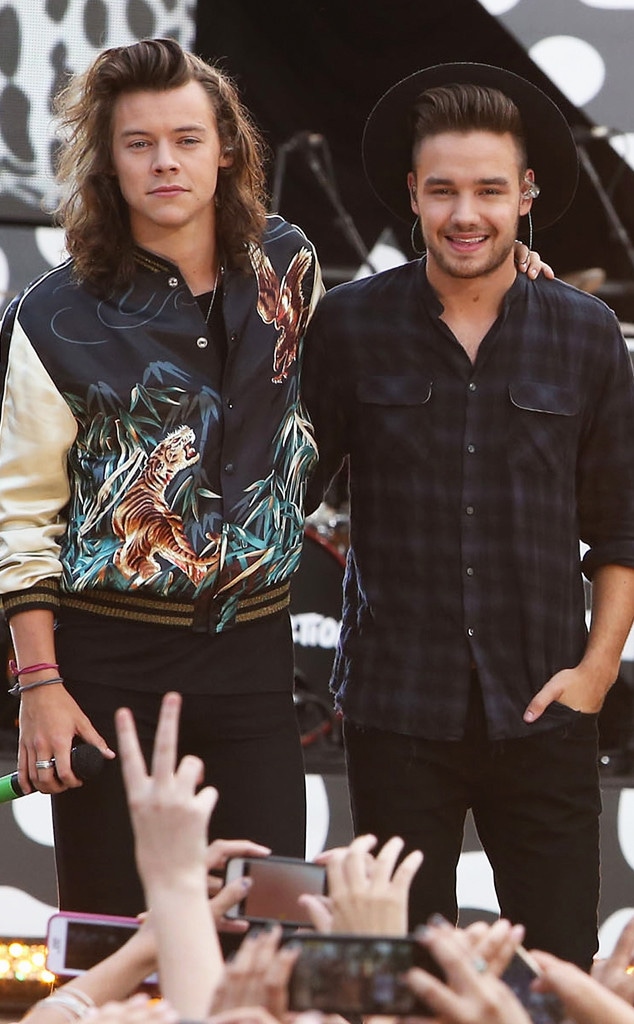 Al Pereira/WireImage
It's been more than four years since One Direction announced their "hiatus." Since then, fans have watched the boy band members launch solo careers. For instance, Liam Payne just released his debut album, LP1, last week, and Harry Styles is set to drop his sophomore album, Fine Line, in a few days.
Payne reflected on his former bandmates, and how they've gone in different directions, in a new interview with The Face Magazine. 
When asked which of the group members he'd like to walk down Old Kent Road with, Payne replied, "To be honest with you, more than anyone, probably Harry."
"I speak to Louis [Tomlinson] quite regularly," he added. "And I feel like I know where I stand with Niall [Horan]. But with Harry there's so much mystery around who he's become. I was looking at some pictures of him the other day, and I just thought: 'I don't know what more I'd say to him other than, 'Hello' and 'How are you?' I mean, look at the stuff I put out and the stuff Harry puts out. Polar opposite. I'm like the anti-christ version of what Harry is."
He also shared what he really thought of Styles' "big trousers." 
"Do you know what? For me, it's a case of fair play to him for doing what he f--king wants," he said. "If he wants to wear one earring and go to the Met Gala wearing something unexpected, what of it? Fair f--king play. I couldn't put myself in that. I'd look f--king...It'd look weird."
Payne and Styles aren't the only one to launch new music. Horan also released his debut album, Flicker, in 2017 and has since released a few singles. Tomlinson has also dropped a few songs and is releasing his debut album, Walls, in January 2020. As for Zayn Malik, he's created two solo albums since breaking away from the band.
Watch:
Simon Cowell Talks One Direction Split and Zayn Malik
During a recent interview with Esquire, Payne admitted there's a sense of competition with the other guys. However, he said "it's very hard to compete when we're doing such different things." He also suggested he speaks to some of his former group members more than others. 
"We send homing pigeons to each other," he quipped to Esquire. "No, we actually, with a lot of them I haven't spoken to them. With Harry, for example, what I always try to describe to people is this, because it's difficult for people—well, it's actually not that difficult for people to understand. One Direction was my office. So, if you change everything, just put desks in, in an office environment, some people talk, some people don't talk, there's something about someone you absolutely hate, that's literally the way an office works. By the time we got to the end of One Direction, it was like the office ended and that was the end of it. You didn't come back in. So, I spoke to Louis more than I spoke to anyone, me and Niall saw eye to eye on some things and not others. Then with Harry I just didn't know anything about him. And that's not his fault or my fault, it's just the way that that laid out, when you've been put in that room together and then exposed to this whizz-bang of fame."
Ian Gavan/Getty Images for Sony Picture
The interviewer then noted "it might seem strange" to some people that there was a "sense of distance from people" when the bandmates spent so much time together.
"I mean, we spoke, me and Harry caught a laugh every so often," Payne clarified. "It wasn't like we never spoke, that we just saw him around, but it was not like I'd see him on the weekend, that we'd go out or anything together. Because we just don't have anything in common. I don't have nothing against the boy, I think he's a beautiful, beautiful person, he's a very lovely person, and you can see that by how many people he meets that get along with him, the general thing you hear coming back is true. And I can say that from my own experience with him but I just haven't spoken to him for a number of years because our music–I'm like the antichrist version, to his christness."
To read more of Payne's interview, check out The Face Magazine.