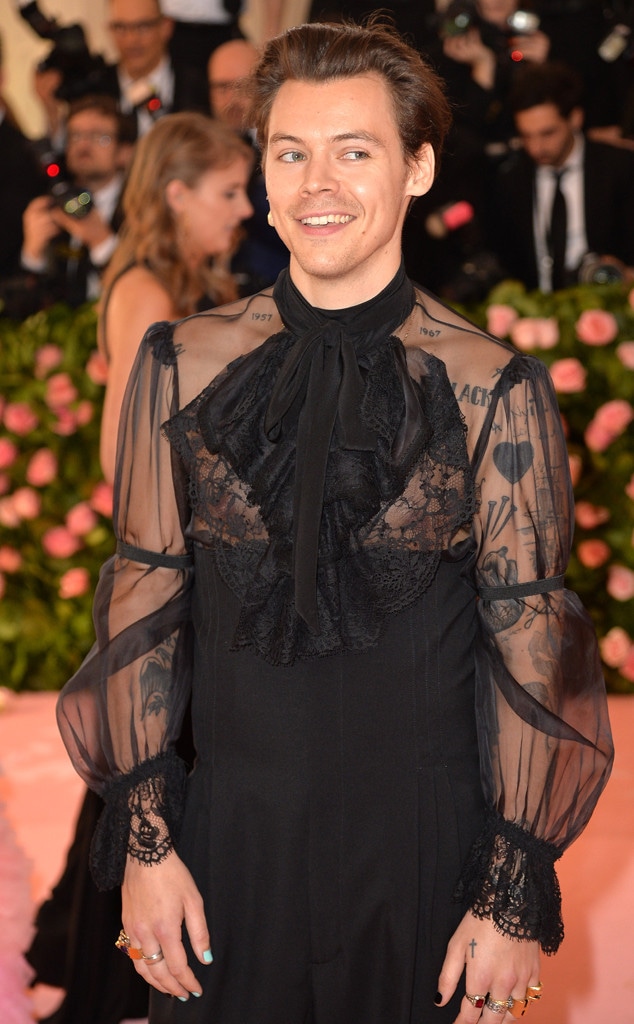 Shutterstock
Harry Styles just put the tease in teaser.
Leading up to his album release on Dec. 13, the "Lights Up" singer shared a video on Thursday showcasing the vinyl set for his sophomore solo album Fine Line. And be still, our beating hearts, the set features an almost completely nude shot of the "Watermelon Sugar" singer. No, his fans are not all right.
In the video teaser, the rockstar's tattooed hands and smiley face-polished fingers show off the album artwork. When he finally unveils the NSFW shot, the nearly naked Styles is seen laying on a yellow floor, with his left arm stretched out as his right hand covers his crotch. As the photo turns, his feet appear to be laying in a giant heart. And no, not an emoji.
The star's fans can't get over the fact that Styles made like an influencer to show off the vinyl album. In the comments section of the video, people joked that he unboxed his nudes like a beauty vlogger unboxes a press kit, and honestly, we see it.
As one fan wrote, "No one:...Harold: hi guys welcome to my channel today we will be doing a fine line tutorial." Chimed in another, "HE DEADASS ACTED LIKE THOSE BOX OPENING TUTORIALS KEJSJSJSJ I'M DEAD."
The other new photo in the video shows the "Kiwi" singer wearing bright pink pants with white suspenders and a black hat.
And this isn't the only teaser the 25-year-old has gifted the world with this week.
On Monday, the singer dropped a nearly three-minute trailer for his upcoming single "Adore You," out Friday. In the video, Styles—much to his fans' dismay—remains completely clothed as he meanders through a small English island, feeling like an outcast. Once that single releases, it will mark the third song out from the album.
Watch:
Necessary Realness: Hot for Harry Styles
The first was "Lights Up" and its accompanying music video, which showed Styles in the middle of an orgy. The second was "Watermelon Sugar," a song with heavily sexual implications.
If he's is trying to build up some serious hype for his album release next week, it's working.