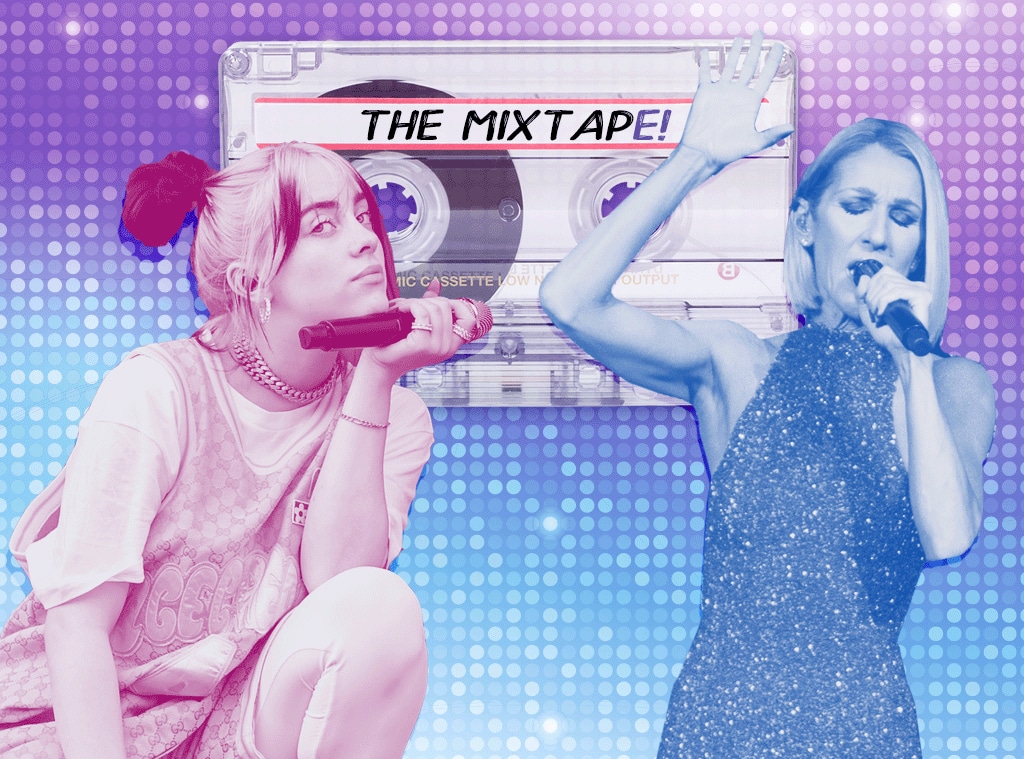 Getty Images/E! Illustration
New music Fridays are a thrilling, yet daunting prospect for any music lover. 
It's essentially a weekly holiday where fan-favorite artists and fresh faces alike drop their latest offerings for all the world to hear, flooding streaming services and digital retailers with an onslaught of aural goodies. But who has the time to sit there and listen to everything before updating their playlists? There's just too much good stuff! (And, if we're being honest, usually a few stinkers, too.)
As it turns out, we do. Welcome to The MixtapE!
By now, there's little doubt that you've given Taylor Swift's two new releases this week—her "Lover" remix featuring a new verse from Shawn Mendes and the original track she and Andrew Lloyd Weber created for the upcoming Cats movie—and read up a plenty of her latest drama with Scooter Braun and Big Machine founder Scott Borchetta. And maybe you've given Jhené Aiko and Big Sean's eyebrow-raising "None of Your Concern" a spin or nine. (And if you haven't, that number will mean nothing to you.) But that's truly just the tip of the iceberg this week.
From the highly-anticipated return of Celine Dion to the newest track from pop wunderkind Billie Eilish, a surprise release from the legendary Ms. Lauryn Hill off the Queen & Slim soundtrack to the latest in a string of A+ collaborations involving Zayn Malik, we've listened to (almost) all of it. What follows are our picks for the best of the best. You can thank us later.
Billie Eilish — "everything i wanted"
After a killer year that saw her debut album When We Fall Asleep, Where Do We Go? top the US Billboard 200 chart in its first week and her smash hit single "Bad Guy" end Lil Nas X's record-breaking run atop the Billboard Hot 100, Billie absolutely could've rested on her laurels for the remaining weeks of 2019. Instead, the 17-year-old pop wunderkind got back to work with brother and collaborator Finneas and delivered this haunting track, based on a nightmare she really had, about the panic that sets in after sudden fame and the one relationship that she can always count on being real. As always, Finneas' production is top-notch and Billie's vocal delivery remains an otherwordly delight. Thankfully, for us as much as for them, they'll always have each other.
Celine Dion — "Nobody's Watching"
Coming nearly four years after the tragic loss of both her husband and her brother within day of one another, the French-Canadian pop icon returns with Courage, not only her 12th English-language studio album, but the most eclectic and forward-thinking in her career. The 20-track deluxe album is a stunner from start to finish, tackling the heavy themes that have all but consumed her life these last few years. But it's this mid-album cut, a lighter moment from songwriters Jorgen Elofsson and Liz Rodrigues, that we keep coming back to. It's an unexpectedly jazzy track that spotlights the new Celine's newfound approach to life and we can't get enough of it.
Lauv & LANY — "Mean It"
For the latest track off his forthcoming debut album, How I'm Feeling, the new king of sad bangers teams up with indie pop band LANY for this track that finds him and Paul Klein trading verses as they beg that special someone to officially let them know where they stand. At this point, Lauv hasn't made a single misstep as he readies this LP. Is it March yet?
Lauryn Hill — "Guarding the Gates"
It's been five dreadfully long years since Ms. Lauryn Hill deigned to deliver unto us new material. But that changes today with the release of the remarkable soundtrack for Lena Waithe's Queen & Slim. With a six-minute run time that somehow doesn't even come close to feeling long enough, the iconic, if elusive songstress finally unveils a recorded version of a song that's become a staple of her live show in recent years. Backed by choral vocals, lush string orchestration, and a propulsive beat, Ms. Hill, singing about finding and embracing true love, unleashes a staggering vocal performance that was well worth the wait.
Hayley Kiyoko — "L.O.V.E. Me"
On the third track to be released from her upcoming sophomore project, I'M TOO SENSITIVE FOR THIS S--T, Lesbian Jesus delivers yet another blissful bop. With an infectious and upbeat vibe that practically demands you dance, Hayley begs for the attention and love of a girl who she can't quite pin down. There must be something in the water. (See: Lauv and LANY above.) ""'L.O.V.E. Me' is a song I've been trying to write for years!! I'm very protective of my personal life but admittedly I'm a big romantic at heart," she said in a press release announcing the song. "'L.O.V.E. Me' captures what it feels like to fall head over heels and want to shout from the rooftops about it. It's showcasing the classic struggle we sometimes face when someone tells you they love you in private, but is too scared to express that love publicly. I hope this song brings some relatability to anyone who is craving that declaration of love."
J Balvin — "Blanco"
The leader of the Latino Gang is back with another absolute slapper. Fresh off his win for Best Urban Song at the 2019 Latin Grammy Awards for "Con Altura," his collaboration with Rosalia, the Colombian reggaeton singer dropped this new track, an ode of sorts to his native land, and its truly wild accompanying music video that seems to hint at the direction of his follow-up to his most recent solo album, 2018's Vibras. (If we were betting people, we'd put money on the new LP being called Colores.) Prepare yourself for a beat that's truly en fuego. 
Lady Antebellum — "Alright"
Lady A are back with Ocean, their eighth studio album. And we can't get enough of this sweet little strummer, a mid-tempo number all about reminding yourself that, even when that voice in your head is trying its hardest to convince you otherwise, everything is probably going to be, well, alright. The track holds a special place in the trio's hearts, as they wrote it alongside friend and songwriter Busbee, who tragically died of brain cancer in September. "To me, ["Alright"] embodies how he lived: living in the moment. Enjoying what life has to offer. Knowing that it's going to have ups and downs," Hillary Scott told Taste of Country about the optimistic track. "And there's no one who embodied that more than him."
FLETCHER — "One Too Many"
Only three months removed from the release of her EP You Ruined New York City for Me, FLETCHER is already back at it with this fierce new track that finds her unleashing on her ex after having that titular drink that sent over over the edge. The sublime bop is just the latest release to back up the promise that a major new voice in pop music has arrived. Get into her now.
Glass Animals feat. Denzel Curry — "Tokyo Drifting"
The British quartet tap the up-and-coming rapper for this trip-hop track that leans heavily on the hip-hop side of that equation, their first release since 2016's How to Be a Human Being. Denzel's flow is right at home over the triumphant horns and skittering beat. The song is wild in all the right ways, a sign of good things to come.
Maude Latour — "Lovesick"
Been missing Lorde? Well, you're in luck. This song from 19-year-old pop upstart Maude would absolutely sound right at home on the Kiwi's second studio album, Melodrama. In fact, we're not entirely convinced it isn't an unreleased track that was left on the cutting room floor. It's that good. Check out her entire debut EP, Starsick, out now.
Bonus Tracks:
Charlotte Lawrence — "God Must Be Doing Cocaine": With a central thesis that's sure to ruffle some feathers and an excellently ambient production, this new single from the offspring of Scrubs creator Bill Lawrence and actress Christa Miller is an appropriately bleak, yet ultimately beguiling look at the state of the world.
Jordan McGraw — "Bread And Butter": The son of Dr. Phil and current opening act on the Jonas Brothers' Happiness Begins Tour has just dropped his self-titled EP and this track is a little slice of power-pop perfection.
R3HAB & ZAYN & Jungleboi — "Flames": What do you get when a Dutch DJ, a British DJ, and a former One Direction member? Electropop excellence, that's what.
Madeon — "No Fear No More": The French DJ and producer just dropped his second studio album, Good Faith, and this disco-gospel track, featuring vocals from the West Los Angeles Children's Choir, is an instant stand-out.
Captain Cuts feat. Parson James — "Heat": The production trio have enlisted Parson to deliver a powerhouse vocal for this disco-kissed dance floor filler that more than lives up to its name.