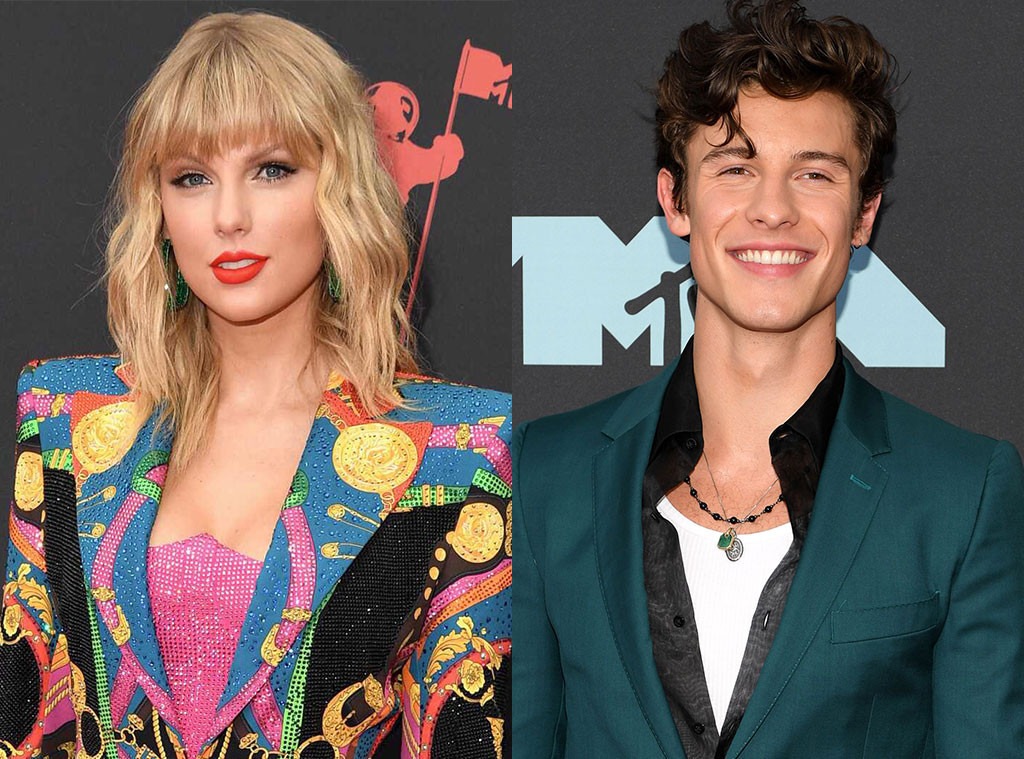 Andrew H. Walker/Shutterstock
Swifties and Mendes Army, rejoice!
Taylor Swift and Shawn Mendes have teamed up for a gorgeous remix of her hit song "Lover," marking the first time that the music superstars have collaborated. Taylor took to Instagram on Wednesday to share the news with her fans, giving the "In My Blood" singer a special shout-out in the process.
"Well guys it finally happened: WE DID A COLLABORASHAWN," she wrote. "Sending out a whole entire THANKS BUDDY to @shawnmendes rn—I'm so stoked that our remix of Lover is out NOW!"
Shawn appears on the song's second chorus and brings his rock-n-roll charm to the vintage-sounding pop hit. Surprise: His verse features new lyrics! Could these be inspired by Shawn's real-life love Camila Cabello? The duo do appear to be head-over-heels in love, especially after their PDA-packed courtside basketball date on Monday. 
"We could light a bunch of candles and dance around the kitchen, baby," Shawn sings. "Pictures of when we were young would hang on the walls." 
"We could sit on the stoop," he continues. "I'll sing love songs to you when we're eighty / see I finally got you now, honey, I won't let you fall."
 Taylor and Shawn come together for the romantic song's pre-chorus, harmonizing beautifully with one another: "Can I go where you go? / Can we always be this close? / Forever and ever." You know the rest.
Shawn also added some flare to the bridge. "Look in my eyes they will tell you the truth / the girl in my story has always been you," he belts. "I'd go down with the Titanic, it's true, for you." And, in true Shawn fashion, he ended the song with some velvety rifts.
Equally as excited about the collab, Shawn also shared a little message on social media. "Thank you @taylorswift for letting me join you on such a beautiful song," he captioned his post. "'Lover' remix is out now." 
Listen to Taylor and Shawn's dreamy duet in the video above!